TAKE DOWN FORUM RPG MINIGAME - CHOCOBO RACING
A minigame for the FF Forum RPG
Chocobo Racers
Yellow - Storm = ______ - 1x Haste | Speed: 5
Red - Nessiah = RECIEVE - 1x Doom | Speed: 5
Black - Indrah = ______ - 1x Protect | Speed: 5
White - Ques Quen = CHARGE - 1x Mini | Speed: 5
Green - Ceal Durog = BARRIER - 1x Fire | Speed: 5
Blue - RabitZ = FLAP - 1x Blizzard | Speed: 5
How to Play
The race is over when the first four Players cross the finish line.
There are two phases.
Player Phase and Race Phase
During Player Phase the Players spend their
Stamina Points
.
Each Player has a total of 5 Stamina Points to spend each Player Phase.
You can spend the points on SPEED, MAGIC, SPECIAL SKILLS, or TURN.
SPEED is straight-forward. It determines how many squares you can move during the Race Phase.
Each leg of the race track (represented by the blue lines across the track) costs 1 SPEED to reach.
MAGIC is represented by the green orbs around the track.
You need to be in the space occupied by the Magic Stone to obtain it.
Each single Magic Stone costs 1 Stamina Point.
You can hold up to 3 Magic Stones.
You can steal Magic Stones from other Players by moving into the same space as them.
Each Magicite is random, and will be picked by a random number generator.
TURN is when a Player chooses to move between the lanes.
In some cases you will need to move, in other cases you will want to for speed.
Each lane shift will cost 1 Stamina Point.
SPECIAL SKILLS will recharge for 1 use during each lap. They cost 0 Stamina Points, but can only be used once recharged.
During the Race Phase all actions will be completed starting from the last-place Player to the first.
Players will move forward according to their Speed, and Magic will be cast.
Magic Stones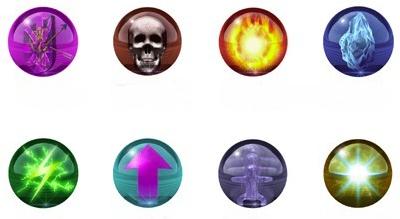 Haste
+5 Speed
Fire
Shoots straight down the board. The Player in the way misses a turn. Does not turn corners.
Blizzard
Freeze square behind you, if another player lands on it, they move forward 1 square and miss next turn.
Thunder
Causes all racers ahead of you until the finish line to miss next turn.
Mini
Target any 1 Player to 1/2 their next Movement Roll.
Reflect
If held, will rebound any/all magic attacks.
Doom
Puts a 10 Turn count-down on any 1 player.
Each player's turn counts as 1 to the count-down.
If another player lands on their square, they take the Doom effect on themselves.
At the end of the count-down, whoever has Doom misses their next turn.
Ultima
Attacks all racers except self, causing them all to skip a turn.
Special Skills

Dash
Maintain 10 Speed for 1 Turn, and do not get turned around.

Flap
Fly over Blizzards or traps.

Grip-Up
+1 to your Movement Roll when turning next corner.

Mug
Steal 1 Magic Stone from the player in front of you.
If they have Barrier or Reflect, you attempt stealing from the next player in front.
It also cancels Barrier/Reflect.

Magic Plus
+1 of whatever Magic Stone you're holding. If 2, pick one to gain. If 3, gain nothing.

Barrier
Shields you from magic until you pass the finish line.

Receive
Gain 1 Magic Stone of any magic you're hit by.

Charge
Move ahead 5 spaces. If any other player is in the way, they lose their next turn.

Megaflare
Every racer loses their turn and any Magic Stones they're holding.
*Costs 2 Charges to use*