DOES THIS SOUND TOO AMBITIOUS?
Posts
Sam

1356
There's a game I intend on making once I purchase VX Ace, working title Reasons. I've been knocking up the base ideas of what I want to do at the moment and I wanted to get your opinions on whether it just plain sounds too lofty.
The following docs are images because I like to actually write stuff out as opposed to typing it.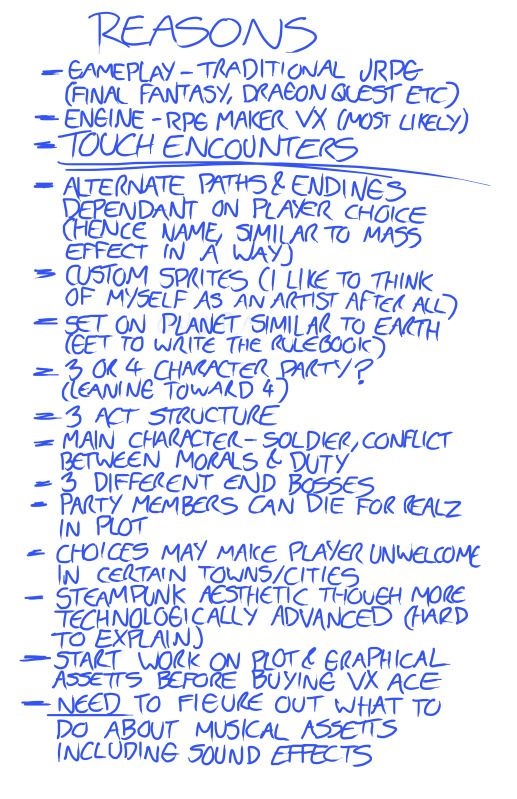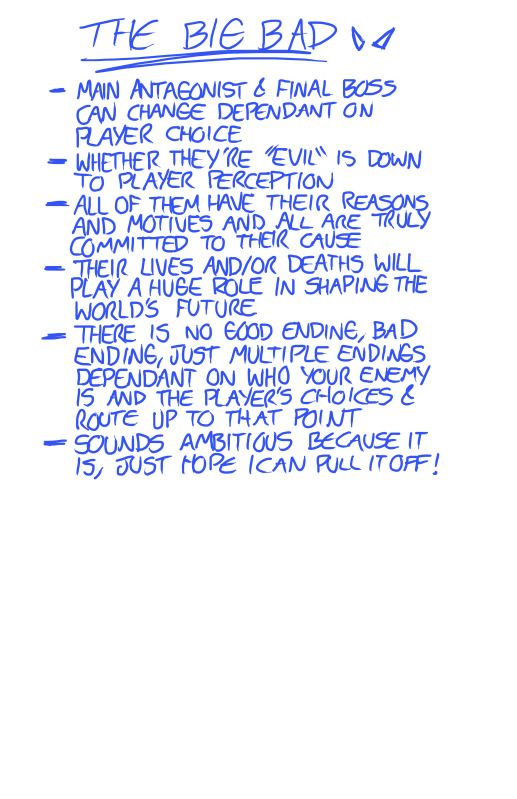 EDIT: Some additional information I forgot to include
- It is a time of war.
- The war is against another sentient race.
PentagonBuddy
1484
At some point you will inevitably have to commit your fingers to the evils of the keyboard if you want to effectively share info. Interesting to see all-caps handwriting, though! That is always bombastic!
REASONS
- "Traditional JRPG gameplay" is a very large and very vague bungle; you'll be happier in the long run if you can break down what, exactly, your gameplay is.
- Engine is definitely good to note; it'll give you an idea of what resources/functions are available to make your life easier.
- Sure, touch encounters can work, but I'd focus on hammering out an idea for the battles before you think about how you'll present them.
- This will be a pain to implement. The more variables you have to keep track of...well, the more things to keep track of! Think very deeply on whether or not branching paths actually add to the narrative, and if they're worth the trouble.
- A "custom sprite system" as some may call it is the equivalent of signing your own death warrant, especially for any larger projects.
Especially
if you plan on doing the sprites by your lonesome, in addition to all the other things that go into making a game.
OTL
- Setting will mostly affect which tiles are at your fingertips; not sure how else it would factor into "ambitious y/n?" Unless you want to stuff all the worldbuilding into your game, I suppose!
- Why 4? If your answer is because "it's the standard party count" or anything resembling that, go 3. It's less work.
- 3 act structure is the de facto plot structure as far as I'm aware. I don't know how this has any bearing on ambition, unless you decided to cut things out? A one act game would certainly be less ambitious.
- I also don't have much comment here, since I don't see how it fits into the question of ambitious or not. As for "loftiness", I'd say this is idea is mostly vague, and as you describe it right now the "basic rough idea" sounds like it would take a lot of work to personally interest me. I think almost any generic idea can be polished into something original if you spit on it enough, so apply lots of spit shine.
- I already commented about extra paths and variables = more stuff to make and keep track of.
- If you only have 3-4 party members, this sounds like it might be a bad idea?
- Ah-ha, I'd just be saying the same stuff about variables again. They make more work, so it's something to think about.
- This will really limit your graphical resources unless you're making them yourself. In which case see the note about custom sprites and consider the extra workload it adds.
- I personally place my priorities on figuring out the gameplay and how I might go about implementing it. If plot helps you sort that out, then by all means dive in! (and plot is generally good to have too...) Graphics will be a mountain to forever chip away at, so it couldn't hurt to start early regardless of project scope.
- There are plenty of resources out there!
As for the other stuff, I really don't have much to comment on. To me it looks like your first step should be finding a focus for your ideas. The main conflict seems to be one between personal morals and assigned duties, which can certainly be broken down into a "do you do what you want to do, or what you should do", I suppose!
From what I gather, yes this looks ambitious, but mostly because you'd like to have variable paths. My best advice is to focus, focus, focus, and cut whatever isn't essential to communicating the story you want to tell. (Of course this means figuring out what it is you're trying to tell!) Shrinking the scope of the playable setting is a good way to do this. What if the game takes place in a single military facility, rather than an entire planet or anything of the sort?
And if your overall game idea is smaller and shorter, then it's less work to add in things alternate paths or changing how people react to you. Less things to keep track of = less work = higher chance of finishing.
Sam

1356
Wow, that is in-depth! First and foremost, thank you.

Handwriting, when I'm jotting down ideas, it's all caps scrawls unfortunately XD

Let's see if I can break some of this down a little more, as you said, JRPG is quite vague.

- I plan on using VX Ace's DBS. Reason being that I do not know Ruby and I think if I did use a pre-existing side view script, it would add making animations for the party members and monsters.

- The reason I felt it important to state that it would be touch encounters instead of random encounters is simply that the game is all about choice. If you can see the enemy, you have a choice whether to fight it or not (to a degree).

- The multiple endings... Mass Effect is a bad example I suppose because Mass Effect had a far larger scope (plus, it was sort of one ending with a colour filter in most people's minds). Throughout the game, the player is going to be making decisions, some are minor and only effect sub plots and little details, others are major.

If you've ever played House of the Dead 2, when you die, it shows you a route map, there are several roads running parallel to each other that converge and intersect.

From the same starting point, it is possible to travel one of three parallel paths through the game, and certain points give you the opportunity to change what track you're on, and thus, which ending you're heading towards.

I believe this is among the simplest, as well as one of the effective, ways to deliver what I have in mind.

- Sprites, especially tilesets, are something I'm itching to do to help give my game it's own identity. Part of it is the fact that I did Graphic Design at college and Games Art & Design at art school, I'm a very visual person and I like to put a visual stamp on what I do. Plus, let's face it, a lot of people base their decision on whether to download a game or not based purely on screenshots.

I'm by no means unreasonable though, I fully expect to enlist help. I also plan on making a base sprite (one male, one female) in PhotoShop, as well as a set of hairs and clothes on separate layers so I can have a form of character generator. (I know I can import to the pre-existing one in VX, but my charasets will probably be larger and using the $filename workaround)

- Similar to Earth... Blue sky, humans, breathable atmosphere, green grass, that kind of thing. I'd like it set in my own world so that I can bend the rules of reality a little.

- When I say 3 to 4, I mean in the party at any one time. Recruitable, maybe 8 or 9 total. Some are only available on certain paths through the game. Yeah, some of them can die permanently, but the player would know their decision would result in that or at least have hints.

- The surroundings and environments would limit what I could use from pre-existing resources, but I really want to make my own tiles.

- The reason less focus has gone into gameplay is that I'll be emulating Final Fantasy and Dragon Quest which ties things down quite well to then build from.

- The main conflict will be about whether you want to do what you consider to be right, or what you're ordered to do. It should tell the player something about themselves with a bit of luck.
chana
(Socrates would certainly not contadict me!)
1914
author=Sam
It should tell the player something about themselves
THAT is very ambitious, and should require a lot of work, but if you succeed, hats off!
LockeZ
The Z is for Znderson; RMN's resident antagonator
1763
The only things in here that are not completely generic for an RPG Maker game are the custom sprites and the morality/choice system. Neither of these will really make your game stand out to me unless they're done exceptionally well. I don't think it's particularly ambitious for someone who's made games before - quite the opposite really - but I do think you need to think more about the gameplay. Also, FF and DW gameplay have almost nothing in common aside from both being RPGs where you control a party, and FF gameplay varies wildly from one FF game to another (DW gameplay varies less but still enough to make "DW gameplay" a vague statement) so it sounds like you really just have not thought about the game at all yet.

Party members being able to permanently die off sounds kinda brutal if there are only 8 or 9 total. Will they be completely unresurrectable like in Fire Emblem, or will it require them to run out of life points by dying repeatedly without returning to town like in SaGa Frontier, or are you thinking something else?
Crystalgate

494
You will require great writing to pull this off.

-Difficult decisions.
Difficult for the character, the player or both? The character may be sworn to someone, but I'm not, so it's easy for me to pick the "defy orders" option. It's very hard to make a choice difficult for both the character and the player (unless the character is a blank slate.)

-Whether they're "evil" is down to player perception.
In theory, it always is. In practice, I can usually decide whether or not I consider a character a bad guy in a heartbeat. When you wrote that, I think you want the playerbase to be relatively evenly split on the issue, with a lot being on the fence. This also takes quite some skill to pull of.
ShortStar
CONSIQUENCE!
2858
Start smaller. I've seen so many of these lists.
Craze
RMN's supervillain, and enjoying it
7896
this topic seems way more like "look i'm making 'bobby's first I WILL CHANGE THE WORLD WITH MY PROJECT!!!!!!!!!!!!! gam'; please give me praise?"

you have absolutely no idea what the fuck you're doing here; just stop, drop and roll out of this forum until you have something solid down. You want 3-4 party members? you want a GREY-AREA VILLAIN? great, you and everybody else, and nobody cares about them either

please

spend more than five minutes on this before you clog up this forum
Avee
969
Craze +1

With a bit more tact I'd say, the real answer is: it's impossible to judge how ambitious this idea is because it is way too shallow. You have to write down everything in much more detail.

For instance, write every single story path and every ending. Just saying that there will be many doesn't automatically mean that they will all take a long time to make.

I suppose that you have much more in mind than what you posted for us to see in that first message. Therefore we have to know more in order to judge.
calunio
Come home with me.
6421
Alternate paths and endings
+
Custom sprites
=
Yes, too ambitious, drop it.
author=Craze
you have absolutely no idea what the fuck you're doing here; just stop, drop and roll out of this forum until you have something solid down. You want 3-4 party members? you want a GREY-AREA VILLAIN? great, you and everybody else, and nobody cares about them either
Nothing grey about this villain! xD
facesforce
296
Well... XD It may be too ambitious. I would drop the custom graphics and focus on game-play. Just a heads up.

After all, it seems you want to focus more on the multiple choices, so get "working" graphics for the time being and replace them with what you want after they are done. It is a simple formula, and you'll get a lot more done. Fix the graphical style retro-actively. This is the indie scene, not pro, so no need to come up with graphics to sell the game. Get that system up, and then worry about the custom style.
Biggamefreak
1416
Your ideas tell me that: You want a human person main character living in a slightly more advanced steam punk era. (S)he that will have teammates and they will go to another planet and will face moral dilemmas based on player choices. These characters WILL be 3 dimensional and can change if the players develop them in game play choices or storyline choices. A war will take place, the monsters are touch encounters, the graphics will not be graphic rips and the final battle will change depending on the choices the player makes.

I'd say that the ideas seem fine. I'm seeing something broad but there is nothing I can fall in love with. Make a plan, do some research, find some people who can help you, and get to work.
Shouldn't you try using Ace before deciding it as your platform? Just because a lot of people praise it doesn't mean it'll be great for you. You should try it before committing yourself to making it on Ace.
Also, it takes hours and hours of work to make an RPG. So there's no point in announcing it before completing most of it