ASYLOPOLE (ADVENTURE / ACTION GAME)
Posts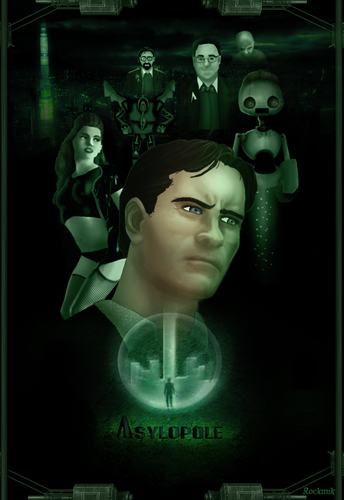 Hello world!
First of all, sorry for my English... but know that the game will be translated soon.
(Google traduction)
I present Asylopole, an adventure / action developed in RMXP.
The adventure unfolds in the near future. Following an inevitable war, the rest of humanity lives as a recluse in a huge bunker originally intended for the storage of livestock.
This dome is maintained at its center by a huge tower which is also a mental asylum.
Madness sustains humanity.
The population is agitated in this megalopolis of which stands the black smoke of the engines of the industrial area, the Ratpunks are run by members of the Order, authority that punishes anarchism and reward employee productivity.
We will not go far as to say that living in this anthill is also a nice sunset fall but it's always better to live outside the dome, on the red earth (the last of these explorer hostile lands came back with one leg under his arm, pesky critters).
It is in this context that we will follow the footsteps of Adam Murdock, a psychiatrist who works in that famous tower and foremost a family man, the most grueling trades.
But back to his job in the tower. To treat patients, a method (debatable but still permitted by the Order) invests the mind of an individual to combat phobias and other mental problems in a virtual world called Mentalis.
Neurodock, a very nice little robot will support Adam at these sessions.
Even if the universe is virtual, the risks are not. Failure = brain death (the direction does not compensate the families, according to the code 27 of the contract psychiatrists of asylum).


Thanks for watching. :)
Essenceblade
19
It looks pretty good. I gotta say it looks nice. I like your graphics too, but this isn't the right section to post your game. Create a game page instead.

command... close; back_seat_mod.exe
chana
(Socrates would certainly not contadict me!)
1914
Wow, those are really excellent pictures and video (liked the music).
Thanks !
author=Essenceblade
Create a game page instead.
Ok, i try this now. :)
Max McGee
My name is Legion: for we are many.
8099
Yes, it is against the rules to post game advertisements in the forums here.
Sorry, i delete if you want. :)