WHO WATCHES THE WATCHMEN?
Posts
Feldschlacht IV
jazzy nyc
671
The world will look up and shout, "Save us!" And I'll whisper..."No."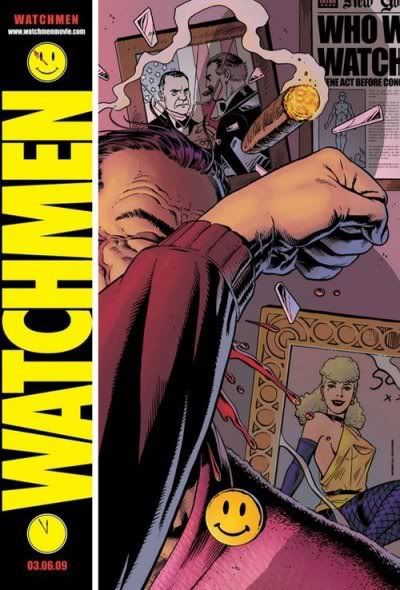 Assuming you don't
live under a rock or something
, I'm sure you've heard of the new Watchmen movie that's coming out in 09, and the first trailer premiered during the Dark Knight.
In case you aren't familiar with the details, it's a movie adaptation of Alan Moore's 'Watchmen', which is considered by many to be the best graphic novel of all time, and one of the best literary works around. The director is going to be Zack Snyder of '300' fame, which well, is good and bad in my opinion. While 300 was a decent movie style wise, Watchmen is just a whole other league, and I know for a fact that style alone can't carry Watchmens deep themes to the cinema, it needs a lot more than that to do it justice and I really hope that Snyder is up to the task.
I've heard about some of the draft changes along the way and I really, really hope they don't fuck this up. However, the characters are looking very faithful and I'm impressed with Dr. Manhattan and the Comedian so far. I also hope the cast is up to the task.
The trailer
http://www.youtube.com/watch?v=E4blSrZvPhU
A better quality trailer (thanks, Shinan!)
http://www.apple.com/trailers/wb/watchmen/
Discuss.
Youtube sucks for trailers. You want this instead (in all its HD glory):
http://www.apple.com/trailers/wb/watchmen/
I liked Watchmen well enough when I read it though I'm not really sure about the film. I think it will be awesome and all and cool and lovely to watch. But it won't be any masterpiece and it won't do the comic justice.
With all that said I still think it will be amazing to watch.
However speaking of comic book movies that will be amazing to watch...
http://www.apple.com/trailers/lions_gate/thespirit/
All those beautiful women...
Zack Snyder also did the Dawn of the Dead remake. It shouldn't be forgotten when talking about his past credentials.
I should probably read the book, eh? I got it for christmas like 4 or 5 (or 6) years ago.
Shadowtext
120
Prediction: the most vocal fans will hate the movie, while the silent majority will consider it a decent adaptation given the constraints of the medium.

Prediction #2: On the off chance that the movie turns out to be an amazing triumph, and even LOUDER majority of the fans of the comic will gnash their teeth and scream at how it ruined things and that now they even hate the comic because of all the new fans the movie brought on.

Either way, people who read the book first will consider themselves better fans than people who saw the movie first.
I really liked the Harry Potter movies until I read the books.
Watchmen is the opposite of 300, so Snyder is a really weird choice.

I hope they don't fuck up the ending like in David Hayter's (writer of X-Men/VOICE OF SOLID SNAKE) POS script for this which they thank god aren't using.

I am a huge Watchmen fan. All you muthafuggas should read the graphic novel. Whether the movie is worth seeing remains to be seen.

By the way, re: The Spirit:
FRANK MILLER IS COMPLETELY INSANE YOU GUYS.

Then again, so is Alan Moore. Isn't he like, a wizard now, or something?
Shadowtext
120
author=Max McGee link=topic=1949.msg31914#msg31914 date=1221511635
By the way, re: The Spirit:
FRANK MILLER IS COMPLETELY INSANE YOU GUYS.

Has he made it about whores yet?
Darken
1032
I remember reading The Watchmen a couple of years ago, I didn't get it at all and simply flipped through the pages just to see Rorschach kick more ass. Also I agree Snyder is a terrible choice for this, except for his special effects which match with the crazy shit The Watchmen displayed.
Read it again, you may get it now that you are older and more mature. I don't at all mean this to be condescending or assuming you're young, and I don't want to come off that way. Like, seriously, even if you were 35 then and you're 37 now, it's worth a second read. Watchmen is one of the densest, darkest, most complex and most layered literary works ever, and definitely the most "grown up" comic book in the world.

At 22 and after two readings, I'm still not sure that I entirely get it, but I can catch a glimpse of so much depth there that I immediately respect it as art.

@Shadowtext:
Yes, it basically IS about whores. See the trailer.
So I grabbed my copy of the book Friday night and finished reading it Sunday morning.
IT WAS GOOD.
I am pretty psyched about the movie now.
I didn't get the whole interwoven Pirates comic - I mean, it sometimes mirrored the main story arc, and the writer was one of the "smart" dudes on the island, AND it was interesting on its own merit, but if I was making a movie script, it would be one of the first things I'd cut out
I didn't get it either, but here's my friend Rachid's interpretation:
SPOILER ALERT
Basically, the pirate comic tells the story of a guy who gets marooned by pirates, and when he reaches civilization, he becomes convinced that the pirates have killed all of his neighbors. So he starts murdering the townspeople of his home town, thinking that they (the townspeople) are really the pirates who killed them. And all of this, all of this is a metaphor for the incredibly drastic and horrible action that Veidt took to prevent a nuclear war between the US and Russia...a nuclear war that MIGHT HAVE NEVER HAPPENED, just like the pirates hadn't really killed that guy's neighbors, and he wound up killing his neighbors himself...just like Veidt.
And I think that's a very sound interpretation.