WHATS YOUR FAVOURITE MANGA/COMIC RIGHT NOW?
Posts
She's probably confusing the Battle Royale movies with The Hunger Games. An easy mistake to make.
Liberty
~RTP Princess~
9580
No, I'm not talking about that. BR saw a re-release in 3D in '10. There's a big difference between the two. ;P
From the wiki:
3D re-release

The film was released to theaters in 3D in Japan on November 20, 2010. Director Kinji Fukasaku's son and screenwriter of Battle Royale, Kenta Fukasaku, oversaw the conversion. Anchor Bay Entertainment planned to release the 3D version in the United States sometime in 2011, but that did not happen. This 3D version was screened at the Glasgow Film Festival on 24 February 2011.
Caz

3446
Liberty
~RTP Princess~
9580
iishenron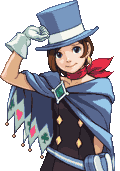 1005