NEED FOR SPEED WORLD: FREE TO DOWNLOAD/PLAY RACING MMO
Posts
http://world.needforspeed.com/
I just heard about this today and played for about 2 hours now. I'm not a big racing fan but I love this game! You can play solo if you want but you get higher rewards if you play multiplayer matches. It takes less than 2 minutes for the 8 spots to fill up and the race to start. The population is really high.
It's got all the standard RPG features. You get experience points and level up. There are dozens(I think) of powerups and you can pick 4 to put in your palette to use during the races. They have cooldown times. When you level up you get skill points and get abilities like +2% extra money, longer nitro boosts, lower cooldowns, etc...
It's got a free roam world. You can teleport to spots of interest on the map. There are cops driving around randomly and if you bump into them it starts a Pursuit Mode instance and you gotta outrun the cops with great rewards.
There doesn't appear to be any lag. The world map is huuuuge. The graphics are HQ. You can buy in-game points with money for all kinds of extras. It's got realistic damage which you have to repair. Best of all it's 100% free!
I'll be playing this quite a bit as I don't have many other games on the go so if anyone wants to friend up my tag is Skywalker2112. Send me a message here or look for a car with the number 2112 on the back :3
*only downside is you can't choose manual transmission :( oh well, it's still fun as hell.
Sounds like a great game!
Feldschlacht IV
jazzy nyc
671
Interesting. I can't check it out right now, but it sounds like a cool concept.
After playing a few more hours I've come to realize that you need to pay money to get a faster car. There's 3 tiers and only tier 1 is free :/ My friend payed 11$ to get a faster car with double the stats(150mph). I eat his dust out of the starting line though.
you can buy faster cars with in-game money

However, my level of enjoyment has only increased. It's just so damn fun driving around and you see some guy and just start racing with him until you accidentally split up. I was doing endless donuts in an intersection and some guy joined in haha and i just finished running a pursuit that lasted 13 minutes then I somehow managed to lose the endless sea of cop cars :D It calculates how much property damage you did and you get more exp for that if you evade them. I just wish there was multiplayer pursuits.

Sounds like gta sorta. Can you get out of your car?
LouisCyphre
2385
Sounds more comparable to NFS Carbon, to me. Which is good; I liked Carbon a lot.
Nope, your stuck in your rig. You can put lots of cool stickers on it though. You can put a seemingly endless amount and there's quite a few to choose from. You have base templates and you can resize, skew, rotate, and color each part of it, not to mention being able to choose different colors for each part of the car. I made the flames by putting down the pattern in orange then putting a second black one right next to it. Same with the lines on the side, same pattern doubled up. I've seen some very creative cars.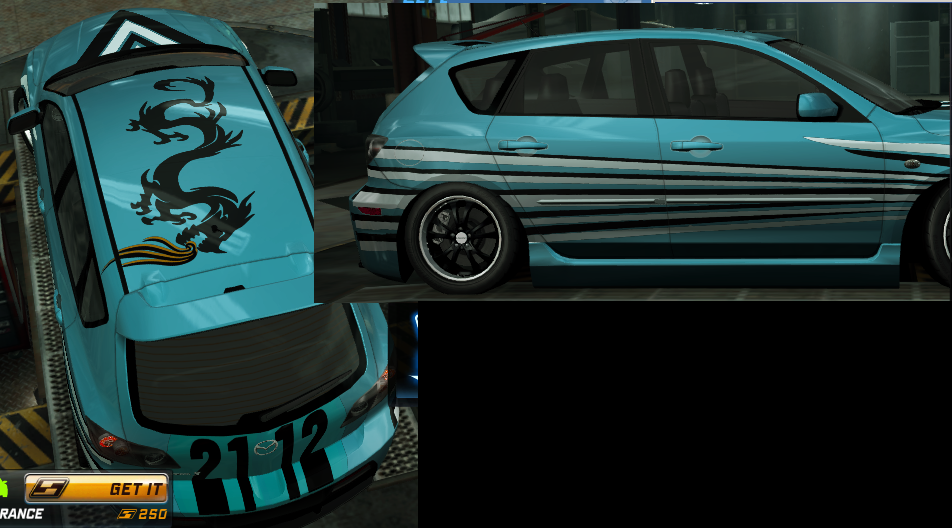 They probably took the best parts of the series and mashed it together with what I find is a VERY slick interface.
In the friends list you just right click the name and you can invite to a race or even teleport to the same spot. The news feed keeps you up to date on your buds and compares your stats. Just below the friend list is the power up palette. They correspond to the 4 main buttons on the controller, triggers to drive. As you can see by the text box there are bots spamming messages about cheating >.> Standard "to next level" meter at the top.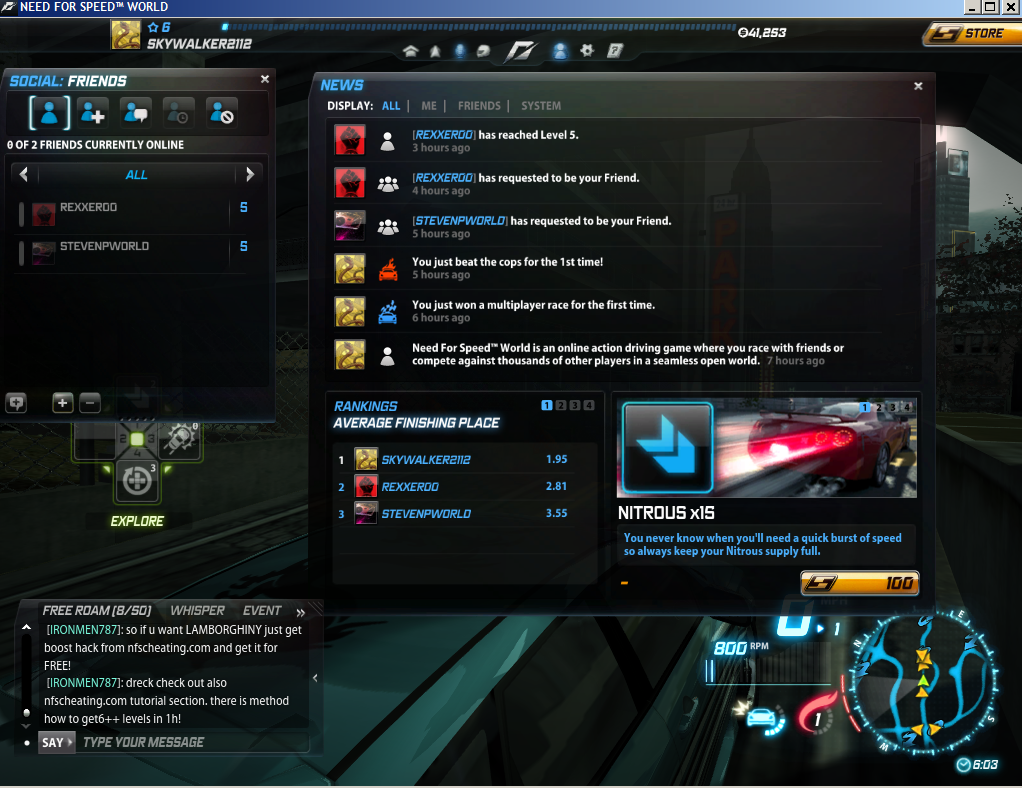 Oh sweet, this thread is back from the dead. Must have gotten fixed after forum shuffling :)

For anyone who decides to try this game out the fastest way to level up is to do Pursuits.

When the first aggro meter fills up you see snow flakes all over the map. They are safe spots. The second aggro meter will fill up in seconds as opposed to up to a minute long!(at heat level 5) Even at high levels I can camp a safe spot and end a pursuit in 10 seconds~.

My record is 5.98 seconds. I found the perfect safe spot near the road. I hit and run a cop, j brake into the spot and it's over. It like magic, the cops literally turn around and fuck off o.o My method was a total accidental discovery. And now I'm level 16 after only having played about 10 hours, over a span of about 4-5 days.

You always get a minimum exp amount that rises as you level. You'd have to do a pursuit over 2 minutes to move into the higher brackets of exp amounts. But it's only a doubling, at best. So instead complete a pursuit about 5 times in 2 minutes and your level skyrockets. Not to mention you get powerups, money, and car parts by winning a pursuit. I have over 200 nitro boosts :D

Oh, and you can buy faster cars with in-game money. At first you can't and I though the game was geared to only go fast by paying real money but you just have to get past level 10 and you unlock new cars(derr). So yeah, it's even better than I thought :D
This game is seriously awesome and easy to play.