Review
Subscribe
Nominate
Submit Media
RSS
Anakin Skywalker <3's Bella Swan
Preface: This review is more of a critical analysis and has spoilers. You've been warned.
What it says on the tin: "Vacant Sky is an RPG released in three episodes following the death and rebirth of Auria Edith, a small-town girl whose violent and unexpected death turns her world upside down. After her equally unexpected resurrection, Auria finds herself drawn into the heart of a mystery involving a cult of masked cultists who will stop at nothing to make her their goddess."
For my part, I will be reviewing the first two of these three episodes, as the third has not yet been released in remade form. i may revise this when the third sees completion.
Let's get to that review, shall we?
1. The World
We are introduced to the world slowly, often through (mostly optional) expository dialogue. At first this is very daunting, as many unusual, hard to remember names for locations tend to get thrown around. If one sticks it out, the details do eventually start to sink in, especially since we eventually get to visit many of the places that are discussed. People that are interested in lore will have something to sink their teeth into.
Vacant Sky's setting is actually fairly interesting, but it's just hard to get invested in it - largely because our party seems oddly removed from the rest of the world. Important political issues are often discussed, but until a specific instance near the end of Act 2, never really seem to apply or matter to Auria and the people she hangs out with. This may be more an issue with the cast than the setting, but we'll get to that in a bit.
2. The Narrative
To be honest, I'm not entirely sure what the author was trying to achieve here.
We are introduced to the game through the eyes of the villains as they escape some compound, and they are predictably characterized as total monsters. We then meet Auria, our protagonist, and two allies of convenience. After a short dungeon run with them, we are then subjected to a lengthy (20 minutes + if you wander around trying do all the sidequests) flashback that shows how Auria got to be in the situation she is currently in.
It's all a bit odd - the sequencing felt out of place, and I don't feel like I really took anything away from the gameplay segment with the villains. I mean, I didn't really learn all that much about the villains outside of Weapon being a rapist. The flashback wasn't a whole lot better, because Auria isn't an inherently likeable person and nothing that happens during the flashback made me like her more.
Things are more normalized in act two. You get a real base of operations and take on a few missions. Each mission gives you a new ally and develops the plot in some manner. You also meet Mia in-between missions, a character who represents what Auria may yet become. You can take on these missions in any order you like, but you get punished for doing them in the 'wrong' order - If you do not first recruit the character Vel, one (or two, even) of your party members will die during an event on another mission. This is just odd - there's no prior hint or suggestion that you might want to go do another mission first. It just happens. Even worse, the choice of who to kill is between an established party member who is very important to the plot and some nobody who has practically no speaking lines during regular cutscenes and contributes nothing to the plot.
When some genuine camaraderie is finally established during a festival cutscene in which you can give characters specific gifts for some entertaining reactions, act two's ending sequences start up. Some guy that the party barely knows and has very little reason to trust tells them that Auria is host to some evil guy's spirit. The party then proceeds to start a witch hunt for Auria and her friend Mia. When they finally do chase her down as the episode gears up for its climax, it is revealed that no one has devised any sort of plan or solution to the problem, so they just beat each other up instead - even though the real bad guys are all around them. What follows is so gloriously pretentious and anime-tastic that it is indescribable in its goofiness.
I was baffled, frankly. The party finally seemed to be getting comfortable with each other, which was sorely needed, but then everything falls apart. The entire cast becomes completely unhinged during the ending sequence. Some characters make complete 180s on their personality or become utter dimwits. The story even goes so far as to insult my intelligence by suggesting that a deeper connection exists between angsty teen Auria and dumb-as-a-rock Ray. I thought I had missed something important, but I had not - I rewatched it and had the same mix of feelings: astonishment, disappointment and a desire to stab Ray with his own damn spear.
It's worth noting that there is another option during the ending that lets you murder some of your party members with the help of Mia. Not much effort was put into this choice, but considering the alternative this might be the more believable option. Mia has more character development than Blaise, Vel and Ray, and far more goodwill and trust is built up between Auria and Mia than those three.
On to the next section!
3. The Characters
To its credit, the game does do some nice things with its characters. A couple are genuinely likeable for a time. I liked the festival and the bonus conversations you got by giving people the right gift, although a more dedicated event for it would have been nice..The dialogue is technically sound and very lucid for the most part, in spite of the occasional bout of wordiness. The writer seems to have the technical competence required to write a good character
So what exactly went so wrong here?
Most of the party members are thoroughly unlikeable. Some, like Ray and Blaise, do not seem to have a single redeeming quality - they are impulsive, selfish jerks, through and through. Simple as that. Others, like Vel, Vanquish and Rien suffer from lack of character development and motivation - sorry, I just can't buy Vel sticking around to have 'fun' with the insufferable Ray. The characters that show genuine touching moments of humanity either die (Zaqris and Mia) or make jumps in personality so dramatic that they are unrecognizable afterwards (Seri).
And then we have Auria. Why is Auria our lead? Because she's host to some evil guy, you say? Okay. But why do I care? She's not a very nice person - she's proven to be moody and irritable. A rather unpleasant person, actually. Her anchor - Mia - in whose scenes Auria is vaguely likeable - is killed off only for the purposes of plot convenience. She is implied to be closer to her party members than is ever displayed - there's barely any scenes of the party just talking about some random fluff. She is truly rpgmaker's Anakin Skywalker: A whole trilogy of games were made about her, and a whole lot of creative effort and special effects were thrown in to make us watch, but at the end of the day we just don't like her very much.
So what about the villains? Well, they're an unambiguously evil death cult that wants to revive their dark master. They're assholes, but so are most of your party members so I guess that doesn't count for much. Seri joins them in the game's stupidest character 180, completely ruining her pre-established personality as a rational and thoughtful voice of reason. Oh, Weapon's a rapist in addition to having a dumb name. The game likes to remind you of that. Wait, what?
See, in spite of bitching so much about the ending of act 2, the worst part of the game is perhaps during the intro of act 1, when Weapon toys with the world's dumbest security guard. He asks the guard if he has a daughter, and then for his address, then he murders him. His entire reason for living seems to involve porking any unwilling girl he can find. He's a completely one-dimensional character - did he really need to be a rapist in addition to that? Did he really need a scene where it's implied he rapes Seri? What purpose does this serve short of providing a bit of cheap heat? Why is this the only thing I know about any of the cultist leaders? I just don't get it.
The greatest shame is that these characters could have been likeable had the author shown a greater deal of moderation and patience with them. Even Ray, as stupid as he is, could have been likeable had the author had him talk and interact more with Auria and her allies. But as it is, I don't feel like I ever get to 'know' anybody - most of the time when you talk to your allies in town they clam up or talk about lore and politics. It's hard to care about people when you're never even given the opportunity to invest in them.
I guess that's all I have to say about that.
4. The Gameplay
The battle system is a simple CBS. The primary game mechanic is the reaction system; reactions are stances that alter how your character fights. Initially you have defend - which reduces damage based on your defense - and dodge - which increases your evasion based on your speed. You also have access to an offensive stance that allows you to act when an enemy strikes you (useful) and a stance that restores your stamina when you get hit (useless for a reason that will become obvious shortly). This system is potentially interesting, but fundamentally flawed for a variety of reasons.
The biggest problem seems to lie in how stats operate themselves. It's hard to gauge how effective a stat is since we don't have access to the detailed numbers. I mean, we can see that defend reduces damage and that dodge makes you dodge more, but it's frankly hard to tell how effective my stats actually are. I say this because I could miss 10+ attacks in a row against an enemy in the dodge stance even though my party was made up entirely of high accuracy characters. Other times I would get hit by a critical strike that instantly killed my high defense characters in the defene stance. What's the point of specializing in a stat if it doesn't mean anything? It's unfun and frustrating, and there's no way to counter these issues.
Speaking of critical strikes, why is the variance so huge? By the end of the game my Auria was dealing about 500-600 with a slash, but could do anywhere from 1600-4000 with a critical strike against non-defense stances. The same is true of the enemies. The demons in the Kasch dungeon could do anwhere from 200 to over 1,000 with a critical strike. This seems completely unnecessary and, when combined with the dodge rates, makes the game needlessly RNG-heavy.
Early on in the game you get introduced to the skill learning system. This system is unique to Auria - other characters learn their skills through leveling. It is also not very well thought-out. Outside of the defense and healing skills, most options are terrible. The physical attacks cost ridiculously large amounts of HP for tiny benefits and all of the buffs are practically useless because they do so little to affect combat. The SPD skills in particular are laughably narrow. Also, when you have a skill named 'Lock-On' that costs 1/4th of your stamina pool, and that reads 'greatly increases your accuracy for one turn', it should pretty much always hit. It does not currently allow you to do that (I missed the one time I used it), so it is terrible.
Since most skills are useless (and, as a result, most party members are useless) and the enemy designs themselves are not particularly clever or engaging, battles are pretty boring affairs - mostly spamming attack until an enemy randomly instakills one of your dudes with a 2000 damage critical. The one special thing that is useful is the charge command, which you can use on an ally with weak damage output to allow Auria to smack an enemy hard with a somewhat higher hit rate - but this really is just MORE DAMAGE and adds no real special tactics to combat. Ray also gets a skill like this, and it stuns, but it seems to crash the game so I recommend against using it.
The dungeons are small, inoffensive and not particularly interesting. The enemy encounters start on contact, and are fairly easy to avoid. Once you hit max level (and you most likely will, since the cap is fairly low) do yourself a favor and just run from every non-mandatory fight. Well, unless you want to take advantage of the bug that allows Auria to keep leveling her stats when she gains a level after hitting the cap. Which you don't. Believe me.
Overall? The game systems need to be totally revamped. It has major issues in every area.
5. The Aesthetics
I am happy to report that the game sounds pretty damn good. The music is appropriately fitting and atmospheric in most instances, and I dare say the game's finest quality. It even features some (non-embarrassing) vocal tracks.
The maps look nice and are easy to navigate most of the time, especially with those little direction pointers. There are some issues - most notably the humongous amount of passability errors. None that I ran into were game-breaking but it makes your game look sloppy and unprofessional, so do try to fix them.
The face art is a mixed bag. The face sets look okay-ish, if a bit awkward, but some are tremendously immersion-breaking in certain scenes - especially Ray and Vel, who have these dumb grins on their face at all times. It's even harder to take the final cutscene seriously with Ray's stupid "duuuuuh" mug staring at me the whole time. As for the battle sprites, they are passable, but not very fluid or fun to look at. They move sort of funny and just don't feel all that natural.
6. Summary
Here be the details in short:
Pros/Cons
+ Fairly interesting setting.
+ Presentation is good. Nice music, pretty maps, okay face graphics.
- The combat is disastrously bad.
- Stat leveling adds little and most skills Auria and her allies learn are useless.
- The player characters are inconsistent, have questionable motivations and are easy to hate.
- Story dragged down by questionable narrative direction and a bizarre ending.
- Rough around the edges. Passability errors and small bugs abound.
7. The Word
2 / 5
Unpleasant people do unpleasant things: The Game.
My theory is that Ray is actually a Machiavellian villain. Who else can get away with emotionally abusing two powerful, supernatural characters by playing them against each other while maintaining the same creepy stare the entire time?
Posts
emmych
527
This preeeetty much sums up my fee-fees about Vacant Sky, although I barely got into the first act. Good to know that my instinct in quitting before I'd sunk another few hours of time into it was right, though, since it sounds like the issues that made me quit in the first place didn't improve with time.

At the risk of derailing the comment thread, I'll throw in a few thoughts of my own (since I don't wanna write an entire review and it's related).

Overall, this game is just really messy. It has that first game feel, where someone hadn't gotten the knack of planning things out yet and didn't really think about WHY they were adding/using certain features, and it also has that feeling of being a game that was revamped after some strong critique, but without the critique really sinking in, resulting in a lot of...I dunno. Messy leftovers ans un-murdered darlings. This was a game somebody made before they really found how they make games.

I think, if Project BC wants to get this game right, they really need to look at where this game shines, and really think about why they do certain things. I think they should bin every aspect of gameplay (battles, stats, everything), and figure out what the core of the fun is. I, personally, really liked exploring the world! It was interesting and pretty enough that poking around was entertaining. How could that be integrated into the game as a whole?

I also think the characters need re-writing. They need to be stripped to the bone and really harshly examined. I'd also suggest thinking about cutting out anyone who doesn't NEED to be there (this one is really fucking hard, I know, but sometimes it's for the best!), and consider not killing a bunch of dudes off! I dunno about anyone else, but I sometimes feel like character deaths are a lazy move.

THAT IS JUST MY OPINION THOUGH so take it with a grain of salt!
Clareain_Christopher
C_C ~
2791
author=emmych
and consider not killing a bunch of dudes off! I dunno about anyone else, but I sometimes feel like character deaths are a lazy move.

THAT IS JUST MY OPINION THOUGH so take it with a grain of salt!
I haven't played a lot of this game. I, however, thought the character deaths were pretty interesting. You don't see a lot of
optional
main character deaths in RM games, and when I first saw a MCD, I was shocked.
Though it does make coding a tad complicated. A lot of features, some that were already taken out, made coding this game complicated.
If there's one thing I learned from Wine and Roses and its 5 star review, its that KISS is a phrase not to be taken lightly.
This project holds a lot of promise, and I hope Vacant Sky: Awakening doesn't fall into these traps. I have faith in Project BC. :)
FYI: More spoilers.

I'm not entirely sure since I could very well have missed something, but the only player characters that don't seem to have a potential death scene in Act 2 are Rien and Auria (of course), herself. This is assuming that Auria and Mia kill Blaise, Vel and Ray during the ending's finale, but that's not 100% clear.

Character deaths are largely a byproduct of Auria's decisions, but it's hard to appreciate that when the game is deceptive about it or waters it down in some manner. In what scenario would Auria herself choose to save Vanquish (a guy she just met with no personality) over Seri (a person who has been very helpful and friendly towards Auria since they have met)? I know getting Seri killed would alter the ending of act 2 substantially in some way, and that might very well be interesting, but why would Auria herself ever choose to kill Seri over Vanquish in this sequence? There's no rational explanation; it absolutely requires Auria to go out of character.

As for Mia's death, I'll be honest: it would be very easy to choose Mia over Blaise, Ray and Vel if the choices were 'kill Mia' and 'kill these people the game never gave me a reason to care about', but no - Mia dies from an act of kindness while those other three die only if you decide to be cruel. My basic takeaway from the game is that Blaise and Ray are bad people, and Vel at least has questionable moral values, so it wouldn't be that hard to choose between them if it were simply portrayed as 'kill x', 'kill y', especially since Mia is Auria's only genuine friend. I'm sure this goes back to much of the cast being under-characterized or misrepresented though.

For the hell of it:

Most to least favorite party member for the purposes of characterization:
Mia (genuinely likable, then dies)
Zaqris (genuinely likable as of the ending, one of the few characters that retains a sense of dignity/honor/virtue during the ending, then dies)
Seri (suffers greatly from ending scenes, but still better than most)
Auria (when not being angsty she has her moments - especially when with Mia, suffers greatly from ending scenes)
Vel (salvageable, under-characterized, shitty taste in men)
Vanquish (salvageable, under-characterized, completely irrelevant, wallflower)
Rien (annoying, has lots of dialogue and none of it is interesting)
Blaise (a terrible, selfish person with no redeeming qualities)
Ray (a terrible, selfish person with no redeeming qualities + stupid grin)
Clareain_Christopher
C_C ~
2791
Interesting. I like your review style, Karsuman.
Avee
846
A nice read. I must say I simply love your review style.
Pray you review some more games, Karsuman.
Thanks, Avee, Cralreain. Honestly, I could probably get even more thorough if the author shows any interest and wanted me to, especially since his commercial project seems to be using the same world and a similar combat system, but there's only so many details you can shove into a review before it becomes lots of rambling. Probably. Still getting the hang of this review format. I might add an advice/improvements suggestion section in my next review, now that I think of it.

I'd loaded this game up a few times in the past (in its prior version, before the improved battle interface and additional story stuff, too) and always had trouble getting past the first act. So after I finished the Skyborn review and saw another subscription notice for this game, and saw that the game was still well-regarded, I figured I'd finally push ahead to see how it had improved and why people liked it so much. In the end, I don't know why people liked it - yeah, you can quibble about the writing, I suppose, but the gameplay is a real drag - though it's not as if these problems aren't fixable, either.

Although with the commercial game starting up soon, maybe it's too late to make changes. C'est la vie, I guess.
obsorber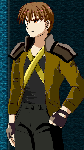 1289
I just played Vacant Sky Volume 1 again and I would agree that the review is quite accurate. I would have given it 3/5 though but I guess I am more lenient than you are. I am not going to lie, I found the game-play rather tedious and not very fun. Battling, the main aspect of the game was a bore, and even annoying most of the time. I actually skipped as many fights as I could. I couldn't stand missing enemies all the time and by the time you get to the next volume you are so frustrated. The story is relatively well presented with a few great cut-scenes especially the opening. However a game with only a few awesome cut-scenes really doesn't do it for me. Even so, it still is one of the better RPG Maker Games out there...

I saw the game more for the story. I gave up on the game-play after the first 1-2 hours because it got frustrating. After giving up on the game-play I just enjoyed the exploration, the dialogue and learning about the fictional world and what was happening. It was so much to take in and without any characters I could accurately obtain a point of view of the story from I lacked the perspective to think about the whole situation in the game.

You know I was thinking about giving it a review but now I don't see the point considering you pointed out everything I wanted to say and more. Well reviewed.
Crystalgate

494
Unless it has changed during one of the updates since I last played this game, stats have a diminishing return. The more of a stat you have, the less further investment matters. This is part of what makes it hard to gauge the effectiveness of a stat. This also makes Lock-On and the strength version of said skill useless, you get greatly boosted stats, but the stats now faces a greatly diminished return.
author=obsorber
I would have given it 3/5 though but I guess I am more lenient than you are.
That's fine.
I don't 'rate' individual categories in this review system. The final score is more like a combined estimation of how much fun I had and how strongly I'd recommend it to any random individual.
author=Crystalgate
Unless it has changed during one of the updates since I last played this game, stats have a diminishing return. The more of a stat you have, the less further investment matters. This is part of what makes it hard to gauge the effectiveness of a stat. This also makes Lock-On and the strength version of said skill useless, you get greatly boosted stats, but the stats now faces a greatly diminished return.
If this is the case, wow. Just wow.
The game really wants you to focus on specific build paths when it comes to Auria's skill selection. Your allies also follow this principle, only focusing on two stats themselves. Stats having diminishing returns in such a system is completely bonkers. Sheesh!
blueperiod
512
Really awesome review, Karsuman. I agree with whoever said that you should review more games. :)