1 reviews
Add Review
Subscribe
Nominate
Submit Media
RSS
A boring, and inconsistent experience, that gets progressively worse.
Little Wing Guy plays
Triax: The Rising
an Rm2k game made by
GoldenGuy
. Complete and final version.
Why should you play this game?
- Presents a good opening. Control is quite quick and the first dungeon is not far away.
- Battles present some challenge before too long, and balancing your funds between items or weapons is fun.
- Mapping in the first few hours is quite well done and charming.
Why should you give it a miss?
- The plot barely holds the adventure together, and characters are undeveloped.
- Whether it be in a town or dungeon, exploration is barely rewarded.
- Two of the dungeons are abysmal. It's difficult to see where to go and easy to get lost.
We start as I expected. Panorama accompanied by slow text. It talks of three planets in their solar system, two of which are completely inhabitable, thus totally irrelevant and the third planet where the game takes place. Oh, and don't forget about unskipable credits, we've just gotta have them! Thankfully they don't take too long, but pretty much consists of:
Concept by… GoldenGuy
Story by… GoldenGuy.
Mapping by…(wait for it)… GoldenGuy.
The games actual opening begins with a Dark Knight, who is so angry that the king asked him to do something, he casually opens a portal to another dimension. What an understandable reaction. Next time, get a stress ball or bitch about him to your co-workers. Obviously this has completely unforeseen consequences, and a bunch of monsters/zombies (All dialogue refers to them as Monsters, while all battles refer to them as Zombies) pile out of the portal the very second it opens, killing him and duplicating his body. (*Psst* They plan to take over the world! Come on, keep up!) We then get to meet Dale and Lyla, the two main characters of the story, totally unrelated to previous events. Their morning breakfast is interrupted by an attack from one of the monsters/zombies in their hometown. Dale engages it in battle to protect a local child, while the rest of the townsfolk watch it like a fucking television show. Luckily, Dale manages to kill it single-handedly. Completely unfazed, and never thinking to question what it was (it barely gets mentioned again) they continue with their daily business… Annnd that's the last of any form of plot we'll be seeing for a long while. It's a shame the game can't keep up with the pace it sets up in the beginning, or match it again.
The game simply has MASSIVE pacing issues. This isn't even a game that shows promise of improving later on either, as there are only two moments in the length I played (The first in opening scene, the second about two hours in) where the actual story has any form of an effect on the current events, and both times; the game shrugs it off in literally a second, like it isn't even important. The problem isn't a late control of characters, or long openings, it's what the game puts you through and expects you to do. Most of the game early portion of the game is spent saving random children, dicking about town or travelling through three forest dungeons in a row. Seriously. The story doesn't even tease you or try keep your attention. It doesn't have any subtle mention, so it's never in the back of your mind. In fact, you wait so long for something to happen, you forget what you're even waiting for! Because the characters in the story have no connection and don't care about the monsters/zombies they encounter, neither do you. The main enemy has such an incredibly basic motive, established in the opening scene, and since they rarely make appearances; the overarching plot has all the tension of two kittens sleeping. The game does attempt to introduce one or two subplots, at the very beginning of the game, but like everything else; it drops them literally the second they are mentioned. If the hastily mentioned subplots make a re-emergence later, I don't see why there are no minor hints or inklings spread around the game. Yes I know what a plot twist is! And yes I know what a JRPG thinks a plot twist is (Four in a row in the final cutscene that has had no foreshadowing). I found all the early filler so utterly dull, but it was still more gripping than the actual story. I'm not ragging the simple plot, you can make any story exciting. It's the terrible pace and unconvincing way it's handled.
I know we've both said things we regret, but I'm really glad we had this talk.
Dale and Lyla, as I mentioned, are our first two characters; they receive a lot more dialogue, especially Dale. What's interesting about these two, is, they are already romantically involved. Unfortunately, that's the only interesting thing and they act a lot more like brother and sister , than lovers. No, I don't want to see sprite sex (Fallen-Griever lol), I just hoped the author had decided to make them lovers, instead of siblings or friends; for an actual reason. Had they been friends first, we could have seen the bond develop through the course of the game ourselves, and been more emotionally invested in the couple. Everything in their relationship is hunky-dory, and they don't disagree or argue about anything, but I still can't see why they're a couple in the first place, as there is no chemistry. Dale is the main character of this tale, he has main protagonist syndrome though, so the author thinks this means he has to hog the limelight. In a lot of cutscenes, Dale speaks for everyone, even if they are mentioned, or their opinions are asked for, they are rarely present.
Next up is Cyril. Ah, Cyril, lovely, lovely Cyril. What can I say about him…actually, shit! What can I say about him!? He joins the party very early on and is with us in the first dungeon, but mostly he just stands blankly near Dale sometimes. I honestly couldn't even remember why Cyril was with us after a while. He tagged along to help rescue the child from the cavern, and I guess he just never left. Cyril is the least developed of all characters. Just as I was beginning to realize Cyril was the completely throwaway character, that he is. The game quickly and coldly disposes of him. He asks the party if he can return to your hometown to tell his girlfriend where he is (totally whipped). If you say no, he just leaves and no one batters an eyelid. Seriously, no real cutscene or farewell, his portrait just disappears from the camp menu, never to be seen again. If you say yes to this, you have to backtrack with him through three dungeons (super whipped). Fuck! Although one you have to backtrack through in order to leave the current town anyway. The only reward you get for this is keeping Cyril, and that really isn't a reward. His girlfriend barely acknowledges him (super duper whipped) and doesn't give you an item, skill or anything. I half wish Cyril had been killed off by one of the monsters/zombies, at least then Dale and Lyla would have a real sense of belonging to the story. Another problem with Cyril is, you see him everywhere. Well, not the character, but his sprite. It seems right from the very beginning Cyril was always intended to be a throwaway character by giving him the sprite of a regular townsperson, but you still don't recycle his sprite on to basic NPCs around towns, especially when he's still with us.
And then there's our final party member, Reuben. Reuben is a famous celebrity, due to his impressive fighting skills at the arena, of which he has never lost a single battle. That's sounds really cool, doesn't it? It certainly has the potential to be. But he might as well not be in the party half the time. His social status barely comes into play, and only when it is convenient for the plot (being a celebrity allows him to bring people he hardly knows to see the king whenever he pleases). It doesn't effect anything else that happens, even when you talk to an NPC no one ever seems recognises him; even though Dale and Lyla, two nobodies from small a village tucked away in the corner; knew his face right away. We never learn how it feels to be a celebrity, take any advantages of it, and whether Reuben even enjoys it. Later on in the game, you enter the tournament as Reuben to defend his title. This is playable, but if you lose it, no one cares, it's never mentioned again by anyone. You think he might be a bit upset, but no! He's not Dale so he doesn't get to have screen time. He's just another portrait to add to the camp menu.
I have a way I can sum the characters up. Dale is like Vaan, Lyla is basically Penelo, and Cyril is also Vaan. None of the cast had any real sense of belonging to the plot. They originally embark on their journey, only because Reuben gave them free tickets to one of his tournaments, but there's a lack of motivation for them to continue afterwards. Having characters not directly involved in the conflict worked for Final Fantasy Twelve because it gave an equal focus on it's cast, but in this game it's DALEDALEDALE. It also gave an excuse for someone clueless to keep saying "What's going on? What does that mean?" so the player could understand better. That is not necessary here, this plot of this game summed up is: "There's a monster/zombie! Let's stab first, ask questions NEVER" . This game doesn't need people going along for the ride because the plot is so thin.
I did originally assume that the game wasn't going to focus on it's characters or story much, so I tried my best to focus on other aspects of the game as I thought it would too. But then, he literally said to himself "Actually I've changed my mind, I'm going to fully develop the characters, right now in a single scene, and you're going to bloody well like it!", so we have the completely forced random dialogue scene, about an hour in, where the characters sit around and tell each other their ENTIRE life story up until this point; one after the other. Instead of doing what he should have done, and edited earlier points to include back-story in bite size pieces, we get everything forced down our necks in one go. And that's why this scene is so strange! Not only does it fail to develop it's cast, it doesn't match anything that has happened previously. None of the character have exchanged dialogue anywhere near this length or in this detail before. You finally accept that fact that the game isn't focused on it's characters, then bam! You're hit with a scene that doesn't suit the context of the game at all. I can already predict, somewhere down the line, we're suddenly going to be hit at 100mph with the real plot.
The full character rooster fills up quickly, so we have four unique characters to experiment with, very early on. Wait, sorry! Did I say four unique characters? I meant two unique characters. Hold on a minute, did I say two unique characters? I meant to say just two characters who are barely different from each other. So there's the big problem right at the start. Both Cyril and Reuben have zero MP. It's not some glitch or accident, and they don't ever learn a single skill or start with any. Not one skill. Ever. Thank god they both have good strength because when their turn comes around, mashing attack is the only thing you can do with them. I'm guessing both of them are guest party members, that will leave at some point in the future, but I still can't see why they excel in all the same areas, and don't have even one skill to play with, especially since they stay with you for a long time. For the lucky two party members that do receive skills (from levelling up), they both play the similar role of healer at first, until Dale also learns some offensive magic.
Battles are random affairs, not represented visually on the map; the encounter rate is forgiving and only became an annoyance when I was lost. Battles start out very easy, perhaps too easy. Then a weird difficultly spike occurs and some unbalanced monster groups (you may find groups consisting of six of the same enemy) start dishing out serious damage unexpectedly. Once you get over that though, with a bit of level grinding or brand spanking new equipment, the game manages to maintain a fairly even experience for the rest of the journey. Badly balanced battles are not the problem here, the game lost me because they're just not that enjoyable. With a lack of skills and character stat diversity, you're just going through the motions; you're nearly always doing the same thing no matter what enemy group you're facing, which is a shame as some places have many different enemies. If their isn't an enemy that poisons you, may as well hit the Auto-Battle. The monsters/zombies boss fight are not challenging or threatening like they should be either. In the second boss fight, the enemy uses a move that makes his stats skyrocket just before he's about to die, but ended up killing him before his next turn anyway; and that was the only thing he had going for him.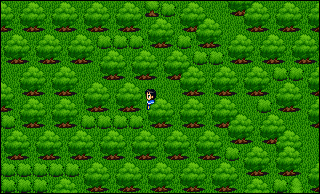 I would often make a witty remark here, but this is not a laughing matter.
Dungeons are a frantic struggles to find an exit as quickly as possible. Okay, that's a lie. There are only really two dungeons like that, but they put such a huge dampener on everything else; and out of everything I've mentioned previously, it's what really tests your tolerance. Fradan Wood is just a maze, and you can tell it's going to be a bitch of a dungeon the very instant you see it. Everything is the same shade of green, and all the plant life are clumped together in this heap of mess. I couldn't even tell where I could, or could not walk. Some places looked like dead ends, because the trees are so close together, actually turn out to be the correct way to go. There are loads of dead-ends and branching paths, I could barely remember which ones I had checked, and we all know what it's like to be lost in a dungeon with random encounters. I seriously believe it was created with the intention to annoy you, he even mentions in a Q and A file packed with the game, that many dungeons are difficult and maze-like. This is obviously the effect that he wanted to pull off, but it just doesn't work mate. Tieer Ledges was the second dungeon I disliked. It's basically a giant cliff that you must ascend to reach the next town, using various ropes hanging from the many, many ledges. This time though, the random encounters are turned off (even GoldenGuy realized how badly designed it was) which was an excellent idea, because like last time, everywhere you go is trial and error. There's a problem backtracking here too, as this dungeon is the only way to reach the town and leave it, and I could not find the teleport shop in Capturnia. Meaning Tieer Ledges and Fradan Wood are two of the three dungeons that you have to backtrack through if you want to keep Cyril in your party. Joy.
Aside from those two, dungeons are not much of a problem, and are enjoyable enough. They usually present a small puzzle, such as moving rocks about or turning on a switch, nothing mentally demanding or impressionable, but I think it worked out okay. The trouble is, will you make it past those two dungeons to continue on with the rest of the game?… (No. unless you're the author, or me. Which you're not).
Like I mentioned earlier, Treasure Chests are not present in this game, instead you can find collectable gemstones scattered around, usually at a dead-end in a dungeon. There are a few variations of them, and they all correspond to a different stat, which they increase on a character of your choosing; permanently. It's a cool enough idea, it just isn't done right. Firstly, they aren't worth the risk or time. The status increase is always set to one measly point, which is no way near enough (although it's three for HP and MP). At the end of a long trail and all the encounters you face, plus the trip back, a Speed+1 is not enough motivation. The only thing more disappointing is going down a longer trail discovering nothing, which happens more often. Sometimes it's just nice to find a new piece of equipment, instead of always a gemstone. I had a cheeky little look at the item database in the editor to find out whether you could find more potent gemstones later on, or for doing more difficult tasks that I might have missed. Nope! Through this (apparently) forty hour epic, the best thing to look forward to will always be Magic+1. I might as well admit my treasure chest fetish; they do things to me they shouldn't, and I'm not ashamed. I would rather open ten chests with a hundred gold each, than one chest with a thousand gold. I honestly missed them so much. = (
… (or better yet, a hundred chests with one gold in each! Oh god, I'm excited.) *Ahem!* Moving on.
According to the riveting credit sequence, GoldenGuy was the only mapper for this game. That confused me, because the mapping is incredibly inconsistent, ranging from offensive to my eyes, to average. Early areas are really quite decent and charming, in a first game sort of way. Home interiors are often overly spacious, and because of this they lack detail. For better or worse, they look like a first attempt at an interior map. Remember when you filled the entire room with floor tile and a bit of wall, until you finally realized what the plain black tile is used for? Some places; particularly shops, have no features whatsoever and are strictly walls and floor tile. With the exception of some important locales, interiors are too big and bland, but never an eyesore or creates any inconvenience.
Like interiors, early towns have a tenacity to be on the large side too. This is a problem, not only because it can be tedious trying to find certain homes, but also because towns usually serve as the basic, stock up and leave. Treasure chests do not exist in this game, and NPCs only offer you their nonsense, and not their goodies. When you do have to explore due to storyline progression, your life is not made easy as most buildings have similar designs. For example, in the beginning village, the Mayor's house is tucked away in the corner, is not distinctive from other homes; and it is actually one of the smallest houses.
I also felt that towns were not distinctive enough from other towns, in both appearance and atmosphere. The author never really tried to set a tone or theme within towns. In the first three or four towns you go to, the same path tile is used, buildings would use every type of wall and only red roofs (He rarely uses Blue roofs, no idea why) without regard. In other games, it's often fine because each new place can use a brand new chipset, with a brand new set of things to play with. I do understand this game is pure RTP, but I'm not going to let this game off that easily, because it only means you have to work that little bit harder to achieve something. Heroes Realm is another game that uses pure RTP, but each new town is unique. It wasn't always the scenery that changed things up, in one town, you could walk on roofs and connecting bridges, or one town was built around a massive lake. Just because one place was built on grass, and one was built on desert is not always enough. If you think about how to place things and what features you use, you can tell players about the town and the place they live without an NPC having to do it for you. The fact that you can't do much in terms of interactivity, and only half the towns you visit advance the plot, just doesn't help either. Now, each town does have a game room, it did feel a little tacked on, when even the random forest villages had one, but it is a welcome addition if you're looking for something to do. After spending money on items and equipment, I never had money to waste on these, because I'm not smart enough to save before I go in, and reload if I lose.
The game reaches it's peak at Capturnia. It's a city with a castle, and for the first time, it really looks and feels like it, it was impressive even! To a degree it does fall into the same trap as previous towns, except it's even bigger, but there are more shops selling a broader selection of items; it does mean you have to meander around town looking for them all though. Previously in every town, he has and placed the Item, Weapon and Armour shop in the same building, which was a great idea and I began to really appreciate. Unfortunately, later towns are uninspired and frankly, downright hideous. I like a degree of consistency, a game should start as it means to go on. I'll let this waver, of course I would, we are amateurs after all; but when a game gets blatantly lazy and doesn't care anymore, how are the players expected to? I could go on and bore you to death, but I'll let this picture do the talking:
Towns found in the early stages of the game:
Towns found in the later stages of the game:
NPCs in this game, are alright. Sometimes though, I felt like my party were a travelling band of closed-minded, Christian goody two-shoes. At one point, you can visit a house where a drug dealer lives, growing cannabis (just accept the fact this is happening in this RTP fantasy setting before we move on). And this weird conversation with Dale occurs:
"What a useless low life. Don't you know cannabis rots your brain, and destroys your life? I'm gonna be sick! Let's call the police on him, Cyril"
"Sure thing Da-"
"Shut up Cyril, I'm talking and your ruining everything. Godddd."
That's not the only time this happens either. You can visit an RTP strip joint (again, just accept it), and if you talk to the stripper upstairs, Lyla gets a bit sassy: "Haha I got a decent education, unlike you; and I don't have fake boobs, and wear make-up to make myself feel better. I have my honest true sweetheart
Sonichu
Dale, who loves me no matter what!" Then Dale jumps in with: "Here! Here! You sure showed that disgusting skank, who's just trying to earn a living. Strippers are rubbish and should be condemned!" Then the stripper runs off in tears. Wow, I just watched two party members bully a grown women. This was my face when I saw it: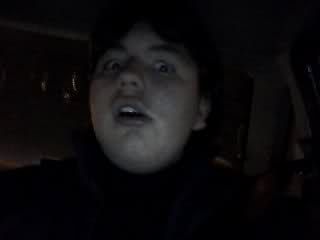 It's pretty rare that any of the characters (I mean, Dale) talk back, or have conversations with NPCs in this game. I made an effort to talk to all I could find, and those were the only two I recall having more than one message box. Which to be fair, is not unusual, and we've all talked to an NPC that sparks a massive conversation and won't shut up, and you wished you never talked to them; but at the same time I'm fed up of making the effort to walk into a house and talk to someone who replies with "Hello" and nothing else. That's what a lot of NPCs are like, and I don't know why he put the effort of making a home interior, if he's not going to use it for anything interesting; might as well of locked the house, or trimmed that fat, and just made the town smaller. Everyone in the pub is drunk, and all the children are mischievous and so on, but every now and then you'd find someone who said something relevant to the game, or helpful, or comical even. It's not a waste of time talking to ones that cross your path, but you don't really get rewarded.
The game starts out fine, but the more I played, the worse it got. I was forever waiting for something to actually happen. It got to a point where, literally anything happening could have satisfied me. It's an old rm2k game and it really shows its age. If you're looking for a classic nostalgic game back from the early 2000's, this isn't the way to go. I played this game for three hours in total (I honestly don't believe anyone else will get that far) but I did not complete the game I'm not sorry to say. Why did I quit you ask? At the end of a dungeon, a cutscene instantly occurred before I could save, and I was asked whether or not I would help the village elder. I jokingly refused (which is the default option). I'll let you guess what happened…
A) I was asked the question again, stuck in an endless loop until I agreed.
B) I didn't actually have to do a forced side quest, and could continue.
C) The side quest was too difficult.
…*psst* it was secret answer D! Abrupt game over screen! Hope you saved recently lol.
Posts
masterofmayhem
I can defiantly see where you're coming from
2140
Very good, very funny review Little Wing Guy. I haven't played this game, but from what I've seen your complaints seem legitimate and constructive. And at least you stuck with for a while which is more than I probably would have done.
I'll have to get you to review my project when I get the Demo running... eventually... hopefully.

Little Wing Guy
2808
Thank you very much! I don't know how you intend to get me to review your demo, but I accept all bribes.