Add Review
Subscribe
Nominate
Submit Media
RSS
Puyo Puyo VS
Puyo Puyo VS (aka Puyo-Online) is a Puyo Puyo clone meant for online competitive play. Connect with others to play Puyo Puyo with classic Puyo Puyo 2 rules. Also available is harddrop mode, where you can instantly drop Puyo by pressing up.
Note that this game is created with competitive play in mind. This game is created to "compete" with puyo2ch. It's meant for people to easily connect and play.
Download the latest beta version below. Puyo VS is still in beta and may have issues.
If you found bugs or have suggestions, please let us know.
Download
The downlaod is currently waiting for approval. If you can't wait, use this...
Default server is aquadasoft.com, it's a public server.
Also available for use is server.klikfarm.com
Customization
Puyo, backgrounds and sounds are customizable in Puyo VS. Place graphics and sounds in appropriate folders. For music playback, place music files in the BGM folder. Or add folders with the music files in the folder list (change this in the launcher).
Puyo Puyo VS does not come with any non-default Puyo skins, background and voices.
Download them seperately here~
Hotkeys
F1 = Rematch
F2 = Highlight chat box
F3 = Highlight game
F4 = Show/hide chatwindow
F5 = Play endless
F6 = Go to lobby
F8 = Hide menu bar
F12 = Forfeit match
Alt+enter = Go to fullscreen
Disclaimer
The game was developed by Hernan from
Puyo Nexus
, I'm just publishing it here on RMN with his allowance.
Visitors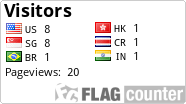 Latest Blog