Add Review
Subscribe
Nominate
Submit Media
RSS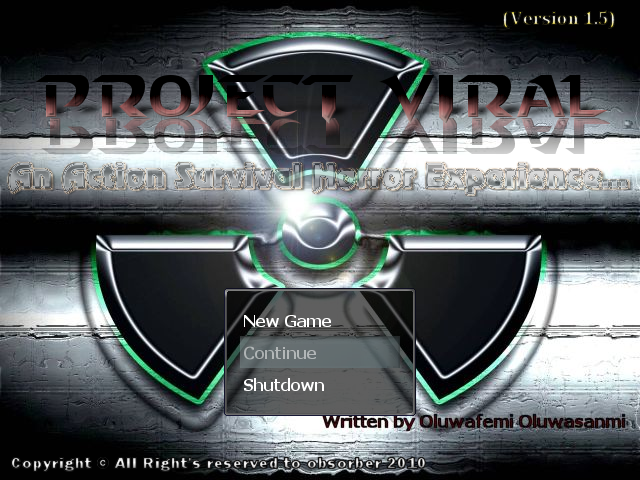 (Note: This game doesn't require rpg maker to run because it has it's own installer.)
Genre:
Action Survival Horror
Estimated Gametime:
1 hour 30 minutes
Difficulty:
Moderate
Rating:
Teen
Status:
Complete Version 1.5
Hard Disc Size:
69MB
Summary of the Game...
"Project Viral is a survival horror game that has been developed using Rpg Maker XP. Originally this game was planned to be called "School of the Dead" but with a lot of changes to the plot, it was renamed. The game originally focused mainly on scare factors to terrify the player but with the changes in hand there were more features added such as the use of a unique battlesystem which meant more gameplay action was provided. The player has a more diverse control when encountering enemies such as the common zombie. With all this, the game now fails to stay as one genre and could even be classified as a hybrid. The setting of the game is in a military school where a virus has spread through out the entire area turning most of the people there who don't have a strong immune system into flesh eating zombie like cannables. The player is a male high school student who has to survive the horrors ahead of them whilst uncovering the secrets behind the scenes.
Features
-Zombies
-Action Battle system
-Automatic Cutscenes
-Comic style dialogue
-10+ weapons
-A Dark Atmosphere
-A Sense of Realism
-Suspenseful Music
-Shocking Sound Effects
-Guns and ammo
-Environmentally Friendly Terrain
-A who school to explore
-A Mini Map
-Vending Machines
-Re-spawning Enemies
-Character Stances
-10 EXP Levels
-Cheat Codes
Latest Blog
No blog entries have been posted yet.
Completed

RPG Maker XP
05/31/2010 12:18 PM
06/20/2012 08:30 AM
N/A
38982
19
1466