4 reviews
Add Review
Subscribe
Nominate
Submit Media
RSS
Tech Demo(Introductory) Issues
Issues:
Map Tiles/Design Incompability Issue:
I promised to myself I won't release something from my updated project file.
To those who played the Demo and was thinking the Incompatibility of the Maps from the Intro to the End.
Here's a Sample of the Intro in the Bridge.
Old: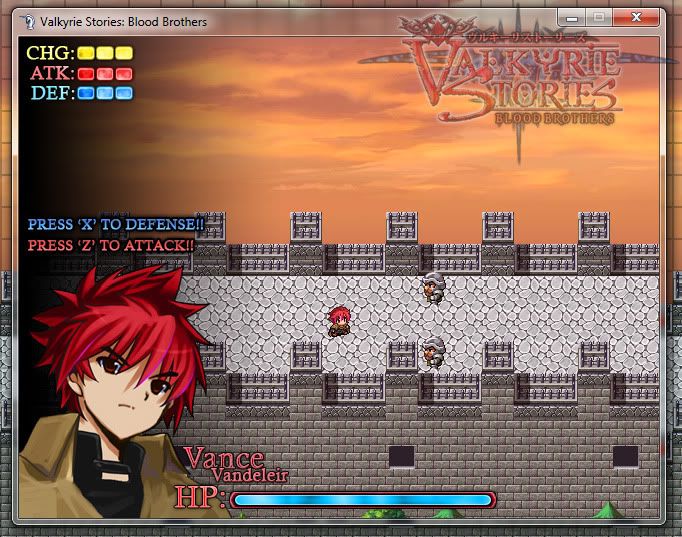 Take a look at the Old Map and Compare it with this(Below). (One of the Events that I removed from the Introductory is what is in the Old Screenshot)
New:
This will close the Issue about the Incompability of the Map Tiles Used in the Intro. Yes The ones you are playing is the Old.
Don't worry all of that has been settled months ago before I decided to leave RPG for a while.
3 Years Production Issue:
I would like also to clear out that this Game has not been produced for 3 Years. You have a false information.
Valkyrie Stories = 3 Years = YES
Escallion Rising = 3 Years = NO
I first tried to produce Valkyrie Stories: Eternal Destiny which is in my Blog, With a Date on it:
http://www.rpgmakervx.net/index.php?autoco...112&cat=154
Which is Completely Different from Escallion Rising, I started Making Escallion Rising
LAST YEAR AGO (Jul 10 2010, 07:20 AM)
and it was named "Valkyrie Stories:Blood Brothers" You can read my Blog about it here:
http://www.rpgmakervx.net/index.php?autoco...s&entry=582
And in 1 Year Duration, I only produced this for barely half of the year. So Whoever started the rumor that Escallion Rising was been planned for 3 Years it is NOT TRUE.
Hanzo Got all The Team he needs Issue:
And About My Team (DreamCore), They All Left me Already, I had no One to contact, Except PentagonBuddy and Jalen Who is helping me with the New Character Potraits I OWE THEM SO MUCH. and Penta also made my Dialogues Better. SO I respect THEM so much for being helpful. I want to clear out that I am working alone in this Project, and DreamCore is already Dead... I haven't heard from them Except PentagonBuddy and Jalen. Also Wanted to add that Emmych is trying to help me with the Sprites for the New Characters to remove those Kaduki Sets
Intro Confusing Issue:
Another Thing about the Intro. I'm pretty Sure those whose been confused after Vance Run and then he's in the town with Raye didn't get the time to read this in the First Page:

Intro:
Valkyries are said to be the one who decides who will die in battle. But I don't believe in such stories... I choose my own Destiny, and Revenge is My Destiny...
Summary:
Vance and Veinhart were kidnapped, held as experiments, and forced to work for Escalione. However, They've been heavily trained, thought to use their skills to make an escape. After splitting up, Veinhart promised to meet Vance in Avalande Town and Vance ran as fast as he could, while the genes inside of his body started to react with the Escallion that he received from the experiments. He fainted and woke up in a Forest Village which is owned by Cerina Ausburn, a huntress living in that village. She found Vance unconscious in the middle of the forest and took care of him for days. Once Vance finally woke up, he must go to Avalande Town to search for his brother, as they had promised to meet there after the escape. Cerina convoys Vance until they reach Avalande Town.
I hope this clears out some of the Issue,
And I don't want people to Argue about the Demo here again.
You can go make a Constructive Criticism about the Demo and I Accept whatever it is as long as it is Constructive.
Respect me and I'll Respect You. Take Celianna's Word. and let there be peace in this Topic.
I only want to see those who have something I can learn and improve with. And I am greatful to have those people who gives their efforts on giving me advice on how to improve the game.
That's All,
Hanzo Kimura
Posts
Adon237
if i had an allowance, i would give it to rmn
1298
Wow. This actually clears everything up. Thanks Hanzo.
this game looks great. but after I download it and run the game it says "RGSS202E.dll could not be found." anyone that can help me?
So is Eternal Destiny still going?
font doesnt seem to work..any ideas??
Adon237
if i had an allowance, i would give it to rmn
1298
author=wraptorman1955
font doesnt seem to work..any ideas??
Read my review for the game, I complained about that. It has the answer.
Everguard
814
Small gramatical error, it should be " 'x' to Defend" if the other is " 'z' to Attack'. Otherwise, the game looks fantastic! :) I'll download the demo when I have the time to.
hanzokimura
382
Thanks, But don't worry, That is an old screenshot, also it has been said already a year ago, But still thanks ^_^