Add Review
Subscribe
Nominate
Submit Media
RSS


Hello, I am Bizarre Monkey, and this is my second game. I have polished the campaign which is over 5 hours long now. This is version 1.1.9, while it may be true that 5 hours is no epic, not everything has to be a grand scale epic like Final Fantasy, you can also save any time you have control of your character (outside mini-games) making it ideal for both the working man and those unconstrained by time.



A group of three regular animals are doing what they usually do to live, which includes scheming, theft, and by no means any real dangerous crimes. after being worried about suspiscion of a recent theft involving fish they go off to Tristy's house to take a break for ten days, reciting past events and such, they soon realize they had'nt heard from Pep in a while, but soon find out he was sleeping under the couch. Then all of the sudden, a massive foe emerged, iconized by a gaseous Blue Face with jagged teeth and eyes, the foe immediately brings forth a quick battle, in which the entity inevitably wins, they find themselves in some sort of Undead City, they are later told that it is a necropolis, and that they have been slain. On command of superiors, they then begin training in an attempt to save the world from his Madness.


Rolly Fatdog
Species: Beagle
Age: 3 human years
IQ: 126
Origin: New Jersey
Gender: Male
Rolly is a good-hearted green dog who loves his food. He loves brawling as well. So he will pick just about any excuse to go on an adventure. Despite his arguing with Pep and excessive brawling and eating, he seems to be the most level headed of the three, he is also the least intelligent, but that doesn't make him any less formidable in battle, he has enough knowledge to know his weight is his weapon, usually doing body slams, rollouts, stomps, and moving his whole body to increase the power of his punches.
Pep Cookiedoe
Species: Tabby
Age: 2 human years
IQ: 145
Origin: London
Gender: Male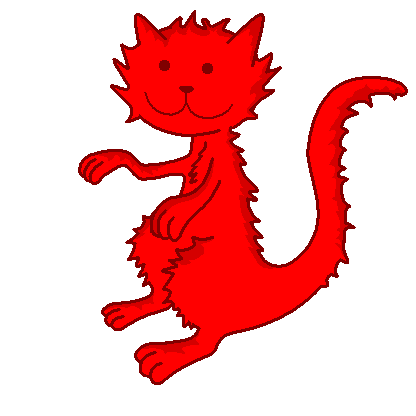 Pep is a hyperactive red cat who loves red cordial, it is all he ever drinks
or eats
for that matter, due to the red dye in his drink he has turned that color himself. He and Rolly met after being running away or migrating from their homes, meeting in Reunion Junction, a place now called Messenger's Landing. Pep's personality is often erratic, and can be very nice, sad, cynical and silly, all changing from one to another on a moments notice, there are a few constants however, Pep will either get very upset, tempered or depressed when he doesn't have any red cordial, when Pep has recently had red cordial, he is very happy, extremely optimistic, and usually floating, though red cordial in the game is an item which revives players for no apparent reason, Pep usually refers to it as an addiction which can not be stemmed. While Tristy and Rolly just Pass this off and try to help him find something else to do, Pep does seem to get seriously depressed when no red cordial is within reach, almost to a breakdown stage.
None the less Pep is a good friend and keeps the story entertaining, from wacky stories about when he met a Clown to his visions when he has had one drop of red cordial too many. Pep is responsible, and does have morals, though barely.
Tristy Heals
Species: Mountain Kangaroo
Age: 4 human years
IQ: 168
Origin: Mallanganee
Gender: Female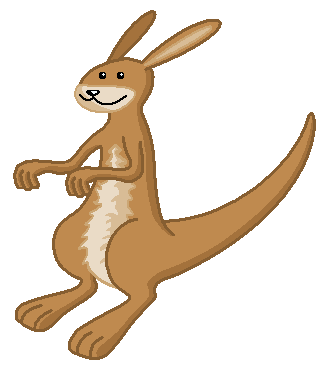 Tristy is a mountain kangaroo who finds Rolly and Pep looking through bushes at a mysterious man, she has since been in their party, healing wounds and helping Rolly deal with Pep's craziness. Tristy is laid back and carefree most of the time, but she knows when there is real danger and acts accordingly. She has high charisma too, she stopped the war between dogs and cats and led the charge upon Maw and concealed him in a high tech security pirson... the victory however, was short lived.
Tristy seems to be the only person in the party with an accent or lingo. Tristy is also the most intelligent of the group, with her status page showing an I.Q of over 160, most humans who had this kind of IQ would be referred to as super human, her IQ is higher than Pep despite him being a Technological Wizard, but this is largely because of Pep's lack of common sense.
Limbo Bingo
Species: Skeleto
Age: 166 human years
IQ: 154
Origin: The Necropolis
Gender: Male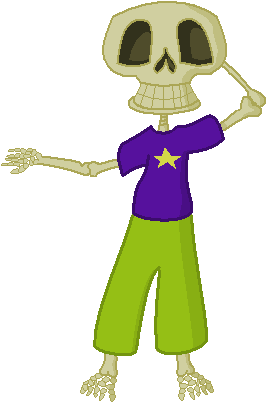 Limbo is the most recent addition to the party, during a Maintenance test in
The Slammer
, --a massive food processor that keeps all inhabitants of the Necropolis well fed and happy-- Safiercat and Limbo were figuring out what the problem with one of the output shafts was, Safiercat said Push the Big Red Shiny Button, which sent Limbo to the world of the living, much to his chagrin. Shortly after the currently 3 adventurers catch sight of the muling Skeleto, and shortly afterwards he joins the party, with the ideal 'It will give me something to do' while he waited for Safiercat to fix the problem or he died properly again. Limbo is very stuck in the Skeletopian way of life, which revolves around having childrens parties and basically nothing else. When he does sparingly reminisce of his life it seems he may have been a Swashbuckler, a pirate if you will. Details about this are sparse but it is the closest anyone has gotten to his history.
Generally, Limbo is very easy to get along with, and gets over anger quickly, to the point of forgetting something uncharitable he said to someone at the focus of his anger. His Shirt is globally recognised as the best shirt ever, and respectably fabulous to boot.


The World is an evolved version of ours, fast forwarded 40 years when humans have left the planet and the animals have been left to roam free. During the time the "old ones" have been away the world has healed tremendously and the Wildlife has become rather intelligent and have made their own civilization. While still looking like Normal earth cats, kangaroos, dogs, mice or what have you, their intelligence has increased tremendously. Making a primitive yet interesting version of our earth. Humans are also disliked by most animals in general due to them leaving the whole place behind, some see it the other way, that them leaving made sure they were there today, all biased on their upbringing.

The Wildlife also refer to Humans as "Old Ones", seeing as most of the humans have been around for a while and have a longer lifespan than most animals, it is also because they do not remember what they called themselves as when humans were last here their pets were too primitive.


1.1.9 Trailer (Up to Date!).
Item tooltips showcase as well, thanks StormCross. (Up to Date!)


Patch 1.1.9 (Build 4)

General:
- Ryu's Pendant was changed to Blu Pendant and now gives 5% MP Regen instead of double experience gain, which was breaking the game in some cases.
- Nerfed the Damage multiplier on Party Fever slightly.
Encounters:
- Cenobites had their health increased to 5000 from 750.
Bugfixes:
- Fixed a bug that occured with Lingoless Lament if you got it early be means of bonus experience gain, and tried using it on Cenobites which would cause an error to occur, removing its death infliction on attack nullified the issue.
- Fixed up some coherency between what happens in game and the Biography on the Status Menus.
- The party now ages 10 years on the status menu when you begin act three.
- Fixed a cosmetic faceset error when you went to hope post-plantation.
- Lingoless Lament no longer ignores defence, meaning it wont pierce Pyro's barrier.

Patch 1.1.9 (Build 3)

General:
- All JPEG artefacts are now PNG, with the exception of all but one battle background.
- Brisbane got a new battleback, credit to Ronove.
- Introduction and Departure from Earth changed slightly.
- End of Act Bosses now have smaller battlers.
- The Game Launch Icon has changed to something more Iconic.
- Title Screens were modified to contrast less colorwise.
- The ship interface for "Old Ones" in the Introduction has changed colour to make it less seemingly identical to Galaxion console.
- Gameover Inducing buttons removed.
- Gameover PSYCHE removed. Have plans to add it in somewhere later.
- BlueSky changed to VX Ace instead of incompetently put together homestuck cloudscreen.
- A few graphics have changed due to my inability to back shit up.
- Pep's Happy mood face has been changed to something less creepy and irrefusably more charming.
- The Angry and Sad Emotion of the Rolly faceset have been changed to give more charm.
- The Wink, Unamused, Angry and Sad Emotions of Tristy's Facesets have been changed in favour of more charm.
- Changed the faces of most of the Ancient Ones.
- A few bits of flavour text have been changed.
Encounters:
- Heelfoxes in brisbane reduced from 4 to 2.
- Shadow Pixies in Spriteopia down from 8 to 4, the mimics are no longer there and instead simply give one item each.
Bugfixes:
- Fixed an issue with Pep's Elemental Fury ability which would on occasion cause Pep to turn invisible instead of growing, now he has an animation play that maybe slightly familiar.
- Fixed a bug that could be gamebreaking which involved entering gaseous when you werent meant to.
- Fixed a gamebreaking issue with Pyro caused by a missing Tankentai sequence he invoked near the end of battle.
- Fixed the passability of some recently modified events.
- Fixed a bug which may have been causing Galaxia to be un-enterable.
- Fixed a few typos and mistakings, such as Trixie which should be Tristy.
- Safiercat's name should now be fully redacted. Safael should have replaced every form of Safiercat.
- Fixed a bug with Old Mac's Munchies that when exited would drop you out the exit of Kirsill's Kiosk.
- Fixed a Gamebreaking Bug that occured when leaving the training halls in the Necropolis prematurely.
- Probably heaps more I forgot about.

Patch 1.1.9

General:
- Asides from item icons, all art has been redone, and the tilesets modified in such a way as to not force the game to look like shit.
- Faces are now 192x192 pixels, allowing for extra expression and less limitations on size.
- Additional flare has been added to existing cutscenes, the most notorious example of such would be The War between Cats and Dogs and the Opening Sequence.
- Universal Travel has been modified and feels a fair bit more aesthetic.
- Galaxia has been given a face lift (again) and the art for each Galaxion has been updated.
- Music Rearrangement has taken place, all World of Warcraft music tracks are gone (thank god) and scenes should play a lot more aesthetically.
- The Map of the East Coast is gone, It was too big, took too long to load, and made events bug if they were outlying too far from center.
- Map Title Screen script removed for now, but it did not go without reason.
- Players can now have up to 99 save slots.
- Many maps have seen small to significant redos, examples of small touch ups include Tristy's Attic (Verandah again), Tristy's House, Brisbane (only a little, sadly, until neo brisbane anyway.), Roof, Pep's Hovel, Rolly's Shelter, Tristy's Apartment, The Pacific Highway, Casino, Prison of the Frostlord, Prison of the Firelord (and the others too.), The Darkvoid, Spriteopia and The Necropolis. Significant Redos of maps include all stages of the Untai Shrine and Brisbane in Act 3, which I will let you take a look at, the game will end when you attempt to teleport up to the skybridge.
- 64 weapons now take the spotlight, but in truth, you'll only see 24 of them pre-1.2 (sorry!).
- Each character has a choice of two weapon types, based mostly on preference, since currently the mechanics for each weapon are practically the same.
- The Sleep, Shop and Explore commands are gone from the main menu, there are now inns and shops that dot the land and you can find your Galaxion Zipper post Maw's Defeat at departure island.
- In order to seal the above change, Tents no longer exist as an item.
- Trains, Buses and Monorails now dont all look like Buses, Monorails look like Monorails, Trains look like Trains and Buses look like Buses, obviously. (All modifications to Pineda's Bus sprite, seriously nothing will defeat that thing.)
- Many skills and some items have been renamed to feel less like they were pulled from Final Fantasy and more like I thought of them, hopefully.
- Limbo has been modified slightly, he now has two more skills to learn, and he has become unique because of the star on his shirt.
- All other Skeletopians now do not have a yellow star on their shirt.
- Choiceboxes have been redesigned to be less shitty and support waypoints.
- More polish and flavour text has been added around, its fun to do!
- Safiercat has been renamed Safael and his sprite has been updated to not look like a garrish piece of shit.
- Got rid of shitty singular resistance trinkets (Maw's essence, Pyro's essence etc.) and added four new ones with meaningful effects.
- New animations have been placed, most noticeably those from VX Ace.
- All VX Ace sound effects are now in the game, but are currently not all used because theres a lot of them.
- A lot of battle commands have been changed in name.
- New Battlebacks, ported from VX Ace and possibly modified by my own doing.
- Pyro got a new mechanic that is... well wait and see! He also now goes by turns instead of health, dont worry about killing him too quickly, it wont be a thing to worry about. (Unless you beat me at my own game. :P)
Characters:
All characters have a new skill at level 30, that they will be able to test out on Pyro.
Rolly
- His class has been redacted to Brawler. His abilties command is now 'Green Esteem!'.
- He can now choose either Fisticuffs or Ninja Stars for weapons.
Pep
- His Class is now called Demolionist. His abilties command is now 'Destruction!'.
- He can now choose either Rifles or Bombs for weapons.
Tristy
- She is still in the class of 'Cleric'. Her abilities command is now 'Transendance!'.
- She can choose either Staves or Boomerangs for weapons.
Limbo
- He is still a 'Guardian', his abilities command is now 'Party Fever!'.
- He can choose either Swords or Shields for weapons.
- He has two new abilities, Antematter Blast (Single target wrecking blast that is unreliable in hitting, but if it hits does 750 Damage and inflicts Burn, Blind and Silence.) and Death Storm (All target storm of death that inflicts death or does 500 damage to all opponents who are immune to such effects.)



So your cries have been heard, and like the banana laden little twat I am I have decided to answer your cries and give you a game that isn't forced to look like shit.

Music is better too, there's no WoW music anymore, if that means anything, it should.

None of the Music or sound effects are mine save for 3 lines of Tristy voice acting, yeah it sounds horrible, do I care? Nope. Oh yeah, and one of Pep's in which he promptly flips off the one at the receiving end of his vocal anomalies in a really shitty put on london accent. Its pretty amusing though because I bleep out the "bad word".

It takes me about 3 hours and 30 minutes to finish this beginning to end, but I know how everything works. Your mileage may vary. On average people have recorded about 5-6 hours to finish.

If I missed crediting anyone please do say so, so I may add their name to the list.

The game is open source now, not like that means anything. (asides from the fact you can help me out with bugfixing and typos. xB)

This is a Non-commercial Project, and I am distributing it freely so the community can get enjoyment out of it.

Please do not redistribute, or post on another forum, if you wish to post it on another forum, let me know, so I can keep a watch on the Topic.

Latest Blog
Completed

RPG Maker VX
05/06/2011 05:21 PM
09/28/2012 08:12 AM
03/14/2011
29664
7
202