Review
Subscribe
Nominate
Submit Media
RSS
One thousand years ago, from the current date. Earth was a beautiful planet. Full of many desires and possibilities. What one could do, is only limited by their very own imagination. If you wanted to be an adventurer, so be it. If you wanted to have a quiet life on your own, you could do so without worry. A wonderful ability known as magic, was later discovered. The people of earth were fascinated by this strange, yet appealing power they created. Sadly, not every person is that of a pure heart. For every person that used magic for good, there was twice as many that used it for unjust reasons. Earth was not the only world, there was a demon world as well. Over in the demon world they to had there own magic, but many from that world thought that if they had earths magic, they could be even more destructive then they already are.
There was a force from the demon world that was dubbed the name, the great evil. He had an obsession with stealing the magic from earth and he hatched a plan. For many years the great evil trained his evil magic so that he could attempt to take over earth and obtains its magical power. The great evil eventually made its plan a reality, he soon turned earth into hell. The great evil killed and destroyed anything and everything it could get its hands on. With every kill the great evil became more powerful. It seemed as if he would not only steal earths magic, but he would make earth non existent.
As hope looked to be just a faded dream, a group of heroes stepped up to challenge the great evil. Of course, the great evil jumped at the chance to obtain more power. A raging battle ensued with each side striking with near fatal blows at every second. Eventually, with all their might. The heroes were able to defeat the great evil, but they did not kill it and there was a reason for that. The heroes used their unique powers to create four elemental crystals, each crystal was given a guardian. With that being said, the only way a being can come from one world to another would be to destroy the crystals. So, the heroes sent him back to the demon world, so that the great evil can forever wonder what if. However, right before the great evil was casted back to its home world. It planted two evil seeds on Earth just as it was being sent off, that at the right moment will grow and try once again, try to hatch a plan to make his evil dream a reality once more.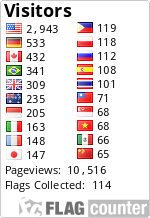 Latest Blog
Production

RPG Maker 2003
11/05/2011 05:38 AM
04/24/2013 05:48 AM
N/A
22038
20
158