Add Review
Subscribe
Nominate
Submit Media
RSS
Boss Battles and the Best Ways to Beat Them:
The Four Elementals (Child Form):




Strategy:
These pesky little beings are part of a new event going on within Online Forces. Each of them, of course, have their weaknesses, most being Element caused, and each one shares a level depending on your party level, effecting their stats. Click will most likely be your most important party member for this battle. If she falls, be sure to revive her with a Revival Potion to keep her casting spells. Lilith's Pharmacology skill can be really helpful when healing the others, and can sometimes mean life or death. Clack should be pounding away at enemies in a fair order. This is an order of the enemies according to their strength, so you know which ones to get rid of first:
1. Fire Spirit
2. Earth Spirit
3. Water Spirit
4. Wind Spirit
Follow this strategy and you should be able to knock out these baddies with ease.
(
*NOTE:
This battle would be easiest if everyone was level 5.)
Divine Fragments:

Strategy:
This is another multi-boss battle. This one can be either very easy, or very hard. Since Clack should know some stat boosting skills, it's recommended you cast those spells on everyone as soon as the enemy appears. After that, make sure everyone is healed up by using Lilith's new healing spells and some potions. Now that everyone is ok, time to introduce the new Summon function usable by Beatrice. These monsters are immune to holy skills, so it's recommended that you summon Rasforth, who can cast Fiend-type spells. As soon as Rasforth takes the field, you should probably boost his defense by using his only boost skill. Every chance you get, try using your two Fiend skills. When you run low on HP, use some Potions immediately since these jerks can hit you for some high HP.
The Rock Fragments heal the Ore Fragment while the Ore Fragment throws some spells your way. Take out the Rock Fragments first, then the Ore. Remember,
if a summon falls in battle, its game over
! Just be sure to stock up on healing items, and you should be fine.
(
*NOTE:
Each character should be about level 10 now, as these enemies are just that level.)
Bosses After This:
Bosses after the Divine Fragments should actually be pretty easy going as long as you keep a steady storage of items and figure out the element effinity for each one.
Anima, the Ultimate Summon: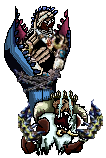 Strategy:
Say hello to one of the hardest bosses in the entire game. Now, as you enter this battle, you'll be thinking, "Yes! Now I will be able to summon Anima!" WRONG!!! Due to Beatrice's low level, she is actually incapable of developing a strong enough connection to control this beastie. On to the battle:
As soon as the battle starts, use Clanks boost skills, and get everyone up and running. Since Beatrice should be about level 30, she should have one Light spell and one healing spell. Since she dosn't have that good of a summon yet, it is recommended that you DO NOT summon anything. Just have her alternate between her two spells as seen fit. Click should start hitting Anima with just a few status ailments. The only ones that work on this boss, is Poison and Sleep.
As for Lilith, she will come in handy when it comes to healing the party after Anima casts Explosion on everyone. Just use her Fix skill that heals the party for pretty decent HP. Since she should now be able to throw items, it might be best to use some Throwing Stars if you have any. If you don't have any stars, just simply attack Anima with your weapon, or use some combat skills. Follow this strategy, and you should have an easier time working your way around this boss' devastating skills.
(
*NOTE:
Each character should be around level 30 by now. If they aren't, it's recommended you turn back after the save point and battle some monsters for some nice XP.)