Add Review
Subscribe
Nominate
Submit Media
RSS
The Wayfarer System is my attempt to make Saga of Eternity a fun RPG experience, without the need for obsessive Grinding to gain money; something that I believe can only detract from the RPG experience, without taking away from the challenge of exploring new areas.
Grinding is still possible in certain areas, for those of you that enjoy it just so you know!
When you press the key, you will enter the Wayfarer Menu.
In this menu, you can check your current level in each of the three Wayfarer Sections (Health Regeneration, Mana Regeneration and Item Regeneration) and also spend any WP (Wayfarer Points) that you have accrued in the course of your adventure, levelling up each of these sections depending on which you find the most useful.
Health and Mana
Health and Mana are, see picture below, regenerated by a certain FRACTION after a battle. By making the level of regeneration a fraction, even near the end of the game if you haven't levelled up either of these sections the amount regenerated will still be useful.

The fraction of healing that you get at each level is as follows:
(Health and Mana increase at the same rate, and only vary in the amount of healing if you skill has a higher level than another)
Level 1 : 1/16th
Level 2 : 1/8th
Level 3 : 1/4th
Level 4 : 1/2th

Item Regeneration
After battle, there is a percentage chance that an item that you used in battle (ONLY the items that you have used in the previous battle) will be regenerated so you can use them again. See Picture Below.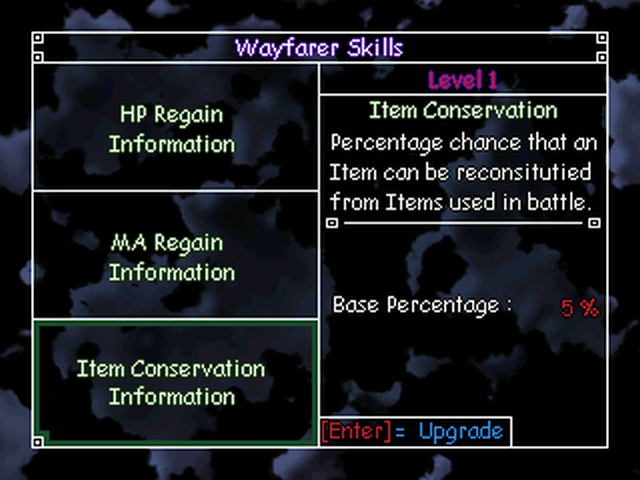 The percentage chance of regenerating an Item that you get at each level is as follows:
Level 1: 5%
Level 2: 10%
Level 3: 15%
Level 4: 20%
VICTORY..!
After a battle you will enter the Victory Screen. See below. Your Health and Mana are healed the fraction that is displayed at the bottom of the screen…
And you get a certain percentage chance to Regenerate items that were used in battle... You will not get everyone back (Even with Item Regeneration skilled up to it's highest level there's still only a 1 in 4 chance)... (see below)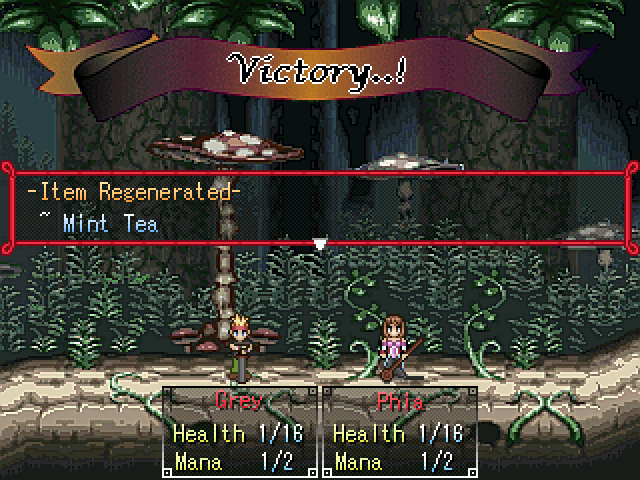 I implemented this for two reasons...
The first being that Items in SoE are VERY expensive, so I thought it only fare that the played can increase a skill that allows the party to regenerate items from the dregs in the bottom of the bottle, so to speak...
And also to allow for less Grinding... If you can regenerate Items then there is less need to go out and slaughter 1000's of monsters for Limmi (Money)...