TANAKAYUUJI'S PROFILE
tanakayuuji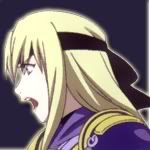 50
Me? You wanna know 'bout 'lil 'ol me? Well I'll be, how flatt'rin. ;D
Well, I'm currently enrolled as a Linguistics major at the University of Hawaii @ Hilo, originally from Nueva York. I stumbled upon RPG Maker XP about 5-6 years ago, and it's been well an off/on kinda obsession. I did have one game on an old computer that I was fairly satisfied with, but, after coming here and seeing all the pieces of art, I decided that I needed to step my game up.

Right now, my obsession is the grand interdimensional opera I'm cooking up in my head, the Stella series. And I'd appreciate if folks came by to lend a helpin' hand to a po' 'ol boy.
My talents, if you can call them talents, are story writing and sketch art, before delving into Linguistics, I wanted to be a fashion designer. I also create languages in my spare time, my main and I'd say weirdest hobby.

But yeah, that's all about me, I hope to make some new buds and get my series started off right.