DRAGON RUBY
Description
DragonRuby Game Toolkit is a professional grade (yet beginner friendly) 2D game engine. It's tiny (~3MB), fast as hell, and cross-platform (including consoles).

Free Unrestricted License

You are eligible for a free license if any of the following items pertain to you:


Your income is below $2000 per month.
You are under 18 years of age.

You are a student of any type: traditional public school, home schooling, college, bootcamp, or online.

You are a teacher, mentor, or parent who wants to teach a kid how to code.

You are a Raspberry PI enthusiast who wants to build games for it.

You work/worked in public service or at a charitable organization: for example public office, army, or any 501(c)(3) organization.
Just contact Amir at ar@amirrajan.net with a short explanation of your current situation and he'll set you up. No questions asked.
So what's so great about DragonRuby Game Toolkit?
Dirt simple apis capable of creating complex 2D games.
Fast as hell. Powered by highly optimized C code written by Ryan C. Gordon, the creator of SDL (a library that powers every commercial game engine in the world).

Battle tested by Amir Rajan, a critically acclaimed indie game dev.

Tiny. Like really tiny. The entire engine is a few megabytes.

Hot loaded, realtime coding, optimized to provide constant feedback to the dev. Productive and an absolute joy to use.

Turn key builds for Windows, MacOS, and Linux with seamless publishing to Itch.io.

Cross platform: PC, Mac, Linux, iOS, Android, Nintendo Switch, XBOX One, and PS4 (mobile and console compilation requires a business entity, NDA verification, and a Professional GTK License, contact us).

The developers have put together a 5-minute intro to DragonRuby GTK, to give you a whirlwind tour of the big ideas:
This is a tech demo sample app that ships with DragonRuby. The GTK's entire API is displayed here.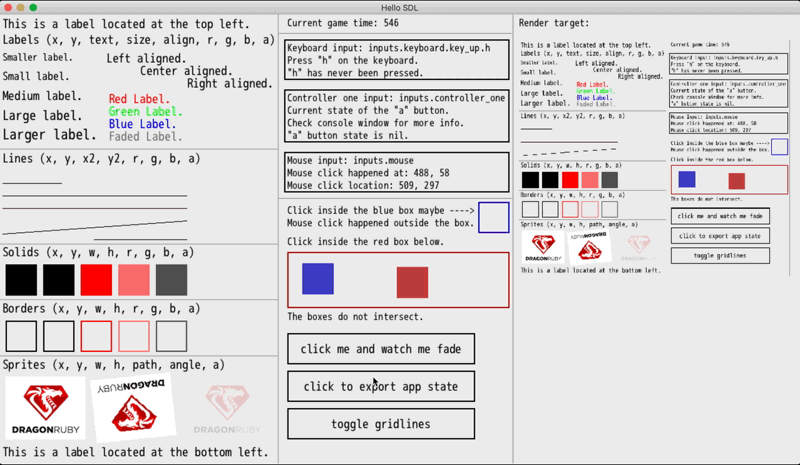 Engine Details
Random Games