Description
Ever wander around google street view and wonder how you would adapt what you're exploring into rpg maker? No? Just me? Well, it may be an unusual hobby but now you can join me in making that thought a reality!
Mapdaptation is a mapping competition where the purpose is to adapt a real place of your choice into rpg maker.


Participants will adapt only one playable exterior map. If you are unsure if your idea counts as an exterior, contact Frogge.
Alongside the map, participants must also submit at least one or more photos of the place they are adapting. (Multiple angles are highly recommended if using google street view or 360 panaromas.)
There will be a collection of all entries published on rmn as one gamepage, so please make sure you are okay with that if you choose to submit an entry. The collective project will not be a game that combines all maps, but rather one download that has all the maps seperately in respective folders.
You are encouraged to join in even if you don't feel confident enough in your mapping skills. This event is not just a competition, but an oppurtunity to try something new as well as practice mapping based on a reference and receive feedback. It's also worth remembering this image: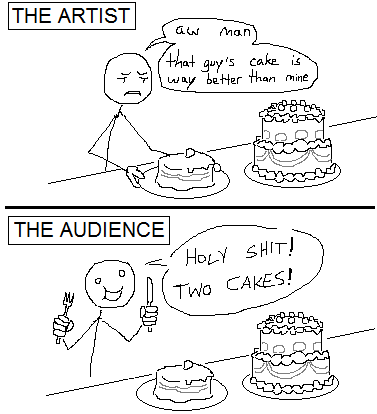 Due to the ongoing situation of the pandemic in many places, participants are not allowed to adapt a real place around where they live to discourage going outside to take the pictures necessary for the event. (Unless said place can be found in one of the following.) Want to know what you can adapt? Here's a few ideas to get you started:
This is a solo event and teams are not allowed.

The photo provided must be clearly identifiable as the reference for the map. This means that your entry may be penalized or even disqualified for being too different from the source material.

The photo cannot be from other games, 3D renders, art, and so on. It must be a real photo of a real place.

Maps must be a minimum of 25x25 tiles and a maximum of 100x100 tiles.

Maps must be made during the event's runtime. Uploading or editing old maps for the event is not allowed.

Any graphics may be used. However;

To keep things fair, parallax mapping is not allowed. You are still allowed to use a parallax for things such as the sky, water, mountains in the distance et cetera, but the parallax cannot be the entire map. Here's what kind of thing is allowed and what kind of thing isn't.


Pictures, overlays, and lighting effects are allowed, as long as they are not used to cheat the "no parallax mapping" rule. Please make sure you ask Frogge if your idea counts if you plan on using them.



Any rpg maker engine can be used, but other engines are not allowed in order to keep the competition fair.

While small interactions are allowed, avoid adding in lengthy cutscenes. Remember, this is a mapping event, not a game dev event.

As an extension to the last rule, battles are also not allowed.

Only one entry to be judged per person! If you want to make multiple maps, you are welcome to do so but you must put "BONUS" somewhere in the file name so we can know that they are not for judging.

Only one "area" in your map! This means you shouldn't be able to go into houses or such, even if they are on the same map. Basically don't splice what would have normally been multiple maps together and you should be fine. Contact Frogge if you are unsure what counts.
This event has 4 judges; those being myself, Liberty, Deckiller and esby.
Judges may also participate but their submissions will automatically be disqualified from voting.
Maps will be judged in 5 categories for a score out of 10:
Structure
- Relates to how easy the map is to traverse and the placement of notable landmarks. Also includes things such as how empty or cramped a map is, how well it guides the player and how interesting or non-linear the layout is.
Adaptation
- How well the map adapts the picture provided. Adaptations obviously do not need to be 100% accurate to get points in this category, they just have to adapt the map in a way that translates well into rpg maker while still keeping the notable features of the photo. For example, you won't lose points just for turning, say, a bird statue into a dog statue, or adding in something that wasn't in the original photo, as long as it fits. On the contrary, creative additions or changes will likely be rewarded.
Uniqueness
- Choosing locations that encourage the mapper to try out new and interesting things are encouraged. This does not necessarily have to relate to how unique the landmarks or terrain are. For example, a small new mexico town with colorful buildings and busy markets is more likely to get points than a generic fantasy rpg town.
Visuals
- Simply how good the map looks. This includes things such as the graphics used or how decorative the map is.
Atmosphere
- Based on the mood, use of color, music and sound effects, and so on.
Playability
- Not a category of its own, but maps can be
penalized up to 10 points
for including issues such passability errors, bugs, lag, softlocks, and so on.
That means the map will be rated out of 50, and the average score for all four judges will be taken to calculate the overall score, and the top three highest rated entries will be selected as the winners. Alongside judge voting, there will also be a community choice winner that will take place on the forums after the end of the event.
All winners will get to pick a free steam key from over 400+ games, alongside the five achievements available for partaking:
Bumper Sticker: Given to all participants who submit a map. Worth 10MS.

The Bronze Tumbleweed: Given to the third place winner. Worth 50MS.

The Silver Cactus: Given to the second place winner. Worth 60MS.

The Golden Skull: Given to the first place winner. Worth 70MS.

Hero of the People: Given to the community choice winner. Worth 70MS.
If you have any questions feel free to contact Frogge on rmn or over at discord @Frogge#5728!
Details
05/07/2021 12:00 PM
05/27/2021 12:00 PM
Achievements
Registration
You must be logged in to sign up for Mapdaptation.