SCREENSHOT SURVIVAL 20XX
Posts
Scourge
So I can type anything here?
1420
Trying to get back into this whole RPG maker thing. Does my mapping still hold up?
Craze
i bet she's a diva with a potion popping problem
13234
i like 'em, scourge. are those the remastered xp chars mixed in? sick if so! only issue imo is that the river tile you're using is more like the "underwater wall tile"; try using the autotile to the right of it for water that's not a visible cliff.
if you wanna kick it up another notch, try making "tile e" sets for various areas that have off-grid items to mix things up a bit.
it's pretty simple and lets you make some knock-out areas! ...or at least, slightly more organic ones.
just being able to shove stuff up half a tile looks really nice imo.
Liberty
RTP Princess
22772
VX Mack came with some character sets in that style, which were pretty bitchin.
Scourge
So I can type anything here?
1420
I am using some redone XP characters, but I think the ones in the screenshots are all VX Mack and different variations and edits of that. Thanks for the compliment, Craze! I agree that I could use some additional clutter and adjusted tiles. Maybe I'll take the time to put a more complete tileset together if I decide to make something more of this project.
orange-
924
To celebrate the release of the Fear & Hunger: Termina demo, here's few screenshots!
AnnTenna
29
ORANGE
, your screenshots look great. The first screenshot is wonderful. But portraits of characters I like less. They look like zombies. Maybe that was what was intended!
And I want to show a screenshot from my game.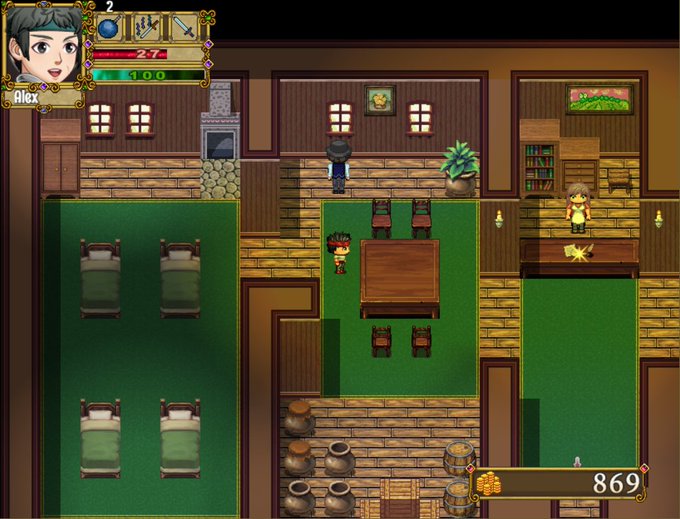 Darken
3400
"Stu, it's 4 o'clock in the morning. Why on earth are you making scarf physics?"
Momeka
3643
author=Darken

Niiiice!
Great job on the scarf physics. They are mesmerizing