HIHIHI [ RPG MAKER 95 / 2000 / XP WAS MY CHILDHOOD ]
Posts
Well, not all of my childhood, quite a lot though!
Hihi, posting first game since getting back into it all soon,
hope you will enjoy. It is being on RPG Maker 95 and will be 20 chapters long,
Chapter 1 finishable and 99% complete,
I just got RPG Maker 2000 again though and keen to make game on that too,
to also play it on Android!!! :D
Hopefully will still manage to finish the RPG Maker 95 game lol!
Cheers and good to be here! :D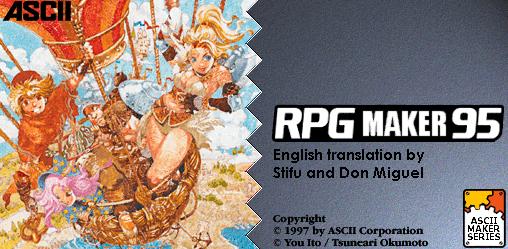 Mirak
Stand back. Artist at work. I paint with enthusiasm if not with talent.
6117
InfectionFiles
the world ends in whatever my makerscore currently is
4353
Hellohellohello and welcome to RMN :D

RPG Maker 95 is the only one I haven't used for PC.
Marrend
Guardian Gorgon of the Description Thread
18308
Welcome to RMN! Share your creativity with us!
I don't pretend to know how much I missed by skipping out on TsuK3. I know I fiddled with '95, but, I simply cannot recall making anything substantial with it. Perhaps that is merely repressed memories. With TsuK, the only games I specifically remember is
Legacy
(which has become
this
) and
Summoner
(which has become
this
). With XP, I made maybe three games? Possibly more. All terrible in their original incarnations, but,
all
have
seen
remakes.
Cap_H
DIGITAL IDENTITY CRISIS
6528
Welcome,
What a weird introductory post, tho. Making a 20 chapters long for your first project is a madness in any engine. You are using 95 on top of that. Real fucking g(ammak).
Thanks for the warm welcome :)
Cap_H - 'tis madness I agree!
I have set myself until August next year for completion date, that is not set in stone though...
It could be done sooner, labour of love (sometimes frustration)
Here is the game page finally up- download and enjoy,
and keep an eye on it- free prerelease version will go up until about 5 chapters,
if I'm feeling generous. Hope ya enjoy the fully playable Chapter 1,
fully playable is correct but it is technically still only 99.7% complete ;)
*
https://rpgmaker.net/games/11368
*
Cheers!
Marrend
Guardian Gorgon of the Description Thread
18308
And by "finally up", you mean "finally submitted a gamepage, but it's still in the queue"?

XD
Oh! I wonder how long that will take?
In the meantime, y'all cool people can have the link here anyway!
DOWNLOAD The Trials (Prerelease v 1.2);
*
https://www.sendspace.com/file/7be4sw
*
Cheers!
Statutory Christmas meme: