PLEASE TURN THESE INTO MV GENERATOR PARTS!
Posts
Sooz
They told me I was mad when I said I was going to create a spidertable. Who's laughing now!!!
5177
Your employment situation sucks but does not entitle you to free art, bro.
Archeia_Nessiah
Tear Harvester Nessiah
16877
author=Reizon23
... and a terrible artist.
It's better to start now and then just ask for pointers in the various RPG Maker forums and artists can give you tips to improve them. When you say MV generator parts that includes faces, walking character AND sideview. Nobody would want to do that for free especially how mind numbing MV Generator parts are to make.
+1 for the upper lord. Pixel art is a little time consuming, but by no way impossible even with mediocre skills.
An example of what you could make with a little time (5-10 minutes), without adaptation to mv heads (sorry):
Dark Vador returns!
You could probably obtain a better result with more work/colors, but for animated stuff you wan't to keep it simple at first. You will probably want to avoid the almost black colour most of the time, too (or at least see how it renders in game).
The harder part is adapting it to the animation. I would advise doing it directly on the sprite. The head is somewhat easier than legs and arms (you're lucky?) as you just have to follow the way it comes up and down (at least for the walking poses).
Good luck on getting stars!
Antilurker77
582
grindalf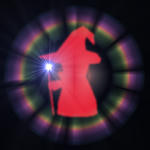 3480
Telling people to make you stuff because you cant work and cant do pixelart is going to get bad results from people.
Asking for help on learning to pixelart will get much better results. People like someone who is willing to learn and grow and will do what they can to help that person.
Be the person that people like. Learn to pixelart.
Sooz
They told me I was mad when I said I was going to create a spidertable. Who's laughing now!!!
5177
I'm gonna buck the trend here and say you don't necessarily need to learn to art. Maybe you just don't comprehend arting too well. Maybe you don't like it. That's fine, everyone has different interests and aptitudes.

The thing you do need is the ability to recognize and work within your limitations. If you can't track down an asset, you can't make that asset somehow, and you can't afford to commission someone to make it for you, then your only option is to abandon that idea.

That's disappointing, sure, but it's an important skill in creating anything. Creativity thrives on limits, and figuring out how to work around them.
Irog
3919
Sooz is right: you don't need to learn to art. You can draw some basic placeholder graphics, use another helmet or find one at
https://opengameart.org/
The key here is to find a solution (even a temporary one) and get back to the fun of building your game.
I don't have any art skills and I know it would take me a lot of time to master just the basics. Artists work a lot of time to make art and dedicate an enormous amount to time to get good at it. So I prefer to focus my time on the others aspects of game making (mainly programming).
Sooz
They told me I was mad when I said I was going to create a spidertable. Who's laughing now!!!
5177
author=Irog
https://opengameart.org/
Holy shit I didn't realize they had SFX and music there as well as visual art
how have I been sleeping on this resource?!