WHATCHU WORKIN' ON? TELL US!
Posts
I'm working on an anime-style visual-novel style action RPG if that makes any sense. Lol.
benos
My mind is full of fuck.
624
Alter Fate dialouge changes. Can't play test my rpg maker mv/mz ones, as I'm only in safe mode.
Pyramid_Head
16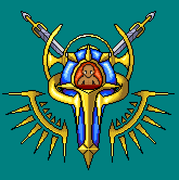 A WiP of the final boss of a project I'm working on alongside my dark fantasy game. (I have to take the occasional break as writing dark fantasy sometimes takes a toll on my mental health)
TRIDIUM
3
Working on my second RPG Maker Game, set in a Shakespearian Fantasy World.

Tw0Face
5579
Titlescreen for my newest game is ready. Love to hear what you people think about it.
1x:
Been trying to come up with a half decent sprite body base for my next game. Any of these stand out as being the least bad?
Strak
1427
I would say the upper body of 1 with the legs of 5 would be great. 5 looks a little akimbo with the arms, but the legs of the middle 3 look like they're about to squat. Legs on the first one are fine too, but I like 5 better. If I had to pick one as a complete baseline, I'd go with 1.
OzzyTheOne
Future Ruler of Gam Mak
4299
I'd go with Torso of 1, and legs and head of 5. Pretty much similar sentiment to Strak.
Thanks for the thoughts! The arm style of 3 and up were to help define hand position when the characters do different poses, but if it looks really bad, I might revert it.

Worth noting that I haven't decided if I want to upscale the res on the sprite yet. I think 5 might look better at the native res because of the exaggerated limbs, but that's just me. I edited the last post to include 1x resolution.
Roden
ALWAYS BE SAD
3857
5 is pretty good overall. I'd bring out the shoulders and bring in the forearms though, to give it a more comfortable/natural looking pose.
Thanks for the fixes, Roden! That looks so much better than what I was trying to do. His pose is so much more natural while still keeping the original idea of defined limbs.
Following up: Bringing the arms in means there are a bunch of solid black pixels touching each other:
In general, I like to keep solid black pixels to the outline to pop it out from the background, so seeing all those black pixels that don't touch the background looks a little jarring to me. Admittedly, it might not be a problem once I add clothes, and it's not even that noticeable in 2x or 1x resolution as it is now.
What I'm trying to ask here is: do you even think this needs fixing? All my attempts at reducing the amount of black pixels just end up putting the sprite right back to the original Popeye limbs jutting out, and it makes me wonder if I'm just overthinking it?
Roden
ALWAYS BE SAD
3857
I guess it's just to your taste. I don't consider having some banding on a sprite to be a huge downside if it helps the overall look. Some artists might consider it to be an outright sin. Then again, some pixel artists also think black outlines are a sin too, lol.

You could also try breaking it up with some black + darker shades of the nearby colours or w/e.
The all black outline was just a rule I made for myself. I'm not following some holy pixel art bible or anything, so if it doesn't look bad from your perspective, then I don't mind breaking my own rule. I added clothes to the sprite and, yeah, I only notice it when I deliberately look for it.

Thanks again for the feedback, everyone!
thedarkdreamer
692
Holy crap this is a long ass thread :O
Well anywho
I just recently finished an updated game that I thoroughly made a lot more presentable as a game: CALL OF THE ARCHON

It's an "old" game, a 2003 game and now it's 2023. Hmm. 20 years to the day haha
I included a whole changelog to the common events if anyone is interested, though major changes are adding dual-elemental and multi elemental spells, which I've seen no one do in RM2k (lazy animators?), a lot of message centering and making messages look good, a whole lotta map work that actually isn't crappy, and new states like getting knocked down in dragon warrior, getting tangled in vines that breaks defense and causes immobility, petrification, and turning into solid metal that breaks agility because YOU ARE METAL. That's more towards the end of the game and kinda came to me, and a lotta new enemy skills and character skills - though more is in the changelog. It was a lotta headache and pain. 0>_<0 And some of the writing I remember was too jolly folly. BEP.

Call of the Archon 2 is gonna be a lot more epic. I'll try.