Add Review
Subscribe
Nominate
Submit Media
RSS

It is exciting to announce that the full demo for 'Future Ghost' is now available. Please hit the above "Download Now" button to check it out!
(95Mb, Win & HTML5, 20-30m play time)
Set in the recent past and near future,
Future Ghost
will have the player direct the actions of Weiliang Song, a man whose 40 year-long obsession with immortality is fulfilled, sending him on a collision course with 1500 year-old secrets and a plot that could determine the direction of humanity's future.
With his kungfu master and father-in-law missing, a "future ghost" haunting him, and the burden of responsibilities beyond mortal understanding on his shoulders, Song must traverse our world in search of resolution.
Explore various hand-drawn settings across the globe, over a 90 year timeline, as well as in flashbacks set decades and millenia into the past.
Use Song's mastery of kungfu and upgrade and utilise a range of chi-based moves in story-driven RPG-style battles.
Unravel a deep, complex narrative through linear story missions and optional side-quests.
Enjoy a blend of old-school adventure game and RPG, all rendered in a comic book-like 2D art style.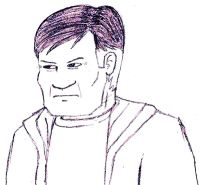 Song fights using the "Twenty-Six Star" style of kungfu, loosely based on Bagua Zhang, and features a counter-attack move in his opening repertoire.

Starting Special "Qigong" Moves:

Heal:

x

Recover health by regulating qi
Iron Palm:

x

Increase Attack for 3 turns
Iron Shirt:

x

Increase resistance to all types of attack until next hit
Cultivate Qi:

x

Regain qi
Hoping to attract play testers for Future Ghost
, once there's enough of it to be worth playing, as it's quite a big endeavour, with its script running to 152 pages' length. Play testers will of course be credited, and will receive a free copy of the finished game. Please get in touch if interested!
Latest Blog
Production

Commercial

RPG Maker MV
10/25/2017 08:37 AM
05/05/2018 03:23 AM
07/01/2018
57441
9
60