Add Review
Subscribe
Nominate
Submit Media
RSS
Progress Report/MW4 Special
XBuster
04/01/2020 08:17 PM
207 views
Hi all! As you may know, today is April Fool's Day, which also means it is the 26th anniversary of Monster World 4! Today, we'll be getting into a short chunk of information regarding this project's near future and the inevitable return to the incoming sequel; Monster World Legends. Without further ado, let's get into this!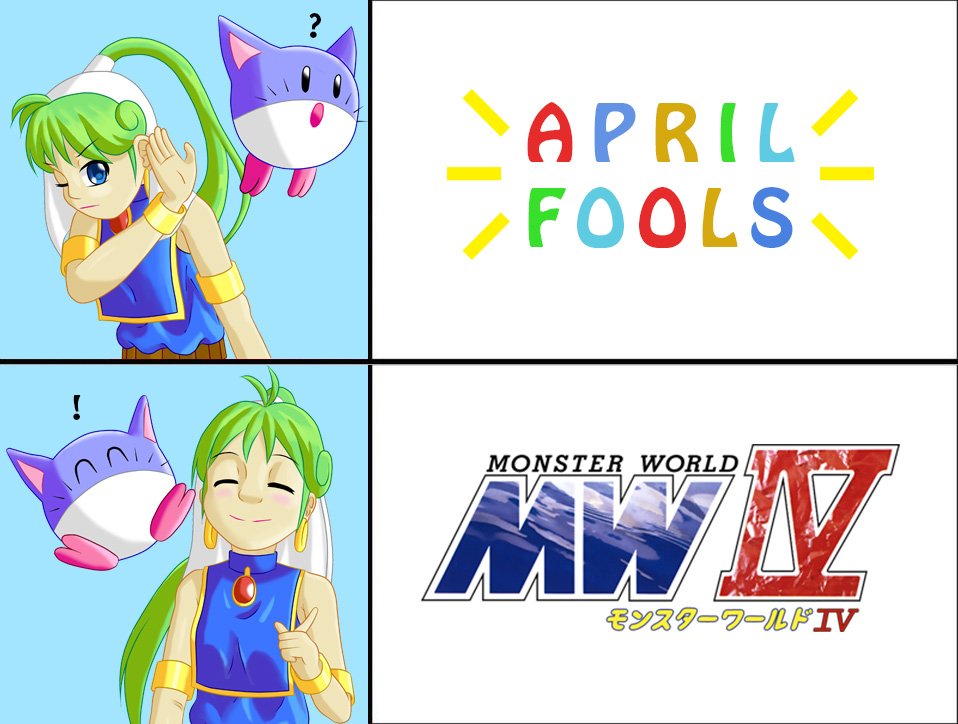 Image by Hikmori7
Design Document Reveal
I promised a long time ago that I was going to share the game's base design document once the base game was complete. So, today is the day that it is finally being released. Since this is a fan project and is the first one of my projects that got completed, it is obvious that one of the keys to properly finish a game is to plan absolutely everything!
In other words, it is strongly advised that you do NOT keep all of your ideas in your head. The more you think, the more you'll often forget older ideas and will often lead to thinking infinitely without a direction for said project. Write them down somewhere important and take deep care of it. Anyways, here it is. It is severely stripped down however. Enjoy!
Project SADF Design Document
Developer Journals Incoming
Along with the design document, there are some developer journals incoming that will be going in depth with everything about the project. As of now, 4 parts are planned and will likely be added today and later within the week. There's a lot of ground to cover for them, so I'll begin the creation immediately after this blog is posted. Stay tuned!
Why Monster World 4 Is Important
For those who do not know, Monster World 4 is one of the final titles to release for the Sega Genesis and originally was a Japan-only exclusive. It would not receive an official release until nearly 20 years later for PS3, XBox, and the now deceased Virtual Console on the Wii.
It is a wonderful action RPG/platforming masterpiece with colorful worlds, catchy tunes, and a decent narrative in which you must play as Asha, a cute, Arabic-themed girl who sets out on a quest after hearing the pleas of the world's missing spirits.
Originally, this was set to be the finale to the Monster World saga. But, it would not receive an actual sequel until years later with a title known as Monster Boy and the Cursed Kingdom.
In a nutshell, the very reason I'm here even developing games at all (even if they are fan projects right now) is because of this game in particular. I simply did not want the saga to end. So, without this game, I wouldn't be here nor would my interest for game creation have boosted off like it did.
Shantae and Asha DLC Progress
Futhermore, I'd like to tell you all that the DLC for Shantae and Asha is going rather well so far. New and restored content is making its way in and content that I could not explore before is being experimented with. Since this project will only happen once and this combination of characters will
never
meet again, I figured it was best to get as much out of its resources that was possible.
This
does not mean I'll be injecting anything and everything
in it for the sake of doing so. Even I have my limits and I believe there is a time where things have to come to a definitive end.
As for what's in store for the 2.0 package, you'll be getting quite the amount of content. This includes new stages, bosses, cut scenes, playable character additions, restored areas, and much more! This is a step that's greatly needed since when the game DLC is complete, I can walk away from this without any regrets. Of course if anything is ever needed again, it can be edited or fixed.
Tv Tropes Page!
Someone came out of absolute nowhere and decided to create a TV Tropes page for the game and linked me to it. I'm both very shocked and grateful that someone willingly created a page that is able to piece parts of the story together, even ones that I didn't go deep into. The link is below. Beware though, there are spoilers!!! Only view if you don't mind it.
Shantae And Asha Tv Tropes
Closing Words
There's so much more I'd like to dive into regarding this project, but I'll save a lot of it for the developer journals coming soon. There's going to be a LOT of information in those, so if you have the time, be sure to give them a read! Thank you for your time and I'll see you all in the next update!