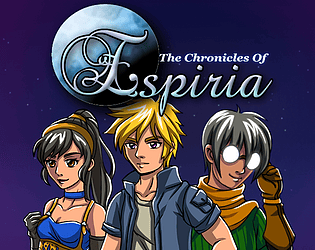 Add Review
Subscribe
Nominate
Submit Media
RSS
This game was made in Smile Game Builder but runs on Unity. You can change the graphics settings to suit your PC.

Note: this demo does no include any updates a.k.a Graphics, music, story, etc. The new demo will be marked as such upon release.
Thanks for downloading The Chronicles of Espiria...
This download is hosted on another server other than rpgmaker.net, please click the button below start the download.
Users who like The Chronicles of Espiria, also like...
Game
Rating

Skydancer - Completely Custom JRPG ENG

Completed

by uran

Martial Arts, directional keys in combat to create combos, fatality system in battle! Custom menu, custom bs,mature contents

2 reviews

1216 downloads

:eternity

Completed

by BerryRMN

Fear for all eternity.

2 reviews

360 downloads

Mistia - The Kingdom of Krasten

Production

Mistia – The Kingdom Of Krasten is a 2D fantasy RPG made using RPG MAKER MV, it's the first chapter of Mistia, and its release is scheduled for 2021.

0 reviews

0 downloads

Moonsong: First Verse

Completed

by Kaempfer

A long-forgotten enemy stirs in the darkness, and sets in motion events that threaten all civilization...

2 reviews

1827 downloads

Rise of the Third Power

Production

by BadLuck

An epic drama of political intrigue, betrayal and war, blending elements of western and Japanese RPGs.

1 reviews