Add Review
Subscribe
Nominate
Submit Media
RSS
In a post-apocalyptic future, monsters abound, loud music is law, and chaos reigns. Four anti-heroines are tasked with returning order to a devastated world and restoring the five harmonies. But first, they must go through the Gods which protect them...
EVOLV Games presents HARMONIC ODYSSEY, an experience that's one part RPG, one part heavy metal choose your own adventure story, and eleven parts badass! Coming soon for mobile, web, Windows, Mac!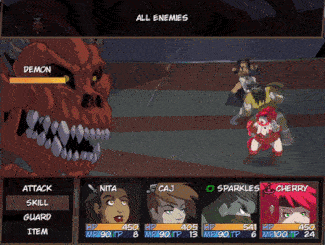 What makes Harmonic Odyssey different from other visual novels?
Aside from the usual fare -- immersive storyline, compelling characters, and a chance to mess with nearly all of it, Harmonic Odyssey has classic RPG and JRPG elements as well. Quests, shops, and a combat system are all here, and the world offers plenty of room for free-roaming. Be warned, though: These systems are not immune to the choices you make, and even inconsequential decisions can lead to more challenging (and possibly more rewarding?) gameplay.
Where can I get the demo on release day, and what will be the price?
You can download a copy on our homepage
. Harmonic Odyssey will be totally free, but a donation of $2.00 or more will get you the demo (for multiple platforms) as well as a special Development Pack, which includes a PDF art concept and design book, exclusive wallpapers, and more... Plus, our thanks for helping our studio to create even more games!
Demo releasing December 12, 2019
Full game releasing 2021
Latest Blog
Production

RPG Maker MV
11/07/2019 12:13 PM
07/31/2020 10:47 AM
07/31/2021
15555
15
45