Add Review
Subscribe
Nominate
Submit Media
RSS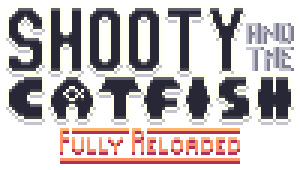 Shooty and the Catfish: Fully Reloaded is part RPG, part Visual Novel, and all parts stupid.
Weird things are going on and it's up to our two hero Monster Hunters, Shooty and Zaat, to solve these unsolvable mysteries, only they aren't really heroes and they don't ever really solve anything... Spoilers...
Join them on a wild adventure inspired by some of the many games that were inspired by Earthbound.
Features:
- A colorful visual style full of even more colorful characters.
- A turn-based combat system with a heavy emphasis on resource management.
- An embarrassing number of pop culture references.
- An original EDM soundtrack by Jim Hort with additional secret tracks by Secret Agent Ape.
- Discover 5 completely optional bosses, hidden away deep in the game's dungeons, well most are hidden away, a couple are right out in the open...
- Return to the world of the 2016 minor cult hit Flatwoods.
A Game by Visitors From Dreams
Music by Jim Hort
Additional Music by Agent Ape:
https://agentape.bandcamp.com/
Mac OSX version still in development.
Latest Blog
Completed

RPG Maker MV
11/21/2019 12:17 AM
01/18/2022 12:14 PM
07/15/2020
43736
13
173