Add Review
Subscribe
Nominate
Submit Media
RSS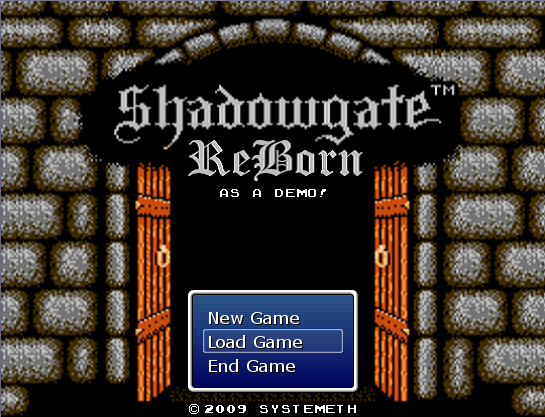 Shadowgate ReBorn is a project I've undertaken to better familiarize myself with RPG Maker VX. I chose to remake the NES gem known as Shadowgate, due to my love of the game. I also believed that it would be a good way to learn how VX works.
The latest news about the game can be found at my website:
Sy's Side of Things
Now then, as with most remakes, there are some changes. I'll list off what I can. The most obvious change is that this will be in a 3rd-person point of view. I will be using remixes/MIDIs of the game's music rather than the original chiptunes. There have been some script changes. Mostly due to limitations caused by my desire to work with the default graphics. There are some revisions and additions to the script as well. The only imported graphics are the title screen, and the game over screen (which you will be seeing a lot of.). Oh, and currently, the torch time limit system is not in effect yet. Torches do exist, and get used for some things, but that time limit isn't in place as of yet.
Latest Blog
Completed

RPG Maker VX
05/25/2009 02:46 AM
11/29/2017 08:46 AM
08/02/2010
50240
5
823
Tags