Add Review
Subscribe
Nominate
Submit Media
RSS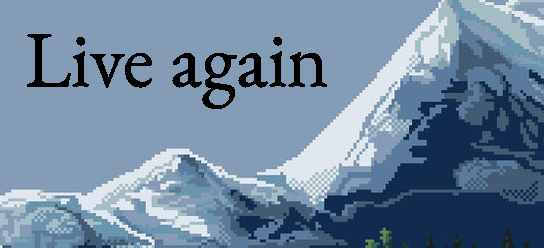 After you die you appear in the afterlife, you don't know what has happened, you look desperate and you only think that it could be a dream.

You are given the opportunity to live again, however, there is nothing you can do to change your current situation, you can only return to enjoy your moments with your loved ones.

It is a story driven rpg game in which you are asked: if after dying you could live again, would you do something different?

Enjoy a beautiful inspiring story that will make you remember how beautiful life is and how valuable it is to have your loved ones.

The game is based on a true story.


Features:

- Story that touches the heart
- Inspiring music
- Interactable events
- Short game



Controls:

- Arrow Keys: Movement / Menu navigation
- Z: Confirm / Interact
- X: Cancel / Menu
- F1: Options



GRAPHICS
Characters - First Seed Material
Faces - RPG Maker 2003

MUSIC
Joel Steudler (joelsteudler.itch.io)
Joshua McLean (joshua-mclean.itch.io)

SCRIPTS
game_guy, Zeus81, Rekx/TheRexion, Jet,
Wortana, Toby Zerner, OriginalWij, piejamas,
Shuuchan, BulletXt, Yanfly, wltr3565
Latest Blog
No blog entries have been posted yet.
Completed

RPG Maker VX
08/02/2022 07:43 AM
08/10/2022 11:52 PM
08/01/2022
3181
1
49
Tags