Add Review
Subscribe
Nominate
Submit Media
RSS
N E O
P U N K
Open World Cyberpunk Retro RPG
Release Date:
Q1 2023
Platforms:
PC
Start a new life in a cyberpunk world of the future. Freedom awaits you in Neopunk. Who will you be?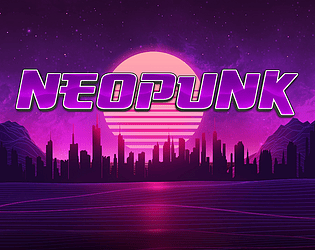 Step into a cyberpunk world of the future. Start a new life as an agender mercenary who moves to the dark and neon lit streets of Kaanalos City. Choose your AI companion boyfriend or girlfriend, and pick up your gun: you'll need it. Help solve murders for the KCPD. Take on assassination contracts for the mob. Learn the secret dealings of Baxter Corp, the megacorp that controls the city. Or just deal drugs and hire prostitutes (or use the drugs yourself and kill the prostitutes to rob them). Freedom awaits you in Neopunk. Who will you be?
Neopunk is being developed by the same solo developer behind the retro RPG "Knightblade" (yours truly). After an amazing campaign and a Steam release, I was ready to move on to my next project. Neopunk has been in development for awhile. The goal is freedom for the player. You can pick and choose what you will do in this retro-style 2D world. Battles will be a big part of the game, and will be turn-based. The game will feature detective elements (like exploring a crime scene for clues), and fighting enemies. Exploring and finding new things is key, I like to give players the freedom to do what they want. And yes.. you can deliver pizza.
Preorder the game by supporting the campaign here!
Check out the Neopunk page on Itch.io!
Features:
Explore a cyberpunk city.
Choose your AI girlfriend/boyfriend.
Purchase different apartments.
Deliver pizza as a side hustle.
Investigate crime scenes to solve a mystery.
Battle mutated monsters and bots.
Interact with drug dealers and prostitutes.
Easter eggs and different fun things to find in the world.
Each NPC is custom and features dialogue, no two NPCs are alike (even the non-essential NPCs)!
Features a cyberpunk/synthwave soundtrack.
Hue changer to customize the lighting in the game.
In-depth and rich lore, with a lore book in development.
And many more features are a work in progress!
Latest Blog
Production

Commercial

RPG Maker MZ
08/16/2022 11:35 AM
10/02/2022 12:38 AM
03/31/2023
2563
5
0