Add Review
Subscribe
Nominate
Submit Media
RSS

Short adventure game made for TAPE#2 Jam in 2 weeks.
Available in english and polish language.

After defeating Klaus, Colonel Pyrkownik can enjoy a well-deserved vacation. He decides to go to the beach and surf. While leaving the Potato King's castle, he meets HER and the whole plan changes.

Online version may have some disadvantages that does not occur in desktop version like slower level and elements loading times.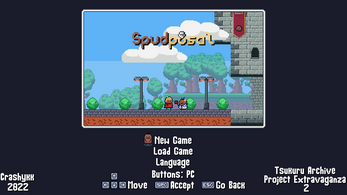 Music:
Dizzy The Adventurer - Overworld
Go Dizzy Go - Title
Raxlen Slice - Bridal Chorus
Marllon Silva (xDeviruchi) - Intro/outro
Marllon Silva (xDeviruchi) - Klaus Theme
Play part one of the Colonel Potato TAPEverse:
https://rpgmaker.net/games/12358/
Latest Blog
No blog entries have been posted yet.
Completed

RPG Maker MV
09/12/2022 08:24 PM
09/20/2022 03:41 PM
09/12/2022
747
1
1
Tags