Add Review
Subscribe
Nominate
Submit Media
RSS
DON'T GO TO SLEEP
While you sleep you start feeling the presence of an evil aura approaching you, you can feel the weight over your body, you try to move, but you can't, you try to scream, but it's in vain... you don't know if you are awake or asleep. The next day it happens again...

Help Jimmy the protagonist of this story in his abnormal dreams and discover why they happen and how he can get rid of it.

It is a dark interactive visual novel game of no more than 30 minutes where the narrative text of the story is accompanied by the interactions of the characters.
FEATURES:

Short game

Three bad endings and one true ending


Uniquely styled combat scenes

Original story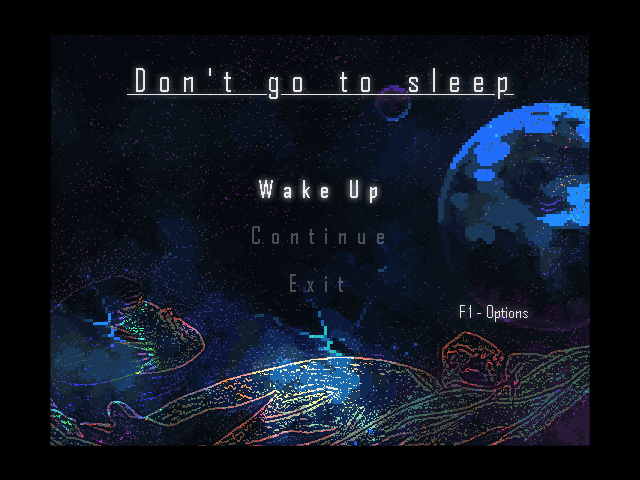 Game created for the Spooktober 4th Annual Visual Novel Jam
CREDITS:
GRAPHICS
- BilouMaster Joke (biloumaster.itch.io)
- Ocean Nostalgia (oceansdream.itch.io)
MUSIC
- Joel Steudler (joelsteudler.itch.io)
- Patrick de Arteaga (patrickdearteaga.com)
SCRIPTS
- game_guy, Zeus81, Rekx/TheRexion,
- Wortana, OriginalWij, Shuuchan, wltr3565
Latest Blog
No blog entries have been posted yet.
Completed

RPG Maker VX
09/28/2022 08:15 PM
10/07/2022 05:50 AM
09/27/2022
3800
1
45