Add Review
Subscribe
Nominate
Submit Media
RSS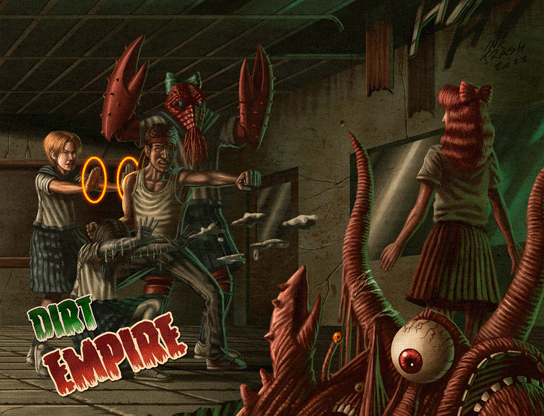 The year is 2300... Welcome to
Dirt Empire
.
In
Dirt Empire
you play as a mutant named Amper. You've lived your whole life in a prestigious academy for Mutants, but now it's finally time to explore the desolate wasteland! Travel from Bio-Dome to Bio-Dome in this dark comedy RPG romp from the creator of
Trash Planet
and
Hellbound
.
Dirt Empire features a diverse cast of 8 playable characters, a morality system
(which greatly effects the story)
, a bonding system, and a unique 'actions'-based twist on the RPG combat you've grown to know and loathe! For those who love a good challenge, the normal difficulty will demand that you manage your resources effectively in order to survive! If that sounds tedious and horrible, then just play in easy mode! No sweat!
Dirt Empire is a technically a sequel to
Trash Planet
, but don't worry: you don't need to play
Trash Planet
in order to understand the story! It's just set in the same world. Dirt Empire has been developed specifically with new players in mind.

Currently, Dirt Empire is in development and is slated for release in late 2023. Make sure to follow this page for development updates!
Cover image for Dirt Empire was done by the wonderful Ultimate Ink Trash.
Latest Blog
No blog entries have been posted yet.
Production

RPG Maker VX Ace
01/01/2023 09:25 PM
01/07/2023 04:49 PM
12/31/2023
858
3
0
Tags