Add Review
Subscribe
Nominate
Submit Media
RSS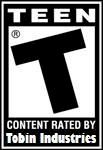 History:
I started working on this game way, way back in 2001. I had a bunch of projects and wanted to actually finish one. Since then I have worked on it on and off when I had time. In 2003 I switched to Rpg maker 2003. in 2006 I finished it, but there were bugs and the sidequests weren't finished.
I don't think it's the best game ever made (that's AA2 :naughty:) but if you like games that don't take themselves too seriously like OMGZ final fantasy ripoff 9993984 then I think you'll like it. It's kinda like Earthbound. There aren't too many funny games out there anymore so I wanted to make a game that could be funny but still have good gameplay.
Story:
The story is somewhat LOOSELY based on my life in high school. Most of the characters were my friends from high school and it takes place in my hometown of Aptos, California (though it looks nothing like it) located in the greater Santa Cruz "Archipelago". The year is 20XX, (okay, like 2003 if we're going by which of my classes are in the game :gwa:)
Nick is an ordinary high school student about to start his first day of a new semester. Meanwhile his family is kidnapped by a vengeful teacher. What begins as a quest to rescue them unfolds into an EPIC BATTLE TO SAVE THE WORLD. Yeah, it's cliche, but what do you expect, I was like 16 when I started making this.
Aptos Adventures 2 will have a way better story, instead it's an EPIC BATTLE TO SAVE THE UNIVERSE.
3/11/2019 Update
Still working on it. Thanks for the nice comments I found on the Internets here & elsewhere. Life got in the way for a while. Well I'm still working on AA1, 2, and the spinoff The Lodge (think of it as "Aptos Adventures: Gaiden".
Aptos Adventures 1 is 90& done.
Aptos Adventures 2 is 75% done.
The Lodge is 99& done.
Thanks for being patient.
Rpg Maker 2003 is my favorite, and I want to get my games working in newer versions of Windows. I don't really care that it's outdated lol I think it's the best one. Each iteration of Rpg Maker seems worse to me somehow.
But I digress, I think I'll put up the "Christmas Demo" so you can see the clay enemies and stuff I improved. Happy late Christmas lol this demo is from 2011.
You can also watch it on Youtube, with my sarcastic friend's commentary if you're into that sort of thing. :P
https://www.youtube.com/watch?v=dg1zrphbIYc&t=331s
Thanks for your continued interest in my old games :)
-Nick
Latest Blog
No blog entries have been posted yet.
Production

RPG Tsukuru 2003
09/17/2010 06:16 PM
08/20/2021 10:32 PM
N/A
18566
5
61