Add Review
Subscribe
Nominate
Submit Media
RSS
This is a Chilean (language: Spanish and English) game.
It has 1 - 7 hours of gameplay (depending on the ending, sidequests done, etc.)
I started working in this game in January 2006.
The story has 4 endings (3 of these are bad endings). The difficulty starts very easy (with some difficulty spikes in between) and ends being somewhat difficult (the last fights require a bit of analysis and patience). Also features difficult optional bosses.
Plot:
The main character is mostly Ardián (?), he is in a mission he has never understood, to achieve something he has never cared about. The story takes place in a place nobody has the desire to recall; where many beings called Spirutos live.
Characters:
- Ardián (?): The most generic being in existence, or is it?
- Others characters that don't have anything to do with anything else.
You can download the latest version of the game here:
(The versions stored in this site may be outdated)
(Spanish Version) V 9.0
http://www.mediafire.com/?fmldff25lpm5gxq
(English Version) V 4.0
The latest version of the game (V 9.0) hasn't been translated yet.
The translation is not 100% complete and I expect some errors since English is not my first language. There are some puns that are lost or poorly translated, but it's not a big problem since they were intentionally bad to begin with. Also note that when a sentence doesn't make sense, it's probably because it wasn't supposed to make sense.
http://www.mediafire.com/?d1knzk3tbkqcg6q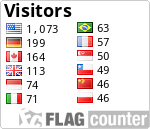 Latest Blog
No blog entries have been posted yet.
Completed

RPG Maker XP
06/10/2011 08:30 AM
02/01/2014 05:50 PM
06/14/2011
35960
4
469