Add Review
Subscribe
Nominate
Submit Media
RSS
Blades or Arrayos
An rpg I am working on to "test the waters" with RPG Maker VX Ace.
The demo should have about two to three hours of playable material.
Hope you enjoy it. :)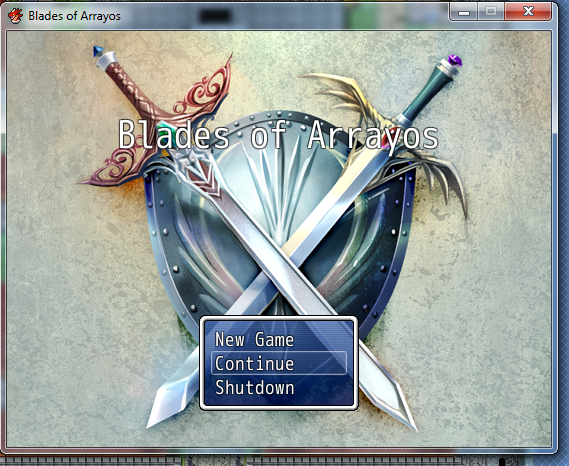 Description
Blades Of Arrayos is a tale of a mercenary's journey through the land of Aria. Raven, the mercenary, and his companion Terris get caught up in political and social issues in the kingdom while pursuing a bounty to get some extra gold. They will travel around the world with companions of all niches in an epic journey to reform and save the kingdom from the vile knight Keros, who has corrupted the Kingdom to its very core.
Characters
Raven
The protagonist; A young mercenary down on his luck and looking to find some gold.
Sarcastic and short-tempered at times. Considered a pessimist for his jaded opinion of the "good guys."
Terris
A young mage; companion of Raven and a hopeful optimistic. Calm and reserved by nature. One might call him Raven's good side.
Baron Maverick
A paladin of Aria Castle and a high ranking official. For reasons unknown, Raven encounters him as a wanted man who will change Raven's life forever.
Keros
The former adviser to King Avion of Aria Castle. His hunger for power is only matched by his greed and reckless ambition.
Demo Updated to 1.03!
-Added 3-4 hours of game play, including a brief tutorial and intro to the game.
-Fixed event that prevents player from progressing past Arrayos.
-Added more gear/weapons.
-New, balanced skills for all classes in progression.

To come;
-Functioning castle repair system in Aria Castle (Available after specific events in-game)
-Mark System
-The mark system will allow you to accept missions as a mercenary that will send you on quests
that will yield many exotic and valuable treasures.
-More gear/weapons because you can never have too many!
-More story progression, of course!
Blades of Arrayos 1.03
Productive criticism and general ideas are always welcome!
Bug reports, errors, etc, feel free to report and test if you wish.
Credit to whomever claims their scripts, resources, BMGs, etc!
Latest Blog
Production

RPG Maker VX Ace
04/03/2012 04:11 AM
01/19/2020 06:47 PM
08/30/2012
37326
18
593