Add Review
Subscribe
Nominate
Submit Media
RSS
The "much" anticipated sequel to the Shadowsong trilogy is here. In this episode, you will still play in the realm of Shadowsong, though not in the kingdom of Stonehelm as you did before. In this game, you play as the new protagonist, Orion, in the kingdom of Dragonshore. You start the game with amnesia and slowly remember your past, your destiny and the future of the realm of Shadowsong.
Shadowsong 2 has been in production for about three months now and it's somewhat ironing out now. The current target completion date is at the end of August, though this is almost certainly going to change. There are many new features added since the first game, such as better mapping, extended storyline and sidequests.
FEATURES:
-Play the second original Shadowsong storyline as Orion of the Holy alliance
-Explore two new regions: Dragonshore and Southern Eldrin
-Play through thirty main story quests and fifty side quests
-Purchase mercenaries to help you in your adventure
-About 3 hours main story play time, maybe another hour if you complete all the side quests
-Immersive story line of Orion's future, past and present
-About 300 hundred maps to explore
COMPLETION: 65%
|█████████████--------------|
Completion bar
Don't forget to check out the official Shadowsong Wiki!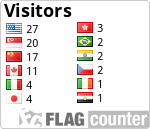 Latest Blog
Production

RPG Maker XP
05/27/2012 07:40 PM
07/30/2013 08:41 PM
08/31/2012
28243
10
0