Add Review
Subscribe
Nominate
Submit Media
RSS
Game Engine:
RPG VX Ace
Gameplay:
Movement is handled by the directional arrows on your keyboard.
Confirm :
Space Bar, Enter Key, Z Key
Dash :
Shift Key
Game controls can be modified by pressing F1 while the game itself is open.
About this game:
It features a young(ish) boy, Kray, who likes to virtually connect to various online hosted games and complete them for rewards on his avatar.
While logging into another easy win game, something goes terribly wrong and he finds himself in a really dangerous situation!
Features:
This game proudly boasts using nothing but RTP (Tilesets, BGM, Sprites, and no custom scripts) all of the gameplay was managed through careful eventing.
Gameplay time between 15-20 minutes for a single complete play through.
There is one MP3 that is included for the 'Bonus Level' and one character 'face' that was uploaded near the end. Please refer to the spoilers/credits at the bottom of this page for more information.
Retry mode. Allows the user to start over at the current world when he/she fails. As opposed to getting the game over screen and needing to get through all of the worlds to reach where they were at.
Youtube Video "Let's Play" by NicoB.
Please be aware that this video will show all puzzle solutions.
http://www.youtube.com/watch?v=WVzArVHPCJU
Screenshots: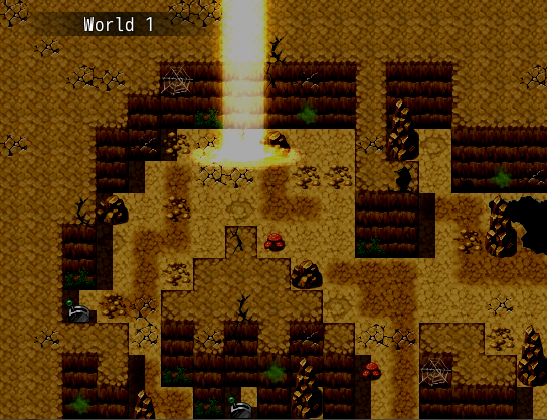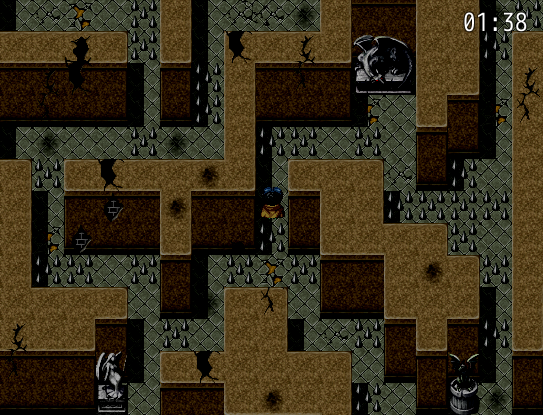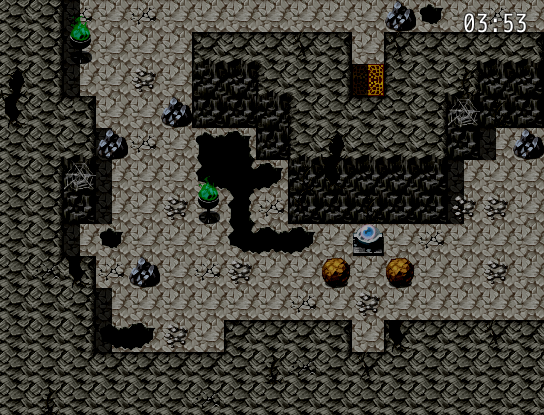 I don't get the ending...
The sword/character is Excalibur from the Soul Eater series. You can find many examples of videos that'll assist you in knowing why the player would have rather been deleted than to have anything to do with this weapon.
Don't want to do the legwork? Here is a link to a wiki:
http://souleater.wik.../wiki/Excalibur
Wait... you still want me to spell it out for you? Fine...
The Holy Sword is portrayed as the most powerful weapon in existence, however he is also the most infuriating to spend any time with. He will repeatedly call anyone (and everyone) fools throughout any dialogue.
I'm stuck on the first puzzle...

The first puzzle has a long timer and a very straight forward goal. Make sure you using the correct button(s) for confirmation. You'll need to face each of the switches and use that button to activate them. Once you do that a portal will appear on the ground taking you to the next level.

I'm stuck on the second puzzle...

All of the traps will activate at the same time. Try counting in your mind (or out loud) how many seconds you have before they pop back up. Don't try to run as far as you can each time, if you pace yourself and take it easy (even without using the dash key (A)) you'll be able to get past this level.

I'm stuck on the third puzzle...

Just because you're between the boulders, it doesn't mean that one has to go left first, and the other has to go right. Try to be creative with how you use the obstacles and the walls.

I'm stuck on the fourth puzzle...
This one can be tricky, don't feel bad if you needed to come here to get a clue. Because of that this spoiler will contain a second spoiler (The actual solution) as well as a few hints, so you can take another shot at it.
First, There is a pattern to the path you need to take, It's not random.
Second, Make sure you are dashing the entire time. It will give you extra opportunities if you are going at it through trial and error.
Third, try writing down where you went (Middle, Right, Right <- took me back to start). This way you can keep track of where you get those dead ends. Just click outside of the game window when you're writing it down, the timer will pause
Ok... give up completely?

I will be relaying this information under the assumption that you are in the middle of the platform at the time. Including the starting one.
Left (Lower one)
Right
(only one choice)
Left
Right
(only one choice)
Left
Right

Credits:
Thank You
for taking the time to look through my thread and hopefully try my game. This is the first title I've ever completed. However, I do hope to make a quality full/complete game someday as well.
Comments and feedback are appreciated.
Positive comments and feedback are cherished
Latest Blog
No blog entries have been posted yet.
Completed

RPG Maker VX Ace
06/04/2012 07:03 PM
09/01/2022 06:21 PM
06/01/2012
17028
3
297