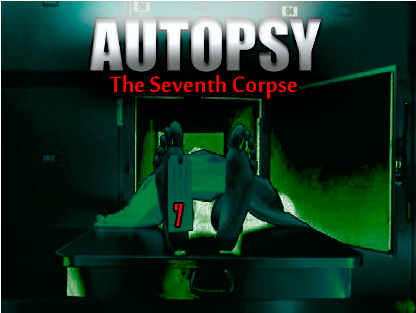 Add Review
Subscribe
Nominate
Submit Media
RSS
VERY IMPORTANT:
Please, if you have
version 1.09,
you must download
VERSION 1.10
that fixes a bug that prevents progress through the game.
VERSION 1.10:
MAY 10 - 2013
--------------------------------------------------------------------------
Information:
- Title:
Autopsy: The Seventh Corpse
- Engine:
RPG MAKER XP
- Genre:
Survival Horror
- Language:
English, Spanish
- Number of Players:
1
- Duration:
6 to 8 hours
- Four alternative endings
- Download Here:
http://septimocadaver.blogspot.com/p/descarga-el-juego.html
Synopsis:
You are
Richard, a forensic about 35
years. You are alone, obsessive and asthmatic.
You wake up in a cold room and immediately a crazy idea related with one "
Seventh Corpse
" goes through your mind. Something tells you to find out who is, you have to collect blood samples of all the bodies that you find.
After exploring the area, you realize that you are in a gigantic underground ruins and you have not the faintest idea how you got there. The last thing that you remember was that you practiced an autopsy not one, but many corpses and you felt alone, upset and distressed.
How did you get there? Who is the seventh corpse? Start a story of horror and suspense that involving corpses, unknown creatures, ancient ruins and a forensic obsessive that will have to choose between two options: survive at all costs, or die and take all his questions to hell.
Features:
- Files folder to save the important notes, maps and papers.
- Rowing on boats
- To Swim
- Many puzzles, riddles and secrets
- No battles. This is a survival game. Your main enemy will be your disease: asthma and the environment around you.
- Lighting system: torches, lighters, lamps and matches.
- Objects bank (Script)
- Oxygen and anxiety system: If you are long time in the dark, you will begin to get anxious and you will can die.
- Many creatures.
- Lockpicks system to open chests
- System for making plumbing tools , carpentry tools and survival items.
Characters:
Richard

Age: 35
Fear: Death
Profession: Forensic
Personality:
Richard is a dedicated and hard working man. He is lonely and He has few friends. He is very obsessive about certain topics that you are passionate as reincarnation, eternal life, philosophy and religion. He is very intellectual and loves to read books which can learn a lot. His main difficulties are his shyness with women and the disease that has accompanied much of his life: asthma.
Kraia Hill:

Age: 34
Greatest Fear: The failure
Profession: Biologist
Adam López:

Age: 31
Greatest Fear: Solitude
Profession: Laboratory Assistant
Tom Carter:

Age: 36
Greatest Fear Suffering
Profesion: Research Scientist
Teaser Trailer:
Credits:
Created by:
Stiven202
Faces and Characters:
Rumaki and Christian André
Special Thanks:
Francisco Javier
Latest Blog
Completed

RPG Maker XP
04/28/2013 09:52 PM
10/12/2016 01:31 AM
04/12/2013
37616
13
1333