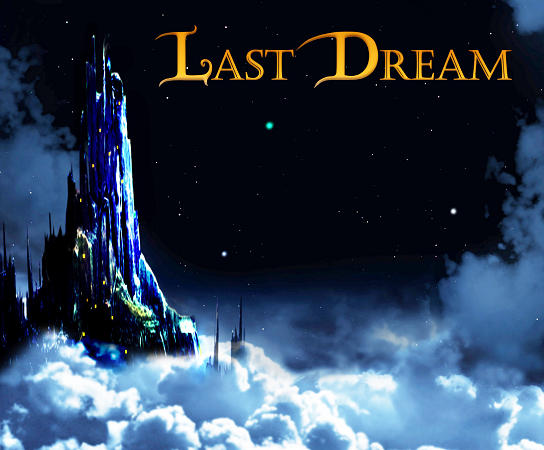 Add Review
Subscribe
Nominate
Submit Media
RSS
Last Dream incorporates the best features of classic RPGs: replayability and complete immersion into a vast world, rich with detail.
Game Overview:
Follow the rise of your modest protagonists to epic heights in a sprawling RPG packed with a vast set of challenging puzzles, hundreds of original compositions, myriad side quests, and interspersed cutscenes within an in-depth, captivating storyline.


40+ hours of dynamic gameplay
15+ additional hours of immersive side quests
1+ hours of interspersed flashbacks
200+ compositions from talented, independent artists
50 mind-bending puzzles
200+ tracked achievements, with leaderboards
500+ unique paths by virtue of the non-linear gameplay
Thoughtfully-crafted storyline with memorable characters
Classic turn-based battle system and graphics
Adjustable difficulty level and custom scripts
4-character party selected from 8 unique classes

Download the Demo!
Get the Strategy Guide!
Please visit the Last Dream website for more information:
www.WhiteGiantRPG.com
"Let's Play" Videos:
Storyline:
The World of Terra:

Terra is separated into seven continents. Each continent contains at least one town, while most are home to two or three major cities. For example, you'll start your journey on the Central Continent, home to Oakwood, Dry Gulch, Alfheim, and Doria. There are also a host of small outposts to explore. On the Central Continent, you can visit the Desert Oasis, the Ascetic's Cave, and the Fisherman's Hovel. In addition, there are many optional dungeons that house challenging sidequests.

In total, there are over 90 locations possible along your adventure, and throughout Terra there are hundreds of characters (NPCs) to meet, each with unique text that changes throughout the game, depending on the choices you make. Nearly every NPC on Terra has at least seven sets of dialogue, and through conversations with these NPCs, you can learn a great deal about the vast history and pressing current events of Terra.

Game Features:
Replayability:
Choose from 8 specialized character classes to form your 4-person party; each class contains a wide diversity of skills that you can unlock throughout your game, and you can build each character's attributes as you see fit. The result is a strikingly different experience every time you play Last Dream.
The journey you'll experience in Last Dream is highly non-linear. Your first major choice occurs once you gain access to the Central Continent. To acquire a Ship and sail the vast oceans, you can either gather two ancient Elven relics for the Relic Collector of Doria or traverse the Woods of Despair and earn such renown that the King of Doria enlists your help. These two paths are completely unique with no overlap, although if you choose, you can experience both paths in a single game and earn extra rewards. Later, when you're tasked with acquiring the shards of the Ultima Crystal, you can choose the order in which you acquire the four shards. Any order is acceptable and the enemies and treasures you'll encounter in each dungeon are unique. How will you escape from the Pandora Castle dungeon? Through the jail cell door or will you mine your way out? How will you slay the Kraken? Which offering and trial will you choose in the Magi Towers? Will you take on several battalions of the Pandoran military by yourself or will you call on Atticus and the Spartans for help? While there is often not a "right" or "wrong" choice, the optimal choice is frequently dependent on your party composition and character builds.
Flexibility:
The selectable difficulty levels offer first time players an edge or an engaging challenge to the most hardcore gamers. You can also select your desired encounter rate and saving opportunities.
One of the most important aspects of Last Dream is the ability to build characters as you see fit through the Ability Point (AP) system. Upon leveling up, many RPGs increase your character's attributes in a pre-defined manner (e.g. ATK +2, DEF +1, etc.) for each class. In Last Dream, you have the power to determine your character's attributes. Upon each level up, you'll gain a pre-determined amount of AP (starting at 40 AP and increasing upon each consecutive level up) which can be allocated to ten character attributes (HP, MP, ATK, DEF, INT, AGI, ACC, CRT, PRE, and MGD) as you see fit.
Just like experience, characters gain Skill Points (SP) in each battle they fight (and live). Characters can use their SP to acquire new skills which they can use in battle. Every skill requires a pre-defined amount of SP to learn. In addition, many skills have pre-requisites such as other skills or a particular level requirement in order to learn the skill. The first physical skills cost 100 SP whereas magical skills (spells) start at 40 SP; both increase to 50,000 SP at Level 50. When a character learns a new skill, it is automatically equipped to a skill slot so that it can be used in battle. Each character class has a limited number of skills slots that slowly increases throughout the game. If the number of skills you've learned exceeds your number of skill slots, you'll have to decide which older skills to replace with your newer, more powerful skills.
Each character class has unique skills that are available only to that class (or at most one other class). For example, Smite and Berserker are special physical skills available only to the Knight and the Gray Mage. Skills that are shared between many classes (e.g. Gym Rat) are often passive skills meaning that they cannot and need not be used in battle for them to be effective. Furthermore, Passive Skills don't need to be equipped and their effect is instantly felt upon learning them. Passive skills generally increase a particular character attribute (e.g. ATK) although some allow for special abilities such as Tunneling and Taming Giant Moas.
Puzzles:
There are 50 puzzles scattered throughout the world of Terra. Each puzzle will test your wits, building from a simple puzzle in the Oakwood Sewer to the mind-bending mega-puzzle in the Great Southern Marsh. Nearly all of the puzzles are unique, although a few build upon a previous puzzle in a more complicated fashion.
Some puzzles will test your geometric and reflex skills, others will test your memory, and yet others will challenge your mathematical acumen. Once you acquire the Ship, you can visit the Puzzle Master who will reward you for every 5 puzzles that you complete. If you manage to complete all 50 puzzles, you will be handsomely rewarded (and have our respect!).
Achievements & Collections:
To help players get the most out of their gaming experience, Last Dream has over 200 Achievements ranging from collecting all of the treasures on a specific Terran continent to completing the game without using an Inn. It is impossible to complete all of the Achievements in Last Dream in a single playthrough and you'll have to use the New Game + option to acquire them all over multiple playthroughs.
To aid you in acquiring all of the Achievements in Last Dream, you'll need to often check the Collections menu which tracks the number of treasures you've collected from every dungeon and town, the number of different species of fish you've caught, recipes and synthesizable equipment collected among other records. All of the items in the Collections menu are continued between New Game + playthroughs. For example, if you acquire 460 treasures in your first playthrough, those treasures will still be recorded in your second playthrough and you'll only have to acquire the other 435 treasures in order to acquire all of the Treasure Collection Achievements.
Synthesis:
Sometimes, normal equipment just isn't good enough and you'll need to head to the local Synthesis Shop to create better equipment. To create new equipment, you'll need to find the Recipe for a piece of equipment (e.g. Recipe for Blaze Sword). Recipes are scattered in treasure chests throughout dungeons, available for purchase from townspeople, and also given as rewards for certain sidequests. When you've acquired a Recipe that you want to synthesize, head to a Synthesis Shop (most towns have one) and talk to the Synthesizer.
Most of the recipes you'll find are for new pieces of equipment which follow a fairly simple formula. To synthesize each equipment recipe, you'll need a piece of base equipment (always of the same type as the Recipe), monster remains from one or more enemies, and some gold. Generally, the limiting factor in synthesizing a piece of equipment is the monster remains. You'll have to fight many battles to acquire the monster remains that you need to fully outfit your party in synthesized equipment. This competes with your primary source of gold: selling monster remains. Selling monster remains is so profitable that you'll actually be stalked by a man known as the Monster Remains Collector who will offer to buy all of your monster remains (or everything in excess of 15). Fishing can be a good source of gold to replace the money lost from using monster remains to synthesize new equipment; however, the lost income is always worth it because synthesized equipment is generally ~2 tiers stronger than the base equipment. You can battle your way through Terra at a much lower level if you wisely synthesize equipment.
Character Classes:
There are 8 character classes that may be selected to compose a 4 character party. Each character class has unique strengths and weaknesses through their attributes, skills, and equipment. Hundreds of hours of game testing have been logged in order to make each character class unique, yet balanced with the other 7 character classes.
Knight (Dark Knight):
The Knight (which can upgrade to a Dark Knight during the game) is a physical damage dealer and absorber with easily increased attack and defense stats. His natural stats are enhanced by his ability to wear heavy armor and use shields. A Knight should ideally be positioned in the front row so that he can take damage that would otherwise kill weaker classes such as Mages. For weapons, the Knight can use swords, axes, spears, and knives. His natural strength allows him to use shields which drastically increase his defense. He is able to wear heavy armor and helms to further boost his defense. Because of his tremendous physical assets, the Knight lacks any special abilities such as the Hunter's ability to tame Giant Moas or the Engineer's ability to tunnel; however, he does have many offensive and defensive skills that he can learn as he gains Skill Points during battle.
Monk (Blackbelt):
The Monk (which can upgrade to a Black Belt) is a master of bare-fisted fighting. He has a natural resistance to status effects and does not need (nor can he carry) most weapons or armor making him a very inexpensive character. Although he is initially weaker than the Knight, he can do more damage at higher levels because of his special Passive skill Fists of Fury which allows him to attack an enemy multiple times. Note that Fists of Fury does not stack with other active attack skills (e.g. Roundhouse Kick, Chakra) meaning that these skills do not hit the enemy multiple times based on the Monk's ACC. Another special skill, Cleanse, available to the Monk after the class upgrade to Black Belt makes him completely immune to status effects (prior to learning Cleanse the Monk has an increased resistance to status effects compared to the other classes). He generally has only moderate defense, but can be built to have very high HP. He is the strongest character at high levels (> 30).
Thief (Ninja):
The Thief is the key to a strong economy. His true strengths lie in his ability to steal from enemies, to pick locks in town without arousing the guards' suspicions, and finally in his passive skill, Greed which gives you extra gold for every battle you win. Before the class upgrade, the only weapons that the Thief can equip are the knife and whip; however, he can equip heavier armor allowing his defense to be higher than the Engineer's. The Ninja can also equip swords, spears, and shields. The Ninja's late game physical defense is behind only that of the Dark Knight and Sage.
Hunter (Beast Tamer):
The Hunter's strengths, unlike most other classes, lie outside the battlefield. The Hunter is a mediocre warrior who can only use bows, but she is able to wear heavier armor which makes her a good choice for the Front or Middle rows in battle. The Beast Master does not gain access to any additional weapons or armor. The Hunter's real value lies in her ability to scan enemies (thus enhancing the damage output of the rest of your party) and tame Giant Moas (flightless birds) thus allowing faster and safer travel on the World Map.
Gray Mage (Sage):
The Gray Mage is a jack-of-all-trades. Not only is he the only character capable of using both the White and Black Arts, but he is also the only character able to learn physical skills and magic spells. He is also an excellent warrior in the early game since he can equip heavy armor, shields, swords, spears, and knives. Note that he is the only class other than the Knight that can initially equip a shield. The fact that he can learn several powerful, early physical skills (e.g. Smite and Berserker) as well as early spells (e.g. Ice 2, Thunder 4) adds to his early game abilities. However, while he is able to learn many Physical and Defensive skills as well as both White and Black spells, he does not have his own unique physical skills and he cannot learn the highest level (7th and 8th tier) spells in either of the Arts – even after the class change. His downfall is his lack of growth as he levels up. Near the beginning of the game he is one of the strongest characters, but he quickly fades to become one of the weakest at higher levels. This relative drop-off occurs for two reasons. First, he can't learn the highest level skills or spells. Second, his stat growth using AP levels off compared to the other classes because it costs more and more AP to increase a given stat. However, near the end of the game, the Gray Mage can be converted into a decent support class via skills & spells (e.g. Rebirth, Magical Defense, Cure 3) while being a decent middle-row defender that can absorb the occasional physical attack.
White Mage (Priestess):
The White Mage is the best healer in the game as she excels in the art of recovery by both restoring HP and curing adverse status effects. Her support spells are mostly defensive in nature (e.g. NullAll, Immortal, Citadel) and are invaluable during battle; however, one must not overlook Blessed – one of the most powerful stat boost skills in the game adding to both offensive and defensive stats. In addition to her healing and support spells, her White Arts are the bane of the undead; she can single-handedly destroy entire groups of undead enemies with her Holy spells. Besides the Sage (the Gray Mage after the class upgrade), the White Mage is the only character that can learn to resurrect characters outside of towns. The only weapon she is able to wield is the staff and she can only equip light armor such as robes and hats. This makes her physical attack and defense quite low and, due to her low natural defense, she should likely stay in the back row in battle.
Black Mage (Warlock):
The Black Mage is a master at destroying large groups of enemies with his potent Black Arts that (often) target all enemies. His damage output can surpass even the Knight and Monk, but his spell-based damage is not unlimited like their physical attacks. His weakness is his limited amount of Mana Points (MP) which constrains him to have to pick and choose which enemies he wants to annihilate. In addition, the Black Mage is the only character capable of learning Warp which allows the party to leave dungeons in the same way as a Warp stone. He can only wield a staff and wear light armor such as hats and robes and thus, like the White Mage, this makes his physical attack and defense quite weak. Therefore, he should also remain in the back row during battle. Despite his weak physical defense, he can be built to have a very high magic defense which will protect him from enemy magic.
Engineer (Physicist):
The Engineer is another utility character who can only wield bows, knives, and whips and wear light armor such as robes and hats. In addition, he can also learn several powerful attack skills which scale with INT instead of ATK (e.g. Debate, ICBM). He is therefore an average attacker with below average defense; however, the Engineer has a several skills and unique abilities that make him a great support character. On the skill side, he can learn Bio Lab which can heal the entire party and Null Magic which substantially reduces the damage taken by magic attacks for the party. His unique abilities include tunneling, increasing the effectiveness of certain items and bombs, and increasing the experience gained during battle. Throughout Terra there are a myriad of tunnels that may or may not provide shortcuts (or paths to hidden treasures) through dungeons or on the World Map. Only the Engineer has the expertise and ability to navigate these dangerous tunnels once he has learned the Tunneling skill. Some tunnels are so treacherous that they require the Engineer to know Advanced Tunneling. Additionally, the Engineer can boost the effectiveness of certain items and bombs. Item Boost doubles the amount of recovery (HP or MP) done by potions (Advanced Item Boost triples the amount). In order to double the amount of damage done by bombs (costly single-use weapons that hit all enemies), the Engineer must learn Grenadier. Finally, once the Engineer learns Intense Study he may increase the EXP earned by the entire party during a single battle by 10%. This can substantially increase the EXP earned during boss fights and increase the rate at which the party levels up.
Credits:
Graphics:
The graphics in Last Dream are combined from four different RPG Maker RTP sets:
RPG Maker 2003
RPG Maker XP
RPG Maker VX
RPG Maker Ace
We own a copy of each engine, including the original, untranslated Japanese edition of RPG Maker 2003.
With their permission, we also made use of the work of several adept spriters and tile set creators:
PinedaVX
frenta/Bigstock.com
grafikal
Tyaela
Thalzon
Music:
We made an enormous effort to make the music in Last Dream unique. Every town, dungeon, and continent has a different musical track for roaming and battle.
In total, Last Dream contains over 200 distinct musical compositions drawn from talented artists who allow their music to be used under the creative commons clause.
The complete list of songs can be found on our website:
http://whitegiantrpg.com/about/music-credits/
Please take a moment to link to these artists' songs and listen to their excellent compositions:
Listen to music by zero-project
Listen to music by Daniel Bautista
Listen to music by DavidKBD
There are many more amazing artists included in Last Dream!
Scripts:
Last Dream is an immersive experience that goes far beyond the abilities of the bare bones RPG Maker engine. Over 20 incredible scripters all gave permission for their scripts to be used in our game.
Again, the complete list of scripts used in Last Dream is very extensive and can be found here:
http://whitegiantrpg.com/about/script-credits/
We would like to again extend our thanks to these marvelous scripters for allowing us to use their scripts in our game.
Latest Blog
No blog entries have been posted yet.
Completed

Commercial

RPG Maker VX
06/27/2013 04:53 AM
02/16/2018 04:02 PM
08/06/2013
85975
15
2364