Add Review
Subscribe
Nominate
Submit Media
RSS
The Deluxe Soup is literally to die for.
Caz
11/03/2013 02:53 PM
1274 views
I tend to write my reviews as I play each game, but this one had me quite engrossed to the point that I'd forgotten to actually write anything.. and that my dinner was cooking, oh dear.
After averting a small kitchen disaster thanks to this game, I will start by saying I am not normally fond of murky graphics, yet this game actually used them rather well. Things were dark so you couldn't see the screen edges for the most part, yet you could still see where you were going and generally I had a good grasp of what was passable and what was potentially going to eat and/or brutally kill me with crazy jazzhands of death.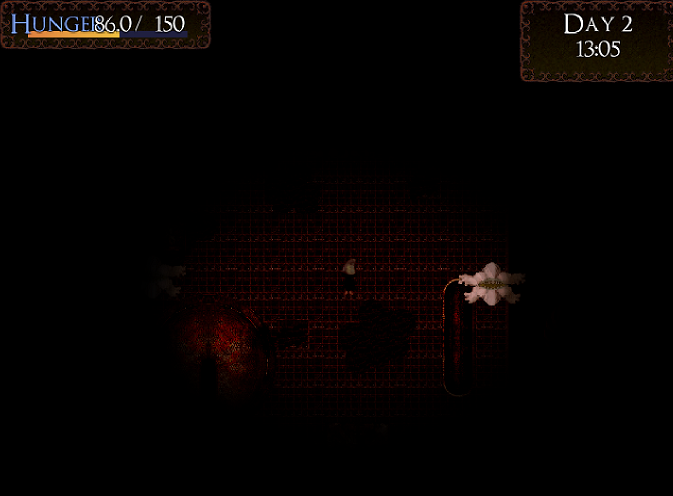 Jazzhands.. of DOOOOOMM!
The aesthetics were very consistent in all aspects of the game: the field graphics, menu and cutscenes all matched pretty well and I never felt they were out of place or that they were an eyesore. There were also some nice effects like twirling fan graphics that made the place feel so grimy and awesome. My only gripe was the automatic resolution the game set itself to, which I felt would look better if just a little smaller.
Combined with the grim look of the game, there was always this tame ambient loop in the background which hadn't drawn my attention until it came time to comment on the sounds. It set the mood, it fit nicely into the backing and didn't interfere with my focus. Atop that little ambient piece was usually some kind of mechanical noise like a whirring or a banging. The loop would sometimes feel a little repetitive if you listened out for where it replayed, but only if you were really paying attention. It was otherwise a great factor in helping the game feel more.. machine-like and alive?
But down to the meat of the game itself, your aim is to keep your hunger bar from hitting max which would cause you to die, and to not touch the one-hit-kill monsters which come out after 9pm. Seems simple enough, but some of the monsters can be quite capable of trapping you and giving you no chance to escape. I've never been fond of one-hit-kills in any game, and while I don't exactly see a suitable alternative mechanic for a game such as this, it still doesn't sit right with me. Yes, it's easy if you make sure to get back to bed in time, but some things aren't entirely clear about what they'll do to you. There was a bit with some balloon-like gory things that I so desperately and stupidly wanted to touch, but naturally I got a game over screen as I should have expected..
Moving on, your objective is to collect food and explore to find your way out. Finding food nearby is simple enough albeit challenging to balance at times, and there's even a little crafting system or "survival kit" to make some foods safe to eat or boost their effects. There was never a time where I felt safe with the amount of food I was carrying, and there was always this pressure to explore for more yet a worry I wouldn't come back.
The only major character in the game is your MC who voices a lot of his own thoughts, sometimes without need. There's a part where you have to run away from some monster so he tells himself "I have to run!" which was perhaps a little unneeded, as I pretty much gathered I'd need to get away from it.
At least there's no shortage of entertainment down here.
The story was pretty good and well explained, and there was even a little message at the end which I felt was possibly a bit rushed. It was essentially a one-liner which I'd already worked out for myself, and nothing was really satisfyingly wrapped up all in all.
And so, the rundown:
Visuals: 7/10
Sounds: 7/10
Story: 6/10
Characters: 5/10
Gameplay: 5/10
Theme: This one is listed as being Survival Horror, and I think it fits the theme well. 10/10.
Overall Score: 7/10
(oh and my dinner was fine)
Posts
SnowOwl
5211
The fact that the game had your attention to the point you forgot about anything not game related is good enough for me. Mission accomplished.
calunio
Come home with me.
8691
I have a question

SPOILER

I was out past 21:00 only once. It got dark, I had that overlay like in the last picture of this review... but nothing else. Was anything else supposed to happen?
SnowOwl
5211
author=calunio
I have a question

SPOILER

I was out past 21:00 only once. It got dark, I had that overlay like in the last picture of this review... but nothing else. Was anything else supposed to happen?
Answer:
Depends on where you are. More monsters spawn, it obvously gets darker, and some other minor stuff happens.
Caz
LET'SBIAN DO THIS.
6081
Yeah I was out past 21:00 in one area and the jazzhand monsters came to get me. :<
edchuy
You the practice of self-promotion
1624
author=Caz
Yeah I was out past 21:00 in one area and the jazzhand monsters came to get me. :<
The horror, the horror ... :-X