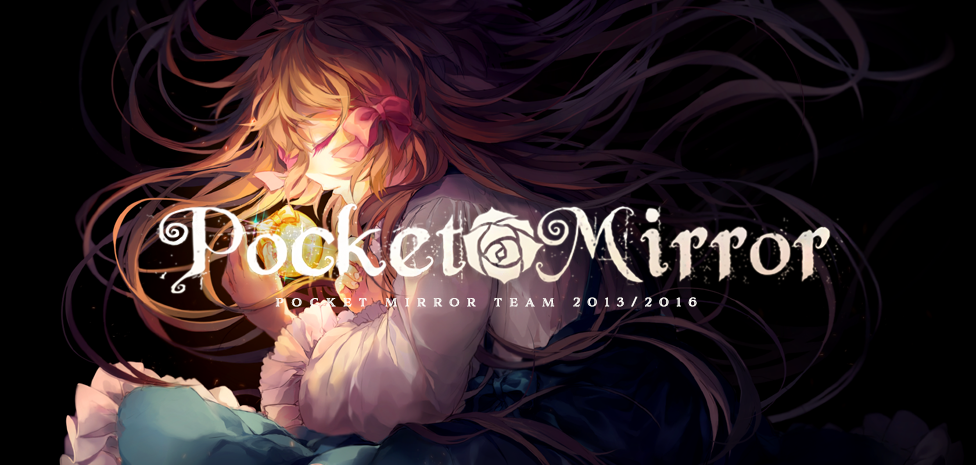 Add Review
Subscribe
Nominate
Submit Media
RSS
Pocket Mirror is an original mystery horror adventure game made using RPG MAKER VX ACE. During the development of this game we have gotten our inspiration from various japanese RPG MAKER games of the same genre such as Ib and The Witch's House which have motivated us to create our own.


※ The game isn't suited for people with a nervous disposition for things such as horror and graphical horror such as blood and brutal deaths.
※ Please note that it relies on an exceptional amout of symbolism which may be hard to understand throughout the first playthrough, so multiple playthroughs may be advised.
※ To get the best experience out of the game we recomment the player to use headphones and adjust the screen brightness accordingly.



Latest Blog
We are glad to announce we have released the newest version of the game in which we have fixed bugs and have improved some of its gameplay flaws such as the mirror maze chase scene issue.

We will be leaving the bug fix list down below. Thank you for your patience!

Version 1.1
-Added a Save prompt right before the Mirror Maze chase.
-Added a Save box in Egliette's dinning room.
-Tweaked the darkness in the Mirror Maze.
-Eyeballs are now insertable from the sides of the statues.
-Painting description disabled once the smoke chase begins.
-Removed Lisette's body from her extra room.
-Player cannot move anymore while reading Fleta's diary.
-Player cannot move anymore while trying to open attic door.
-Fixed the moon staying on the screen after Enjel's bonus room.
-Fixed wrong name tag on one of the "Bitch" dialogues.
-Fixed the bug where the shadow keeps chasing you in the sound direction puzzle.
-Fixed bug where Fleta reacts to the pumpkin king when she is not with you.
-Fixed bug where RTP tracks counted toward soundtrack percentage.
-Fixed the mugshot without the cardigan in the junk room.
-Fixed bug where box #7 opens when it's locked, in the box riddle room.
-Fixed bug where there is an auto bad end on Fleta's Chair Game if the player spent 10 min in the library.
-Removed non-working RGB control from the Settings
-S key is now the Skip text key.
-Formatted some dialogue text cut-offs and wrong dialogue window modes.
-Various grammar corrections.
-Added missing character portrait in various save boxes.
-Enjel Theater scenes are now in-engine, reducing 110 Mb of videos.
-BGS folder reduced to 51.3 Mb.
-SE folder reduced to 50.6 Mb.
-ME folder reduced to 2.2 Mb.
-Deleted some redundant images.
-Various stability upgrades.