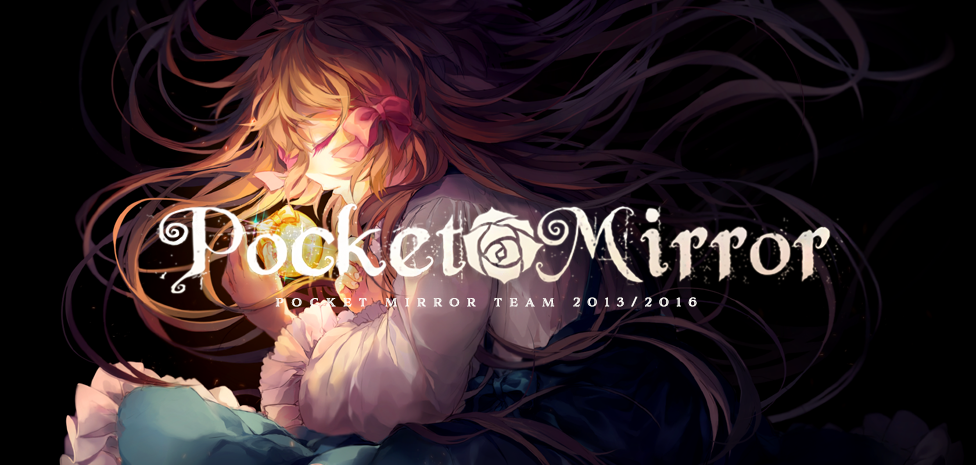 Add Review
Subscribe
Nominate
Submit Media
RSS
"The pages decorated with gold and tragedy ~ The story of the girl of many glimpses."

Pocket Mirror is a Horror game created in RPGMaker VX ACE!
You play as a nameless girl in the journey to find her purpose and memories within a mysterious world.
Pocket Mirror has a progressive plotline filled with symbolism and metaphores, as well as a progressive plotline with original Art, Music, Puzzles and enumerous secrets to find about!


We hope you enjoy your experience and please,

???? "Keep your memories close to your Heart."????
Thanks for downloading Pocket Mirror...
This download is hosted on another server other than rpgmaker.net, please click the button below start the download.
Users who like Pocket Mirror, also like...
Game
Rating

Immortal

Completed

by Zmakesgames

A Visual Novel horror game in which your choices impact the story.

2 reviews

5127 downloads

Wine & Roses

Completed

by Craze

Enter the possessed Fort Adder to discover ancient spirits and slay foul demons.

8 reviews

13663 downloads

Sethstuck

Completed

Help Seth escape from the underworld and make sure he doesn't die... too often.

1 reviews

45 downloads

Drim

Completed

A pixel horror RPG about sisters and scissors.

4 reviews

3421 downloads

ALONE

Completed

by iddalai

Entering the world of internet communities can be a frustrating experience.

2 reviews

1482 downloads