Add Review
Subscribe
Nominate
Submit Media
RSS
Warning ! This game is in French ! I will translate it in English when I will have finished it.
This is my first VX Ace "game" introduced on RMN. It started 6 months ago.
I have put "game" in quotes for one specific reason: it is a serie (I talked about it in my introduction). You can't interact with it. You only have to sit and watch.
Main characters:
- Julie Dumarais, main protagonist. She wants to be the best trainer in the world !
- Jérémie Dumarais, Julie's brother.
- Isaac Dumarais, the father. He will leave the group in the 7th episode.
- Marinette Dumarais, the mother.
Friends (they don't have a family name):
- Steve (met in 4th episode). Nothing important to say about him.
- Sheila (met in 5th episode). She is a little crazy. She will cooperate with Julie in order to win the 3rd Badge (it will be a double battle).
- Misaka (met in the 6th episode). She studies in Noircité (this city's name is in French. Noir = Black). She looks very sympathic with Julie.
- Régina (met in the 7th episode). She participates in Pokémon Contests (they are not the same than the anime). She will join Julie after that Isaac have left the group.
Antagonists:
The naughty Team is called Team Narcissa ! Its members use mainly WATER types.
Screenshots:
For each screenshot, I will translate the text.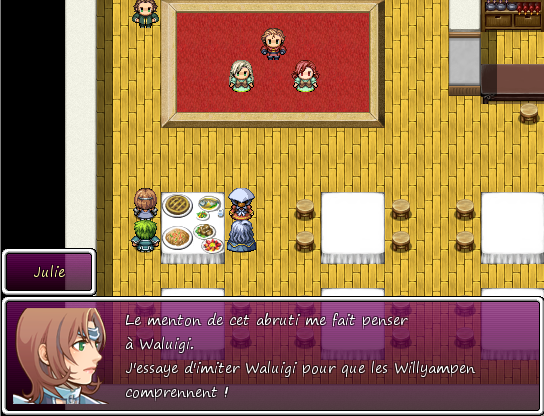 This idiot's chin makes me think to Waluigi. I'm trying to mimic Waluigi so that the Willyampen understand !
(Information: the Willyampen is a music group. It is the 3 people on the red carpet)
I don't understand why everybody miss their attacks when they fight us. Paul missed 3 times his attacks against us ! And here, Hydro Cannon missed ! You were lucky.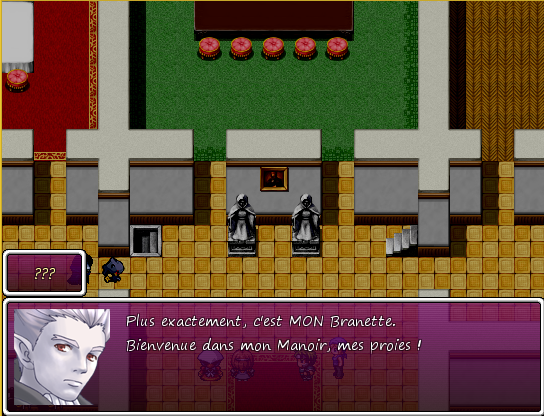 More exactly, it is my Banette ! Welcome to my mansion, my victims !
Credits:
- Yanfly, for his message system
- Crystal Noel, for his Pokémon charsets
- Enterbrain, for the generated charsets
- Kaduki, for some charsets
- Xandiar, for the charsets and facesets of the innkeepers sisters (7th episode)
- Fflo, for the VS bar made without script
- Nintendo, for the BGMs
- OnlineSoundEffects, for the laughter sound.
Progress: 7 episodes completed out of about 20.
Latest Blog