Add Review
Subscribe
Nominate
Submit Media
RSS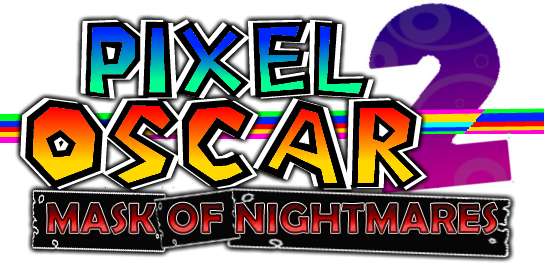 When we dream, we are transported into a whole new world. And like every place in the universe, evil is lurking. Henesys, the heart of the dream world, is falling apart. The dream worlds are losing their light and are being overrun by shadows, known to us as nightmares. A villainous group finds their way into this dream realm and seek to use the awakening to nightmare energy to free their dormant master. In the mean time, a mysterious masked figure is awakening nightmares so that they may consume the various dream worlds within the dream realm.

Pixel Oscar and his pixel pals arrive in Fernora, the town in the center of the Dream world. With the fading dream worlds, Fernora stands in clear sight of danger. Pixel Oscar and Co. must find a way to stop the menacing mask, banish the villainous posse, and save the dream realm from being consumed by the stirring nightmares.

The Dream Realm is a massive universe within our own. The Dream Realm is where all our dreams flow into when we sleep, and there is where we experience our dreams. The Dream Realm is made up of many different Dream Worlds. In the center of the Dream Universe are Fernora and Henesys. Two ancient grounds created by the ancient inhabitants of the Dream Realm. Like every good thing in the world, there is always a mirroring dark side. The Dream Realm parallels the Negaverse, a dark, empty, and forsaken realm. This is where the masked mystery man is said to have originated from. For centuries, the Dream Realm and the Negaverse have been in balance, but now they seem to be merging into one.

Pixel Oscar 2 is a 2D sidescroller with a hint of shooting mechanics. The game plays much like a classic sidescroller, with the exception of the shooting system and the leveling up system. The player must jump through obstacles, shoot at enemies (which gain you exp that help increase your level). Pixel Oscar blends together 2D platforming with RPG characteristics. The player must complete each world, and beat a boss of some sort in the end of each world. Pixel Oscar uses no lives, instead it uses an HP meter. When the player's HP reaches 0, the game will automatically end.
Objective: Complete each world and collect the dream orbs needed to access the final world.

*Red Star Collector- Collect 1 red star in every level, these little guys are hiding and some require skill to obtain. (Red Stars can be used to unlock various game goods)
*Tokens - Scattered throughout the worlds, tokens collected can be redeemed at the CASINO
*New Layouts - The Menu Layout has been updated, the HUD has been updated, and the Title Screen has animations!
*Backgrounds - some level backdrops feature animations! WHOA!
*Character Selection - forget the boring old one, you can now access a cool looking character selection!
*Multiple Checkpoints - Pixel Oscar 1: only 1 checkpoint per level... Pixel Oscar 2: up to 3 checkpoints per level.
*Food - You can find Food scattered all over each level, they help you get an extra HP boost.

*There are many playable characters in Pixel Oscar 2, the following character list
only depicts the characters available at the beginning of the game

Project Leader
machogrubba14

Graphics
machogrubba14 <-----65% of graphics are custom made!
Enterbrain
Nintendo
Nippon Ichi
Sega(Sonic Team)
Ying <----- Provided graphics for iconset!

Music
Nintendo
Sega
Enterbrain
Hitbox Team

Scripts
Mog
OriginalWij
Tomoaky
------ (aka ??nObody??)

Specail Thanks
Johnny0798
RPG_Lover
The following is an informational auto-interview regarding the making of Pixel Oscar 2
Creating Pixel Oscar 2: Mask of Nightmares was, in a way, more difficult than the first. I had no limits with the first game. It was going to be the first time anyone met Pixel Oscar for the first time. But now, we know who he is and what he does. There is a reputation and it is important to live up to expectations and it necessary to surpass them. Due to my lack of scripting skills, I really did not have much to work with, so adding more to the gameplay was much more difficult. So I really did try to bring out the best of the script, and make the most out of what I know through eventing. I also explored more scripts and more ways to make the game more appealing. I even went as far as creating ladder graphics, which surprisingly, was something new to the sequel. It is strange that something as simple as ladder climbing was not available in the first game, and even HP bars for enemies. So many things have been added, that at one point I feared for that the Pixel Oscar essence would be lost. In the end, Pixel Oscar is meant to be a quick, simple, and classic game. After a while I realized that Pixel Oscar was still there, there were no radical changes, it was all just slabbing make-up on the original concepts. Levels do feel different, but in a good way. Every world has something different going for it, not only a change in scenery. Countless hours have gone into this game, physically and mentally. I am proud with the outcome. I really hope the players will enjoy it aswell.

-Now I'll have to reread this later. It is like 2 in the morning and who knows what random stuff I've slabbed on there.
Latest Blog
No blog entries have been posted yet.
Completed

RPG Maker VX
09/03/2014 06:08 AM
07/13/2015 04:58 AM
09/03/2014
11321
0
30