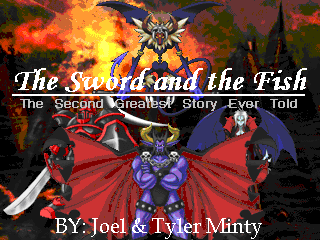 Add Review
Subscribe
Nominate
Submit Media
RSS
Begun in the year 2000 and completed in 2006, "The Sword and the Fish" would become the second-most downloaded RM2000 game featured on the old Ultima Island website - enough to earn a place among other far more famous RPGs on
www.tvtropes.com
. It also spawned a fun
40-page comic
you can read should you fancy.
AND FANCY YOU SHOULD!
Explosions galore! Maps a-plenty! Enough equipment boxes to kill a small horse! Yes, The Sword and the Fish is the game you've been waiting for - assuming you have been waiting for an archaic-looking game wherein the hero is a scruffy amoral hick. What it lacks for presentation, it later makes up for in presentation! And all the while you can laugh along with the most ridiculous cast of characters to ever operate in an A-B, up, down, left, right universe. The ancient demonlord GWAR (yeah, that's right) has awakened and begun nefarious works, but all our hero CLIFFORD wants to do is rock out in a bad local band. Ambitions are for the weak! Alas, the fates are jerks and Clifford soon finds himself forced to save the world, like, three times. At least. Maybe even more!
Join Clifford as he foils his village's local cult, gets headbutted by love, meets robots from the future, engages in tomfoolery, realizes the robots aren't really from the future, goes on trial for thuglettry, and tracks down and kills 7 powerful demons - before taking on Gwar himself!
An updated-ish website exists for The Sword and the Fish to take your gaming and comic-reading experience to a whole new level over here:
https://swordandthefish.wordpress.com/
Delicious!
Latest Blog
Completed

RPG Tsukuru 2000
03/04/2015 07:34 PM
07/07/2020 02:33 AM
06/01/2006
61377
16
1255