Add Review
Subscribe
Nominate
Submit Media
RSS
Let's Get to Know You, Happy Little Sunflower!
Whew! Wahoo! Zippity-Zow! WoaahOohOahOohOahOohOah!
If those sounds of hyperconcentrated jubilation didn't get you pumped, then you must not be a Happy Little Sunflower. And, that's okay. Not everyone can be happy all the time. That takes a lot of dedication…and a fair amount of delusion.
For the Happy Little Sunflower, though, it's genetic. It can't help it. If you're having a bad day, it'll cheer you up with a happy little dance. Just don't take it to work with you, cause it will NOT sit still.
You're never in danger with a Happy Little Sunflower around. It'll do its best to heal you when you're sick, pick you up when you're down, and when you're surrounded by dark things that creep in the night, it'll shine with sunlight to keep them at bay. Its relentless optimism can eventually be built up enough to make you gain more imagination experience in combat, which will allow you to build your different transformations that much faster, and its deep roots can pull nourishment from the ground, giving you a passive HP gain in battle.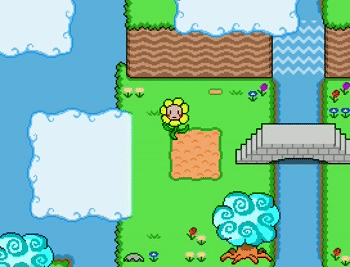 In the field, the Happy Little Sunflower can burrow underground, allowing him to encourage strange plants to grow and find secret tunnels. Who knows what neat things you'll find!