Add Review
Subscribe
Nominate
Submit Media
RSS
Welcome to the project page of Twell. A project that I have started back in 2012. It's aiming to be released in the second half of 2022.
The main focus of this game is having an adventure. This game is not story based and doesn't have deep RPG elements, I even removed the status screen. I wanted to keep things as simple as possible and give the player as much freedom as possible, while not being an open world.
The world of Twell
There are multiple locations to visit in Twell. They are full of unique characters, markets and mini games. The world is free to explore whenever you want. The numbers on the map show the dungeon order difficulty. Dungeons have a lot enemies, but they are more puzzle focussed. Each dungeon has a unique theme. Not only in graphics, but also in puzzles and enemies.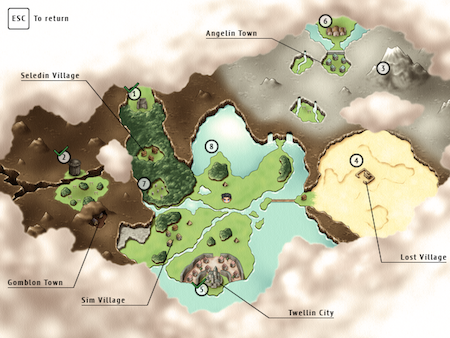 Change your character
The look of the character depends on which equipment you have. All combinations are possible.
This is how everyone will start their adventure:
Some examples of how you can become:
All combinations are possible. In some situations you need to equip older equipment.
Quest items
The Q-Item will be used in a lot of situations throughout the game. They will help you solving puzzles and reach certain areas. You can use a Q-Item by pressing the Q key on your keyboard. You can use the Q+Shift keys on your keyboard to quickly change your Q-Item. There will be 6 different Q-items, here are just a few examples.
| | | | |
| --- | --- | --- | --- |
| | | | |
Side quests
At the start of the game, you can see all the side quests and the Start Menu. Once a side quests has been completed, they will be marked as completed.
Main Menu
You can unlock new challenges for Battle Mode or use passwords. There is also a secret to unlock.
Exclusive Twell sprites
Thanks to
Avee
, this game is going to get a lot of amazing enemies and boss battles. Expect some big and scary bosses. Here is just a hand full of what's to come.
More of my games?
-
Eling: First Dimension
-
Shindra Duel Adventures
Latest Blog
Production

RPG Maker XP
07/09/2015 11:53 AM
06/22/2022 07:34 AM
N/A
50742
71
0
Tags