Add Review
Subscribe
Nominate
Submit Media
RSS
Corfaisus Reviews: Save Your Mother
This review is going to read like a Let's Play because I took 27 screenshots and by God I'm going to use them. Let's GO!
Save Your Mother
I couldn't pull it off.
Everyone deserves to have their games played and reviewed properly, so I approached the creator of Save Your Mother about giving some much needed feedback. After taking a moment to get myself situated, I fired it up.
Oh goodie, a scrolling text intro.
Why there couldn't be more information per paragraph during this unnecessarily long sequence is beyond me. The long short of it is this: you're a girl named Alice who is rather scholarly and who has grey hair and that gave you a nickname-
Yes, there it is.
And now as an adult, you're faced with the greatest dilemma of your adult life: whether or not to Save Your Mother. You being the good daughter that you are would do anything for your mother and so you set out over rough terrain and climb perilous mountains to reach a tower where a mysterious and all-powerful cube rests, one that grants incredible power to whoever wields it.
The quest begins...
Already having mixed thoughts.
You see, this game was advertised to me as being of professional quality, but one glance at the mapping seems to say otherwise. A majority of the game consists of you worming your way through these straight passageways, battling monsters and collecting items from hidden chests.
Shroom Battle!
The battle system is pretty straightforward and is actually pretty fun once you get used to the real-time nature of it. You see, you're not given time to think your actions through, so if you're not quick on the clicker, you'll be dying rather quickly. What occurs here is that you're put in a position where you have to come up with your tactics on the fly and essentially mash enter until the enemy falls. I did, however, gain the most fun out of these encounters by the way the monster drops loot instead of it instantly getting sucked into your inventory, so you have the chance to run up and pick it up if you want. That small touch adds a lot to the battling process. You can also interact with certain objects in your travels that do certain things, such as...
I'm sorry, but who's talking to me?
This strange, chanting altar that demands a blood sacrifice in exchange for teaching you a new spell. If you choose to sacrifice 10 Max HP, you'll learn a fire spell that deals significantly more damage than your physical attack, making it essentially a must-have for your journey.
So you'll spend some time fighting shrooms and reaching pits that seem to prevent you from getting more treasure or exploring more of the cavern. Oh well, moving on.
A sliding arrow floor puzzle...
This part takes
forever
. While you can hold shift to run in this game (which auto-run should be a default setting or at least a choice for any game), this particular puzzle reduces you back to a crawl while you slide every which way to where you need to go. There's also a locked door on the other side so you'll have to ride it a few times in order to find the switch that opens the door that you need to go through to get to your next location... a spooky spiderweb cave with a hidden chests next to a guy who's a little wrapped up at the moment.
How unfortunate... Five dollars? WOOOOO!
There's a save point on the other side of this hallway, but that's about it.
UGH! HIDEOUS!
That is until you reach this friendly fellow, the first boss of the game. Spam Attack or your ever-useful fire spell to chip away at his massive health bar and he goes down, leaving you to explore his hideout.
Ralph, I hardly knew ye.
Quest Complete!
You also get an achievement for besting him, a bonus to selling your game on Steam. Let's proceed and meet up with our in-game rival.
Umm...
Who immediately makes judgment calls on us as an individual and our... endowments.
Smell ya later, Gramps.
Not a very memorable or necessary exchange. Anyway, this woman wants the cube you're after because she wants to sell it for big dollars. Clearly the game dev couldn't come up with another reason like Save Your Mother for the rival to have and instead does it for strictly selfish reasons. Okay. Bye.
Didn't know I was being graded.
Let it be known that I turned this place upside down in search of treasures and this is the best ranking I could muster. Second guessing myself I went digging back through and found nothing. Guess I'll have to come back later.
P.S: The fog gets away from you if you sit here long enough, but then becomes conscious of the fact that it's breaking immersion and runs back into place. Something to look into for the next game. Onward!
That's a pretty cool idea.
Interact with the crystal in the center of the map and you'll be swept away to a Stage Select screen. I thought this was pretty neat. So on we go into the depths of Hell.
SQUARE!
Once again, professional level game design on display. Little pillars of fire shoot up out of the ground around here, which you can avoid by waiting them out or wading through the lava, which deals significant damage to you with every step (eventually killing you instead of allowing you to remain at 1 HP, which I found out the hard way). After this you'll find your way into the Hell Cave proper.
Looks kind of familiar.
New tileset, same old level design. Make your way through the cave spamming fire spell on enemies and push a few rocks around to find out the special password that you'll soon be needing. But before that: hospitality.
What's that supposed to mean? D:
Turns out the Demon King here needs help to rescue his daughter while he's off fighting a duel to the death against someone who wants his crown. "Onward!"... is what I would say if there wasn't a demon in the way that we needed to move. Speaking with the people here, we're given a special poison that can be given to the chef to mix into a soup to feed the demon to kill him (because diplomacy is something foreign to demons).
"You're all the same", indeed.
Consumable... Dare I?
DARE I?!
Turns out, it doesn't work on me, but it does
wonders
for the other guy who chokes on his own vomit and promptly bites it, leaving the passageway he lived solely to protect wide open for your journeying pleasure... until you come face to face with another of his kind.
Is it "Poison Soup" or "I Killed Your Brother", perhaps?
Give this guy the password you got before and work your way past him to the
new
passageway you've killed just for the opportunity to explore.
And, turns out, I already hate it.
Avoid the cannonballs and proceed to the prison. Try to convince the guard to let the king's daughter go (I had to kill him) and obtain a new
temporary
PARTY MEMBER!
Achievements!
Turn out the duel to the death that this woman's father is taking part in is happening in the room
directly south of the prison
. You'd think she would've seen him walking by and shown some sort of concern, but no such thing occurs. Okay.
So you find the king just in time to distract his opponent from their duel and allowing the king an easy
murder
victory. He's overjoyed to be reunited with his daughter and you two (that is, Alice and demon lady) continue on your journey.
Next, you must cross a lava pool by use of the "Hell Casket", which results in my least favorite part of the game yet: controlling an auto-scroller. Needless to say...
It's infuriating.
Once you've reached the other side (no small feat), you reunite with your rival who offers you some delicious soup to help you not only regain your lost strength but power you up for the journey ahead. It's too good to be true!
IT'S TOO GOOD TO BE TRUE!
So you start tripping balls and have to work your way out of a nightmarish hellscape of hallucinations and taunting rival heads. Completely normal stuff. Nothing strange going on here. Let's keep moving.
WHY DO YOU KEEP SAYING THAT?!
Once again, despite all my best efforts, I still get a measly 1 out of 3 secrets found. I think I'm starting to see a pattern here, in that
it's not physically possible to find every secret on your first time through
.
Then there's a scene between the boss of the next location - an Ice Queen who rules over an Ice Hell - and a little girl who might very well be a doll who rules the entire underworld you've found yourself in. I'm assuming all this because I start skim reading everything during this exchange because I
FORGOT TO SAVE
before shutting down for a minute and had to redo the entire lava pool minigame again.
So you wind up in Ice Hell and suddenly every monster is insanely difficult... like really,
really
difficult.
Am I supposed to be grinding?
Assuming I was probably just being careless, I started up my game again and explored the caves a little more (found another picture) and fought another ghost again. I died.
I repeat: am I supposed to be grinding?
Nothing up to this point gave me the feedback that I was supposed to be going out of my way to level up, and nothing up to this point gave me the impression that monsters would suddenly start casting Heal on themselves and draining my HP (further healing themselves) every turn, making every battle a struggle against a massive wall that's slowly encroaching on your bubble.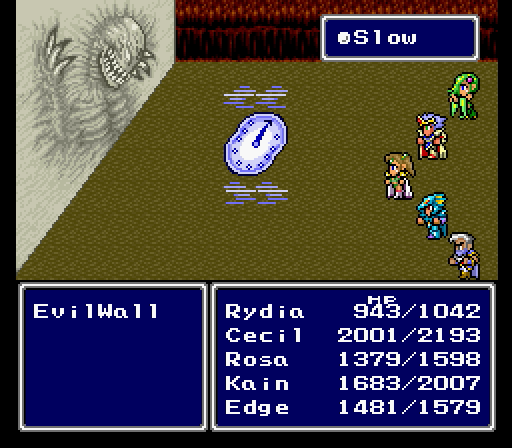 That's not right.
So squishy me hits a point where I can't proceed, which means Game Over, man.
Probably couldn't hurt.
========
Post Review:
It's my personal opinion that "Save Your Mother"
isn't
of the professional quality it totes around, and is, in fact, rather amateur. There are secrets to find and interesting hand drawn graphics for sure, but it doesn't amount to something we haven't already played before. As it is, the budget that went towards the custom assets of this game, I feel, could've been better spent elsewhere.
However, if the game dev went back and improved the mapping of the areas around the game, changed the enemy AI to make them a little more manageable, and removed/simplified the lava casket minigame, it could be something worth spending money on. Right now, it's just poor-to-alright quality.
Gameplay notes are as follows:
• The intro text could scroll faster.
• It doesn't make very good use of the tileset's capabilities.
• Auto-run should've been an included option.
• The battles are pretty fun when you've made a blood sacrifice to the God of Destruction. Also, picking up items is interesting.
• The Arrow Sliding Puzzle took far too long.
• From the first sight of the spider boss, you know where most of the effort for the game went to.
• "You've found 1 of 3 secrets in this level." Time to go looking.
• The fog rolls away but slides back into place afterward... as if I didn't already see it and let it break my immersion.
• The brightness of the mushroom in the Lava Pit makes it look like something you can pick up... but you can't.
• We went from sliding on floors to pushing rocks. What next? A switch puzzle?
• The bartender used to be an adventurer till he took an arrow to the face.
• I can't use the Poison Soup on myself. What a letdown.
• I'm sure there were a million witty remarks that I missed trying to convince the guard to let the princess go... but NEW PARTY MEMBER!
• The duel probably could've been slightly more cinematic, but I guess it'll suffice.
• Jump in the Hell Casket! THERE'S NO TIME TO EXPLAIN!
• I hate, hate, hate, HATE how poorly the Hell Casket responds. Please don't do this again for your next game.
• Drugged soup... I don't like where this is going.
• Still 1 of 3 secrets on this level? I'm pretty sure I turned this place upside down.
• I FORGOT TO SAAAAAAAAAAAAAAAAAAAAAAAAVE!
• I'm back and ready to tackle this Ice Hell.
• I'm sorry, but am I supposed to be grinding for levels in order to whittle down enemies that heal themselves? No, I'm not about that life. Game Over man.

EDIT:
It's April 10th and I just found out a thing about the game by watching an LP. Turns out I got a fire sword at some point and I just completely forgot (either that or the game never told me). We're back on.
Seriously, when did this even happen?
I wander out into the frozen cave with newfound determination.
Ice sliding puzzle with death spikes to get impaled on.
This room is extremely dangerous. I got myself killed the first time I went through here, and the strange thing is, the game remembers you dying but kills you twice for it; once when you actually die and again when you reload. Strange things.
Nah, I'm sure he'll be fine.
Further in the cave I find a dead guy (or at least soon to be dead). I should probably go alert his wife and next of kin.
Yep! Sure wish I could help ya, lady. *walks away whistling*
Turns out she knows just the thing to help: her world famous "Cold-go-Away" soup. Not the name I would've chosen, but that doesn't matter now as I'm instructed with going out to get a fish.
Stick!
So I go off in search of a place to fish. I find one later in the cave and equip my newfound stick and some bait and cast out. Turns out the fish don't like what I'm throwing to them so I have to try again, this time with something else. They bite but the line snaps. I try again and the line snaps again. I become increasingly frustrated because
there's no stress gauge indicating that I'm doing something right
. I give up.
Further gameplay notes are as follows:
• Watched an LP and apparently I got a fire sword? When did this happen? Whatever, guess I'm starting again.
• Found Bella's husband who's too hurt to carry back but could die of hypothermia any minute. I'll just leave him here. I'm sure it'll work out for him. (R.I.P)
• "OH MY GOD!" says Bella. Nothing says I. Now I'm off to get some fish for her world famous "Cold-go-Away" soup. Not the name I would've chosen, but I'm not the author of this Greek tragedy called life.
• Got a stick.
• No stress bar = no way. Game Over again.