Add Review
Subscribe
Nominate
Submit Media
RSS
A JRPG that features:
ROGUELIKE
elements
DATING SIM
system
TOWN BUILDING
NON LINEAR
plot
FREE - ROAMING
OPEN-ENDED
quest system
Character Creation:
https://www.youtube.com/watch?v=gAo1JooZc2w
A TOWN IN CONSTANT CHANGE
Explore the town of Ecallia in a flexible, free-roaming fashion, featuring:
Different Jobs to earn gold
Day-Night Cycle
Each NPC with its own routine. 5 Girls can be romanced
Open-ended quests that have real impact on the game world
PLOT & SETTING
Ecallia. A town visited my many adventurers. Here lies the Dungeon, rumored to be the prison of the so-called "Forsaken God". Long ago, this God waged a war against all the Gods of Skydom, who confined him and his 6 servants in the Ground world. Our world.
And now there it is. Either a prison, or a lair, and no one knows what that monster may be doing in its bottom. All we know is that everytime you enter, its structure is different. And his magic is so strong that not only magical treasures and monsters are generated inside, but the "Dungeon Curse" is spreading faster affecting all the Ecallians.
You're the new adventurer in town, and your story is up to you.
Does the answer lie in the last floor of the Dungeon? Or in a peaceful life in Town, perhaps with a girlfriend and a few new friends?
EXPLORE THE DUNGEON
Battle in a traditional ATB JRPG style while you explore the Dungeon.
Build your characters through 3 different class-trees
Recruit from a vast pool of Characters, each with their own background and quests
Meet other adventurers and other interact in the "Mid-Floors"
Avoid traps and look out for treasure!
Town Building and Personalization
Ecallia is a living town that breathes and varies through the choices you make.
Visit the Carpenter who, other than offering a honest job as a lumberjack, will build new structures for you and attract tourists and adventurers to town.
Buy furniture at Nina's "Papillon" Shop to personalize your home
Get to know the Ecallians and influence their lives: some will leave, some could stay.
! Warning: All graphics are temporary until final release !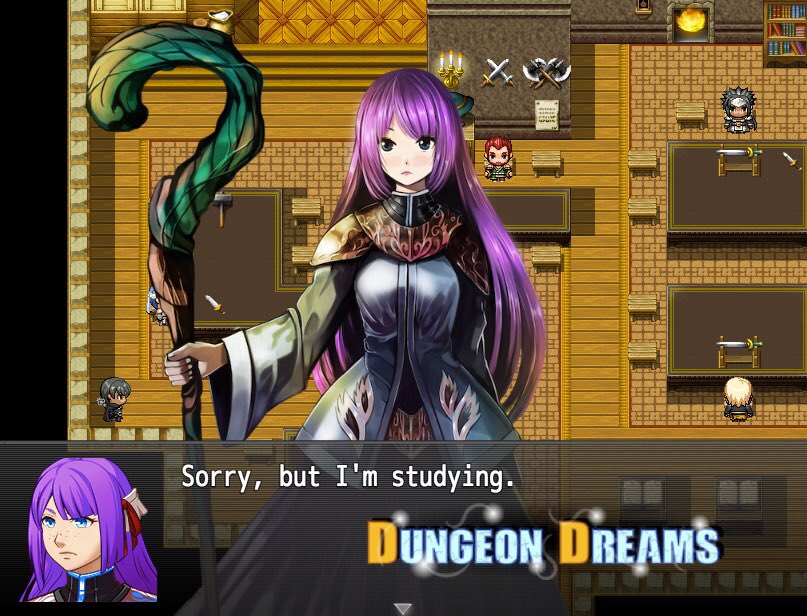 ! Warning: All graphics are temporary until final release !
This game is inspired by:
Azure Dreams, Saga Frontier, Growlanser 3, Persona 3/4, Izuna, Thousand Arms, Suikoden, Rune Factory, The Guided Fate Paradox / Awakened Fate Ultimatum, Baldur's Gate 2, Dragon Age 2".
With a hint of "The Sims".
This game is also a tribute to Azure Dreams and will feature easter eggs as well as a similar structure.
More info and screenshot on:
Website:
https://dungeondreams.wixsite.com/home
Youtube Channel:
https://www.youtube.com/channel/UCXh3sL2mUlyhGiQDnljP7IA
Facebook:
https://www.facebook.com/dungeondreamsrpg/
Patreon:
https://www.patreon.com/user?u=4752727
Twitter: @dungeondreams
Instagram: dungeondreamsrpg
Latest Blog
Production

Commercial

RPG Maker MV
03/07/2017 08:01 AM
09/02/2019 08:22 PM
02/01/2019
36026
18
262